Many of our readers and webinar participants have asked for an update on my native front yard project, and I am happy to oblige! As with every native garden, it had it's 'ugly duckling' phase wherein it was more mulch than garden. This is normal, and patience is key to getting past this phase. Given the right conditions and enough time to mature, native plants will thrive and thrill you.
An Earth-Friendly Garden
Would you believe that not all gardens are 'green'? I wanted to avoid the use of too many exotics, which take a lot of extra irrigation and often do not provide food for wildlife and insects. My goal two years ago was to decrease the amount of lawn in my landscape and increase quality habitat in my area. Since then I have been pleased to host buckeye, skipper, and monarch caterpillars. I have seen many species of birds swooping over my garden to eat the flies and moths that hang around. With very low water needs, this landscape helps keep my household water consumption low.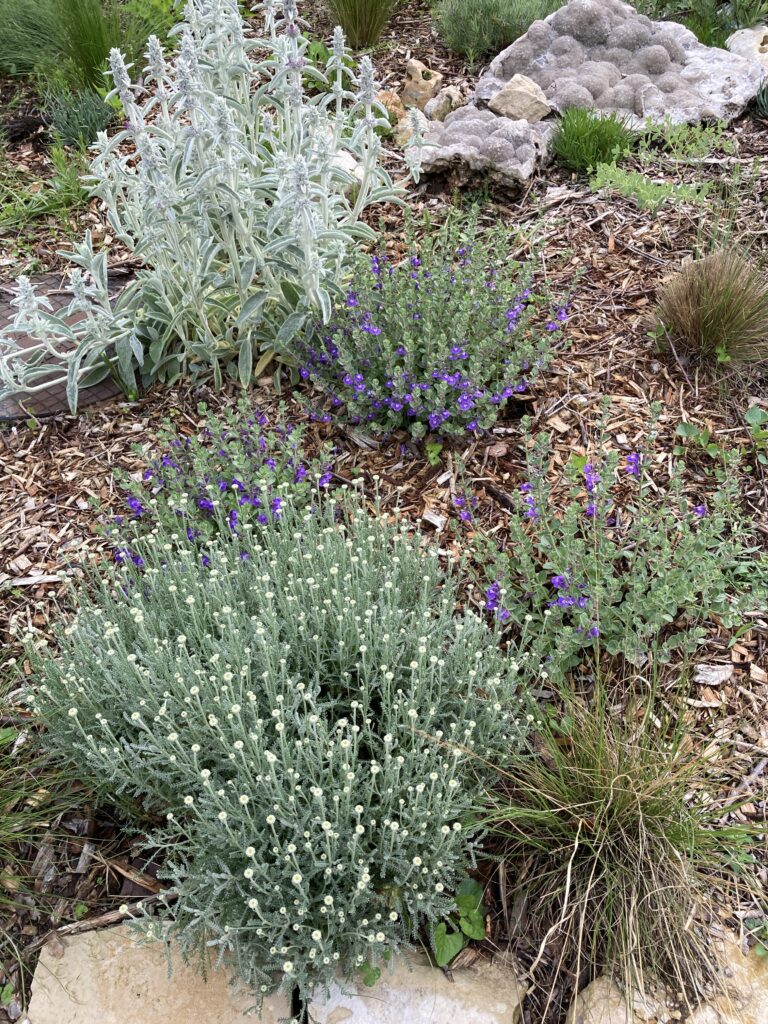 The Best Laid Plants
While we talk a lot about careful planning and design as keys to success with a native garden, a dash of spontaneity keeps the garden fun and fresh. After initial planting, I continued to add plants and deviate from my written plan. That's okay! Adding lambs ear from my grandmother's house, and strawberry mint from my parent's greenhouse made the garden more personal and functional. I continue to fill in gaps here and there as I see them appear. I have learned an important lesson from all of this: if a certain plant doesn't work out, it doesn't mean you failed or that you aren't a good gardener. It might just mean it wasn't in the right spot! Fill that space with something else you like and try again.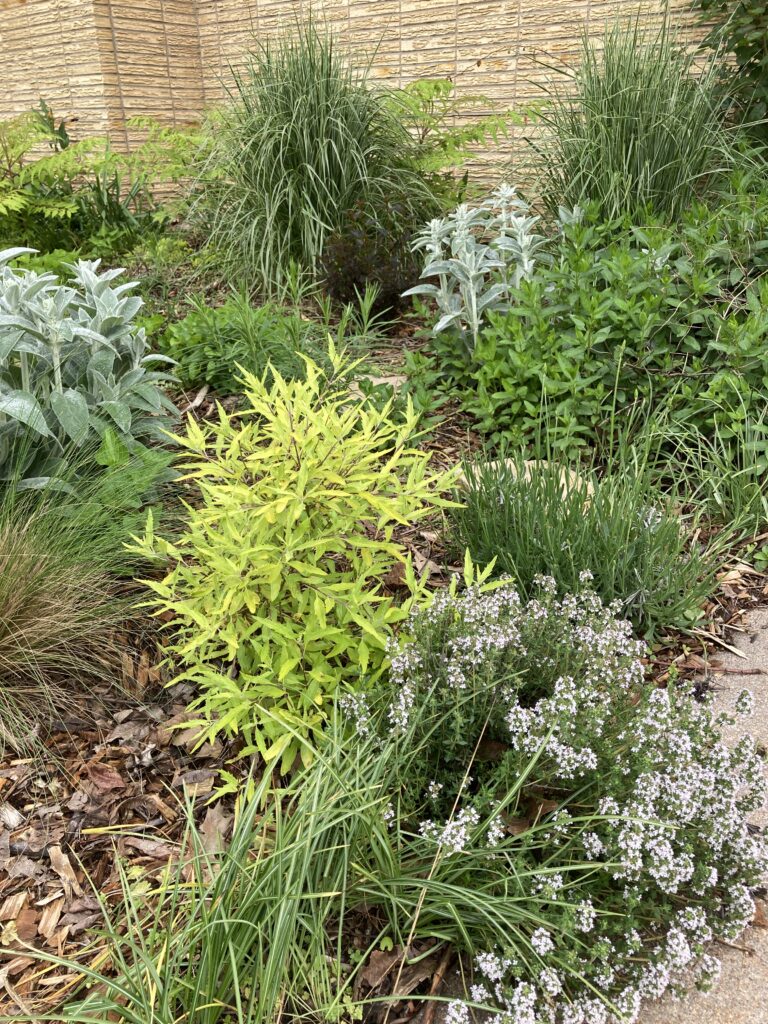 Plant Selection
I mixed natives and non-natives to create a landscape that speaks to me; a space that is visually pleasing and ecologically friendly. Here are some of my favorites that are all growing well together:
lamb's ear (Stachys bizantina)
fame flower (Talinum calycinum)
bluebeard (Caryopteris sp.)
skullcap (Scuttelaria resinosa 'Smokey Hills')
ornamental onion (Allium spp. )
Mexican feather grass (Nassella tenuisimma)
prairie dropseed (Sporobolus heterolepis)
grey lavender cotton (Santolina chamaecyparissus)
sand cherry (Prunus besseyii 'Pawnee Buttes')
perky sue (Hymenoxys scaposa)
horsetail milkweed (Asclepias verticillata)
dwarf false indigo (Baptisia australis var. minor)
thyme, oregano, and lavender
Stay tuned for future updates as this planting matures and continues to change. We have had such great enthusiasm around our Native Front Yard classes, making me hopeful that many of you are on the journey to more sustainable front yards as well!