Achoo!
A couple of weeks ago, my son and I started to experience the annoyance of head, nasal, and throat responses to extra pollen in the air. I did some investigating of roadsides and sure enough, the ragweed was just starting to bloom and reported pollen counts were spiking. Kansans have really enjoyed relatively cooler temperatures and ample rainfall this summer. Our landscapes have been green and our gardens have been productive. With the good comes the bad…mosquitoes and ticks have been abundant and we should expect a monster ragweed season through the rest of August and September.
Plants with annual life cycles (as opposed to perennials or biennials) are the most productive airborne pollen sources this time of the year. Annuals complete their whole life cycle of germination, rapid growth, profuse flowering (the culprit in this story), voluminous seed production, and death in one growing season. Three of the the worst annual plant offenders for airborne pollen production this time of the year include common ragweed, giant ragweed, and sumpweed.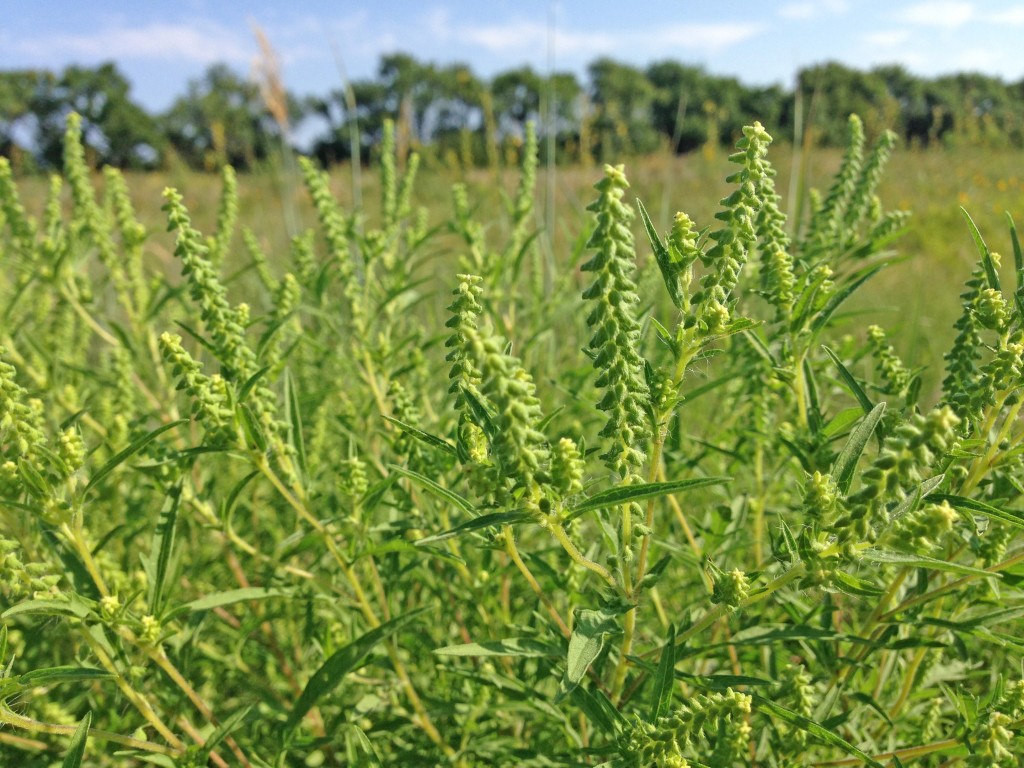 Wind-pollinated common ragweed (Ambrosia artemisiifolia).
While ragweed season is the worst for me, I do often notice airborne pollen spikes of flowering elms and maples in early spring, cedars and wheat crops late spring, and sometimes even warm season prairie grasses in mid summer.
All flowering plants produce pollen, but wind-pollinated plants produce smaller, lighter pollen that use wind to migrate from male to female flowers…and unfortunately our nasal passages. Wind-pollinated flowers do not need to invest energy in expensive color (and nectar) to attract insects to move pollen, so their flowering often goes undetected by the human eye. A common misconception is that colorful, perennial flowering plants, including goldenrods and sunflowers blooming this time of the year, are causing us to sneeze. However, their flowers have heavier pollen, which are not carried in the wind, and which require an insect with a hairy body/legs to migrate to other flowers. Flowers with colorful petals are not our allergy nemesis.
Annuals including ragweed require disturbed, open soil to thrive. Although their pollen affects me, I am glad for the ecological role that annuals play in quickly establishing disturbed soil and minimizing erosion until long-lived perennials can establish and take their place. Most of our soil at Dyck Arboretum is tied up and covered with perennial native plants, and I actually had a hard time finding examples of annuals to photograph.
I'll finish on one more positive note. Grains including corn, wheat, rice, oats, rye, barley, and others are all wind-pollinated plants too. I guess we should be thankful for the wonderful world of plants and what their sometimes annoying pollination mechanisms have to offer.
So, grab the tissues, nasal sprays, antihistamines and suffer through.