I am always in search of the tough, resilient plants that stand out in any challenging landscape.  Certainly, ornamental grasses fit into this category.
They are increasing in popularity because of their texture, form/structure and interesting seed heads.  Another reason their popularity continues to grow is that they require minimal care and provide year-round interest.
Ornamental grasses are a diverse group of perennials that expand the plant palette of any design, but many of them get too tall for a typical landscape application.
This week, I wanted to make note of some of the dwarf grasses in our gardens.  As you know, fall is the best time of the year for most grasses.  They are showing off their attractive plumage and the beautiful fall colors are beginning to develop.  These five grasses have worked for me, and can be found next week at our Fall FloraKansas Plant Sale:
---
Blue Grama-Bouteloua gracillis 'Blonde Ambition'         
This Blue Grama Grass is apparently on steroids.  I cannot believe how vigorously it grew this year, ultimately reaching two feet tall. This taller form has bright blue-green leaves that are topped by a host of eyelash-like golden yellow flowers.  They wave in the wind and ambitiously last from summer into the fall and winter months.  I used it along a walkway but it is so attractive that it could stand on its own providing many months of ornamental interest.   This beautiful grass was discovered by David Salmon of High Country Gardens.


---
Little Bluestem-Schizachyrium scoparium 'Carousel'
At home in a formal planting or prairie garden, you don't have to sacrifice anything by planting this Little Bluestem.  Carousel remains stiffly upright even through the winter.  The gentlest breeze puts the plant in motion.  The blue-green leaves are highlighted by pink that gradually turn to rich copper, pink, and mahogany tones in the fall.  It truly has a carousel of color.  It provides a beautiful backdrop to perennials like coneflowers or black-eyed susans. This graceful, low maintenance Little Bluestem will provide a form that can be used in any sunny landscape.   Other garden-worthy varieties of Little Bluestem are 'Standing Ovation', 'Blaze' and 'Blue Heaven'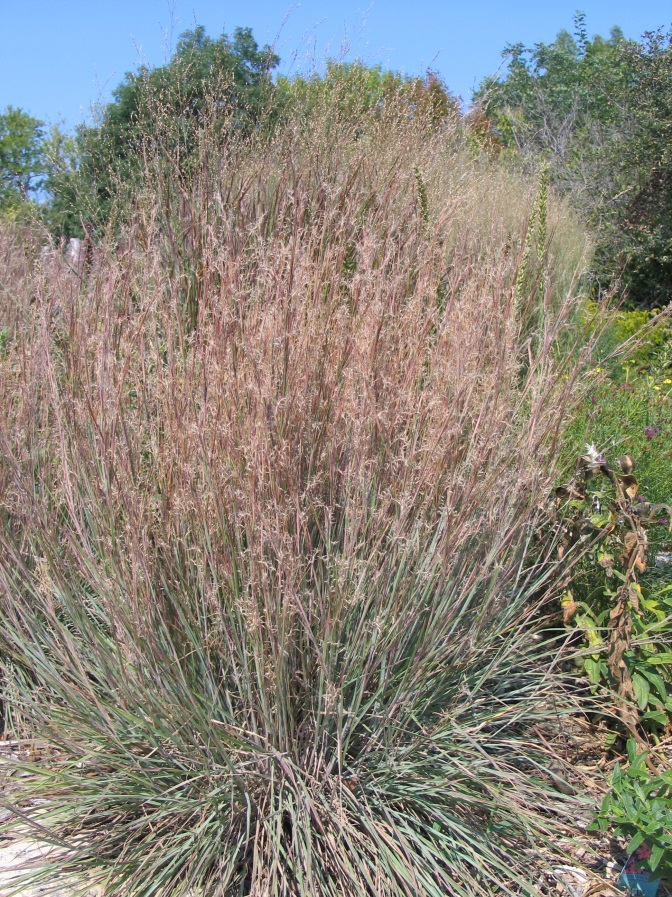 ---
Prairie Dropseed-Sporobolus heterolepis
At one time, this was the top selling native grass in the country.  To see a mass planting in full bloom, you can understand why it is so popular.  The narrow leaves form a perfect fountain of green.  In late summer, the fragrant airy seed heads develop.  Some liken the fragrance of the blooms to buttered popcorn.   With this plant, you can get your theater popcorn fix without all the calories.  It requires almost no maintenance once established.  Fall color is burnt orange and rivals Little Bluestem in mass plantings.  A shorter form of Prairie Dropseed worth trying is the variety 'Tara'.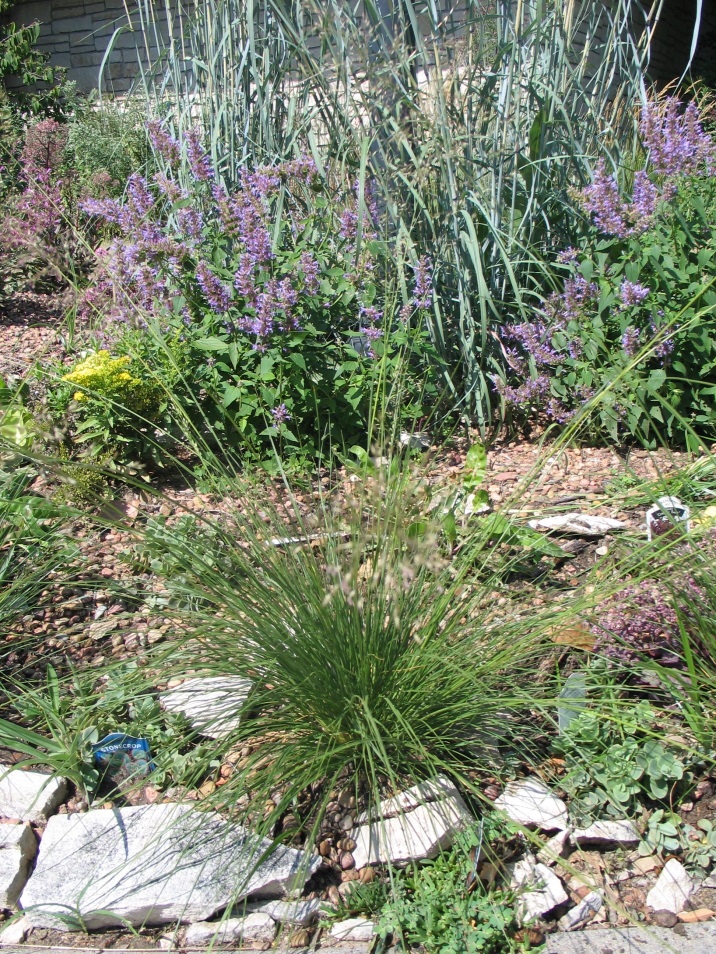 ---
Switchgrass-Panicum virgatum 'Cheyenne Sky'
WOW! This grass is spectacular this year.  They are totally saturated in reds and purples.  Most switchgrass varieties get four to five feet tall, but not 'Cheyenne Sky'.  It forms an upright three foot clump.  The vibrant red color hues begin to develop in early summer followed by reddish flower clusters in August and September.  The leaves rustle with the slightest breeze and sway in the wind adding movement to the garden.  I use it in containers, groupings or as a specimen plant by itself.  It is a very versatile and beautiful grass.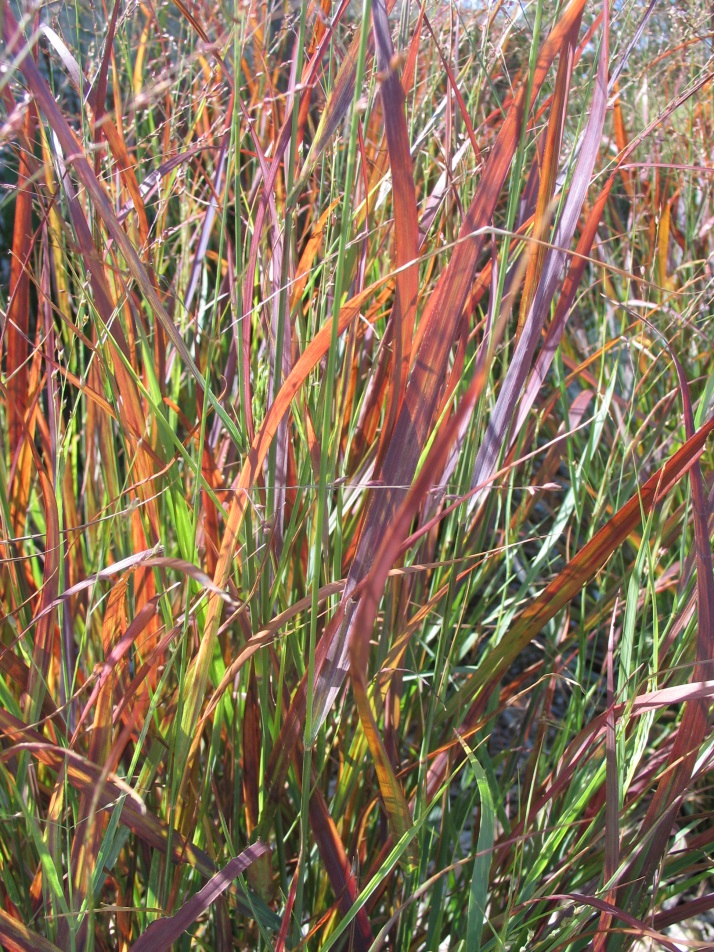 ---
Fountain Grass-Pennisetum 'Little Bunny'
We have been thrilled with this miniature fountain grass.  It puts on a show during the summer when the tiny cream seed heads pop up over the cascading green leaves.  The seed heads resemble little bunny tails, hence the name.  We have found it to be a reliable performer in the perennial borders and  when planted in mass.  If you have limited with space, then this grass would be a great choice.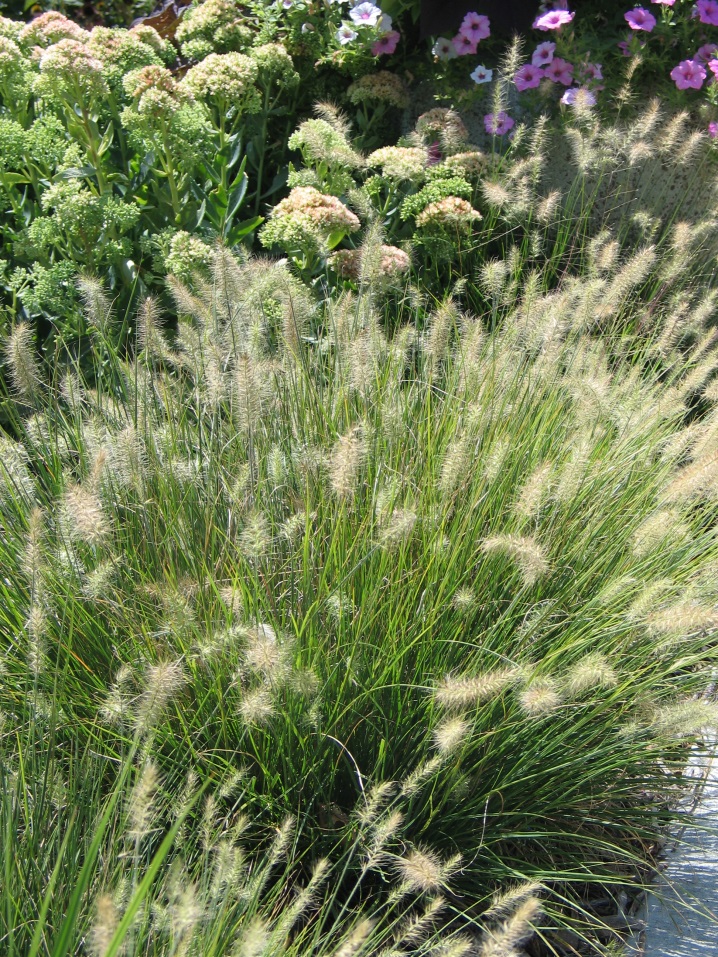 Questions: Which of these grasses have you tried in your landscape?  What steps do you need to take to integrate more grasses into your garden?