There are quite a few native wildflowers that everyone knows – coneflowers, gayfeathers, prairie clovers, evening primrose and so on. But when I tell folks to try some rattlesnake master, Eryngium yuccifolium, I get the blank stare, or the proverbial crickets in the room sound. What does that do? What does that look like?  True, it is one of the lesser known wildflowers, but I contend that it is just as attractive as some of the common wildflowers.
Rattlesnake master, Eryngium yuccifolium, gets its name from the belief that the roots have the ability to heal snake bites. In today's world, I would stick to the true antidotes. Often the root was dried and used in bitter teas as a supposed cure for maladies such as venereal disease, liver problems, impotence, expelling worms and to induce vomiting. It makes me thankful for modern medicine, but back in the 18th and 19th centuries many herbs from the prairie were used to cure a variety of ailments because they had nothing else.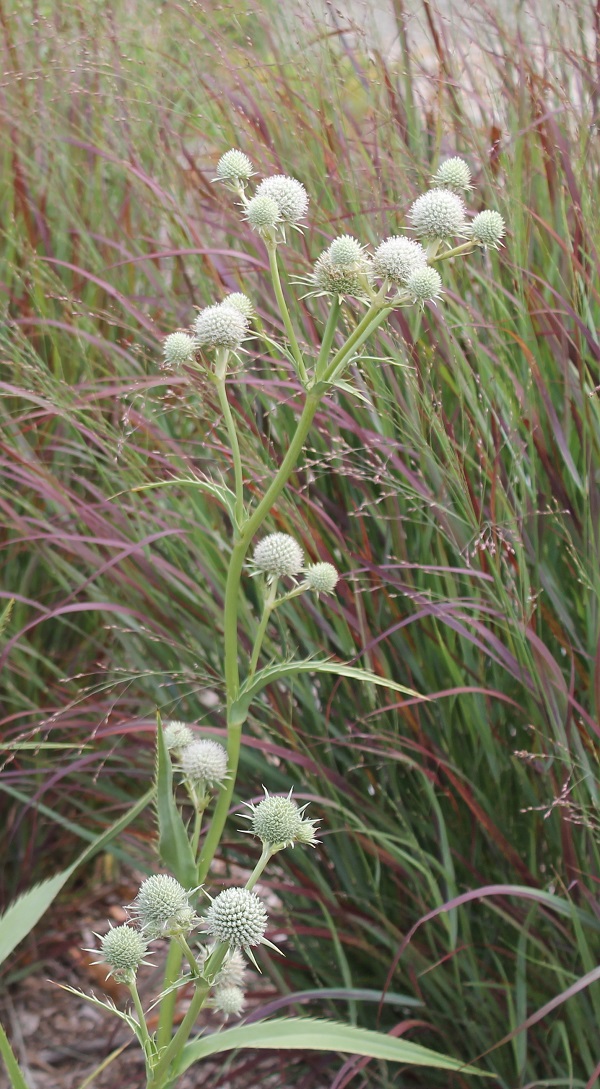 This unique wildflower's scientific name comes from the close resemblance the leaves have with a yucca plant. The sword-like leaves have soft tiny barbs along the edges that make it easily recognizable. In the summer, the white thistle-like flowers develop atop the stout upright stems. Even though it looks like a thistle, it is actually a member of the carrot/parsley family. Rattlesnake master ultimately reaches about three to four feet tall with a spread of one to two feet. I like to combine them in groups of three in the middle to back of the flower bed.
In the landscape or in a prairie, it is quite a striking plant. The grey-green foliage and one inch diameter flower heads make it stand out in the garden as an accent plant. The flowers slowly dry and become yellow-brown later in fall and into the winter. The stalks are sturdy and remain well into winter, providing interest in the landscape. We have even used them in dried flower arrangements.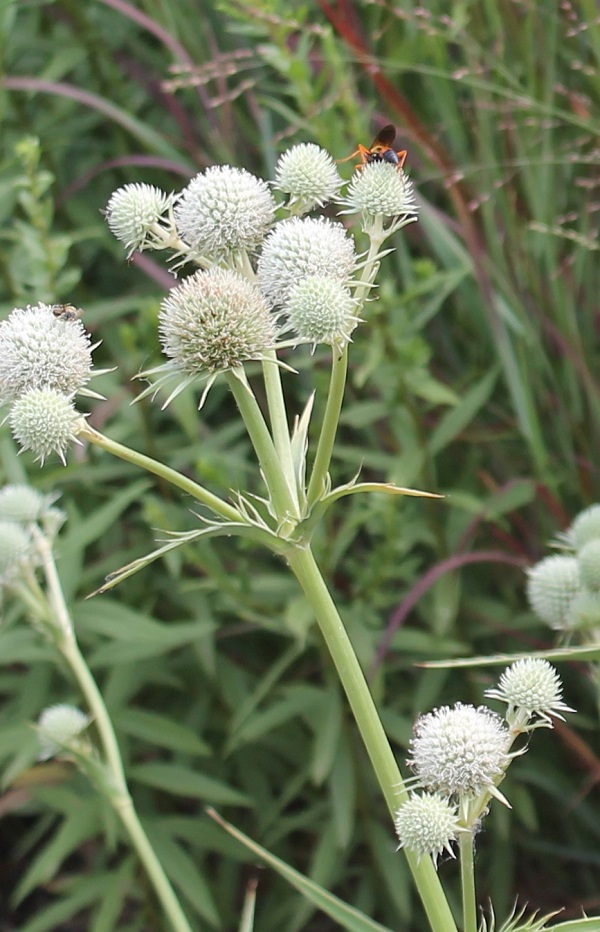 Plant them in full sun or part shade for best growth. They are quite adaptable, but prefer a medium to dry soil. I have planted in spring and fall with easy establishment either time of the year. This is a plant that should be used more in roadside plantings, prairie restorations, prairie landscape settings, and in your wildflower garden.
You may never need a rattlesnake master for a snake bite, but you do need some rattlesnake master in your garden. Its attractive appearance and resilient beauty are outstanding. Plus, pollinators love it too.  You may have just found your next favorite plant.