When a new plant is introduced into the market, it is more than just a fancy name. Plant breeders work for years, sometimes decades, to perfect and patent a distinct new plant variety. Sometimes this is the work of hybridization, complicated gene editing or human-aided crosspollination. But other times it starts by finding an interesting plant in the wild that varies from its normal phenotype and reproducing it reliably in trials to get ready for the mass market. Either way, after all that work, it is exciting to see the results!
Here are two new grass varieties available at our spring FloraKansas event, both the result of finding great natural specimens growing wild and capitalizing on their landscape-worthy traits.
Sorghastrum nutans 'Golden Sunset'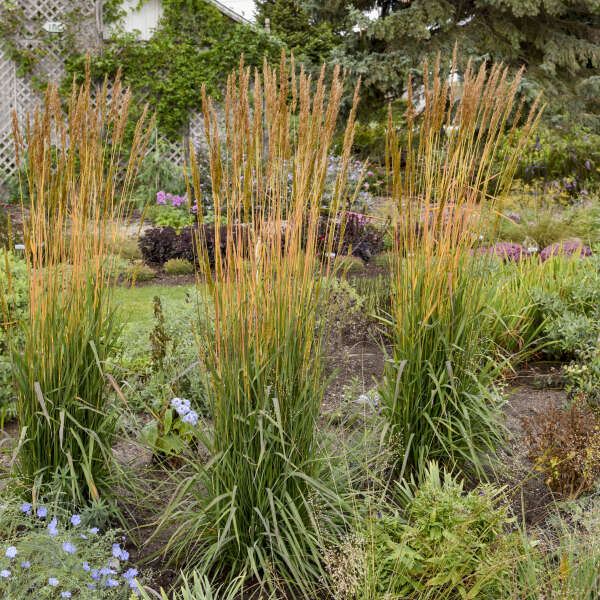 I'll admit that Indiangrass, also known as yellow prairie grass, is not my favorite of our native species. It is always flopping over and spreading everywhere. I don't care for its sloppy habit. But 'Golden Sunset' might change my mind! Selected at the University of Minnesota and in development for 15 years, this grass is known for its upright habit and early flowering. That means more time to enjoy the bright yellow feather-like plumes, and they won't fall over in the strong Kansas wind! Great for creating a screen or living fence, or as an accent in the back of the garden. Use Sorghastrum 'Golden Sunset' in place of non-native and invasive Pampas grass. Sorghastrum serves as a host plant for the pepper-and-salt skipper butterfly.
Grass height: 3 ft
Grass with blooms: 6 ft
Plumes can be up to 12 inches long!
Andropogon 'Karls Cousin'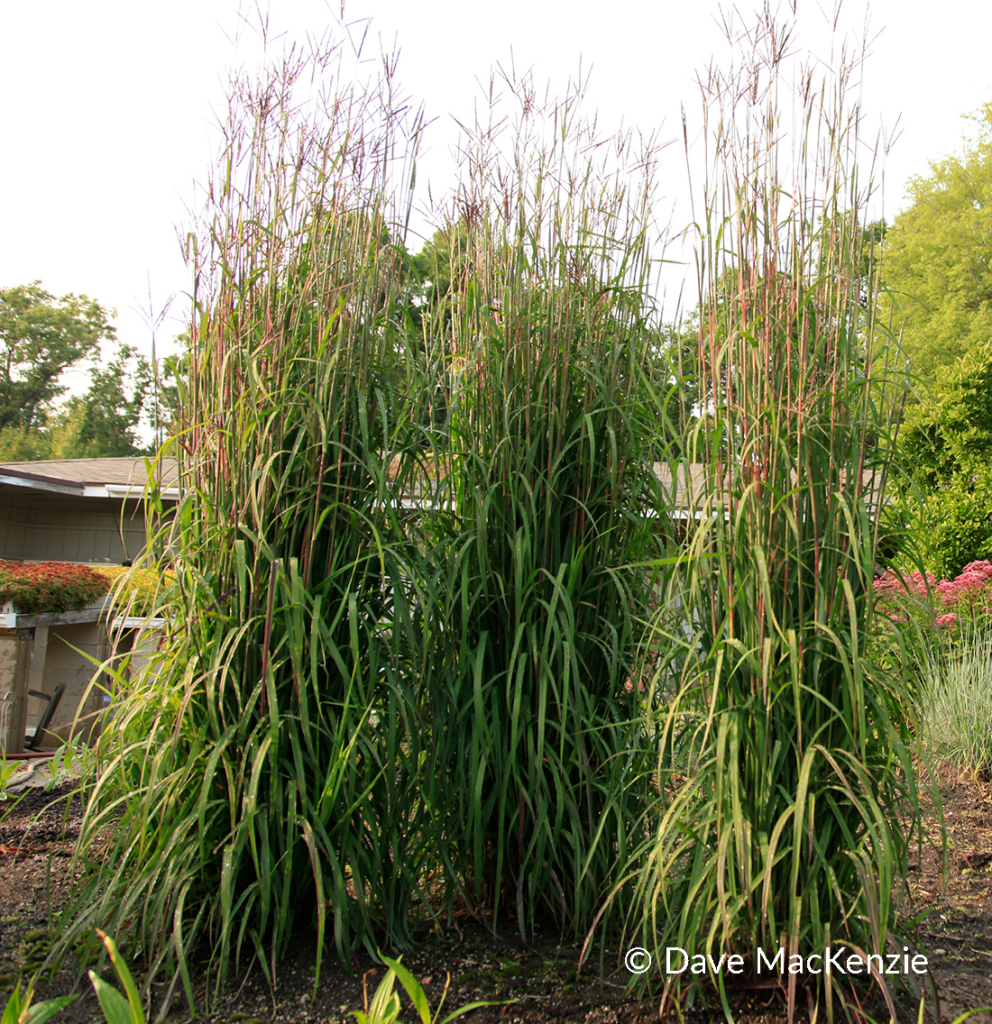 Big bluestem (Andropogon gerardii) is an important species in the tall grass prairie ecosystem. Beyond providing an incredible amount of biomass for grazers, birds and insects, they are also well loved in the urban and residential landscape. 'Karl's Cousin' is a selection found by breeder Dave MacKenzie growing on the side of the road. It was distinct and eye-catching, and after taking may divisions and many years in the trial garden, 'Karl's Cousin' was named as a new variety of Andropogon. It's much more upright than the species, with good color and strong stems and can be used as a replacement in some situations for 'Karl Foerster' grass, a non-native cool season ornamental grass. Where the straight species big bluestem might be too large or floppy for a city garden, this variety makes it possible to include in even small spaces.
Grass height: 4 ft
Grass with bloom: 7 ft
Great fall color!
Grass for Every Place
We have been planting and selling native grasses here for many years. We definitely have our favorites, like 'Northwind' Panicum and 'Twilight Zone' Schizachyrium. But there are hundreds of great grass species out there to fit any landscape. Dry, rocky soil? Try a western Kansas species like Bouteloua gracillis. Need a tall and fast growing living fence? 'Dallas Blues' switchgrass might be right for you. And if you have too much shade for traditional prairie grasses, consider adding sedges to your garden. While not technically in the grass family, these plants add grassy texture but can handle conditions from dry shade to full sun bogs. Keep your eye on our FloraKansas page to get the Native Plant Guide as soon as we update it for 2023, so you will know what species we have available this year.