Interest in native landscaping is growing in popularity.  This time of year leading up to our spring plant sale, homeowners and businesses contemplate what they would like their landscape to look like.  They desire a garden that captures the essence of the prairie, a landscape that creates a sense of place.
Nature gives us such a good model to follow.  The diversity and resiliency of native wildflowers and grasses is amazing.  We can mimic the prairie and bring it home to our gardens.  Follow these seven steps as you develop a plan using native plants.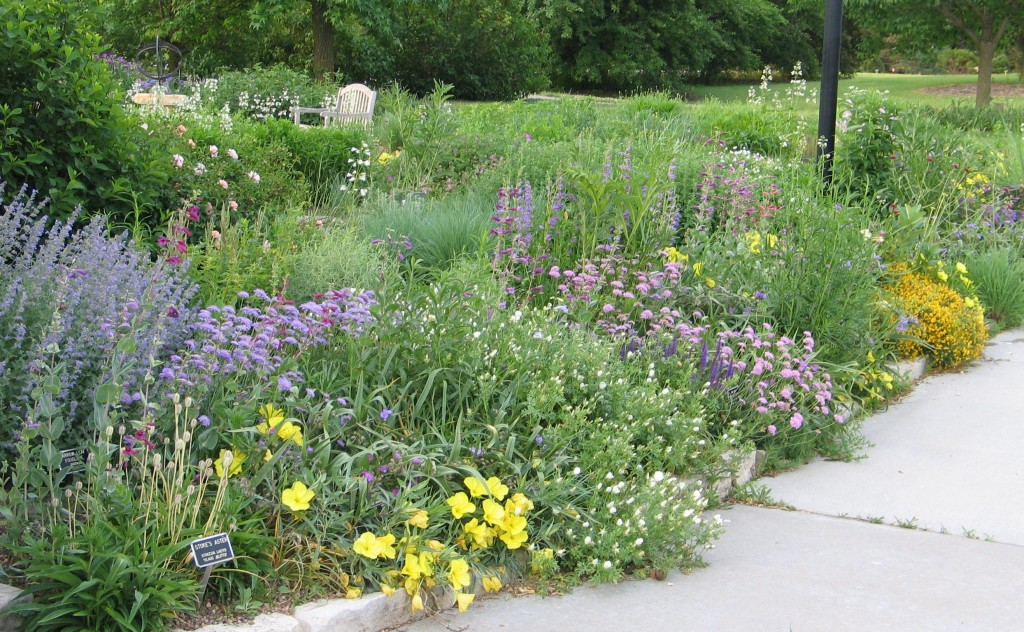 1. Plants should match your site.
This is the most important element in developing a successful landscape. Take a critical look at the area you want to landscape with native plants.  Is it sunny?  It is shaded for part of the day?  What type of soil do you have?  Is there a microclimate?  Is it exposed to wind?  All these factors will guide you as you select plants for your site.  This step requires some research and time as you familiarize yourself with the qualities and environmental needs of native plants.
2. Succession of Bloom
There are no Wave Petunias in the prairie. If you visit a prairie landscape like the Konza Prairie every two to three weeks throughout the year, you will observe plants beginning to bloom, in full bloom or going out of bloom.  That is how you need to design your native landscape.  Include plants that bloom in every season of the year and then strategically add grasses for movement and texture in the winter months.  Again, take time to acquaint yourself with the life cycles of wildflowers and grasses.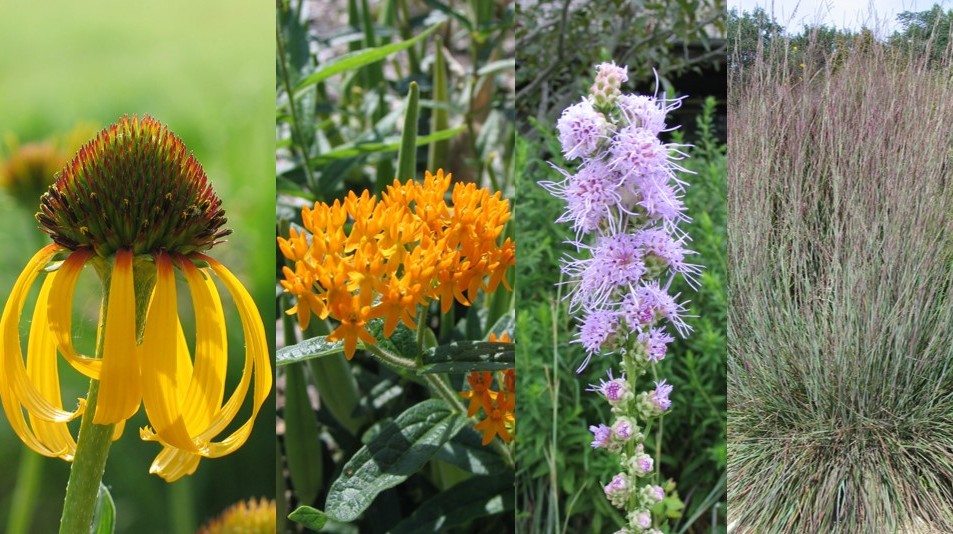 3. Forms and Textures
A diversity of plants woven together artistically can create a dramatic effect. Pay attention to the various shapes, textures and colors present in the prairie. Notice how the plants look year-round, not just when they are in bloom. Highlight interesting plant characteristics such as seed heads, forms, and fall color.
4. Interesting Lines
Rock Edging or a clean line along your display bed and lawn can add visual interest.  It can also lead you through your garden.  Interesting lines lead our eyes and makes you want to see what is around the corner.
5. Complementary Colors
Plant the colors you like, but make them complement each other.  Use a color wheel to mix plants.  Example: Purples (Spiderwort) and yellows (Coreopsis) are attractive together because they are opposite on the color wheel while whites (Penstemon) harmonize/blend the landscape together.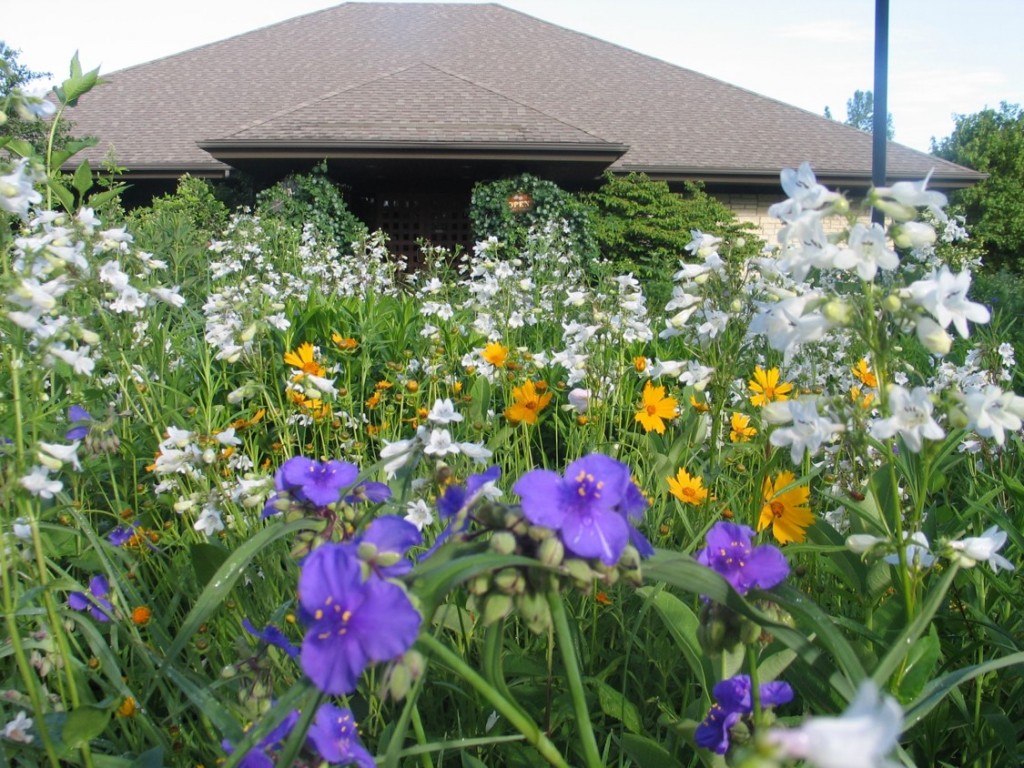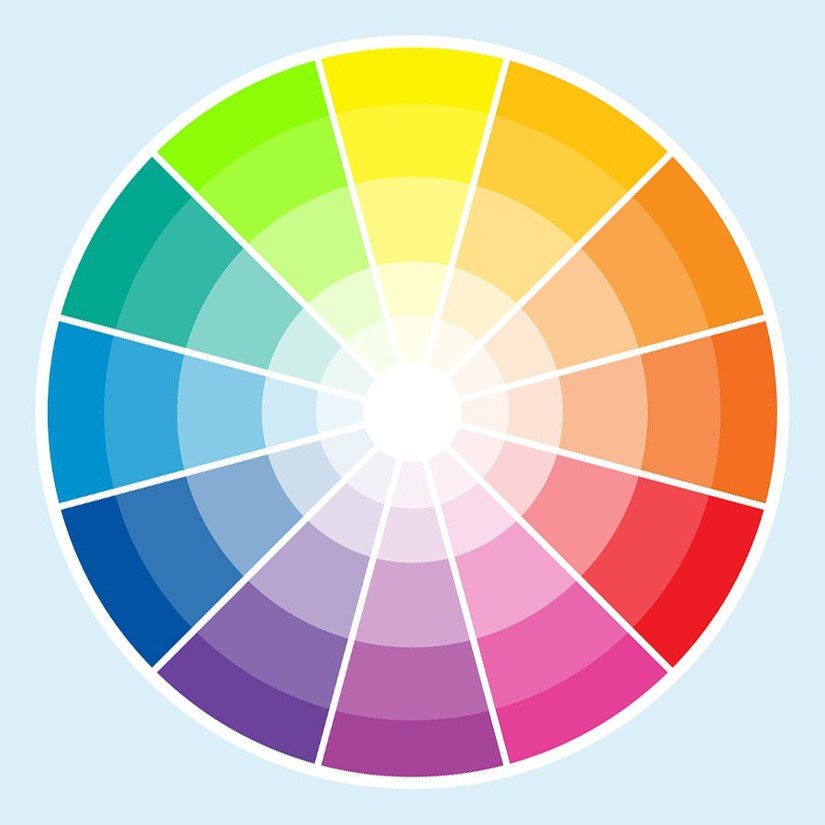 6. Intentional Plant Height
Are there areas that need screening?  Is there an opportunity to layer plants from shortest to tallest as a foundation planting?  Is it an island bed that has taller plants in the center with shorter wildflowers and grasses radiating to the edges?  Keep plants in scale by not planting wildflowers that are taller than half the bed width.  Example:  If your bed is six feet wide, only plants that are three feet tall will keep the display in scale.  You would not want to plant a compass plant is such a small bed.
7. Perennial and annual weed control
I have made this mistake too often. In a rush to plant, I don't get problem weeds like bindweed and Bermudagrass under control before planting.  I am still fighting this issue to this day in some of these landscape settings.  However, when I take the time to properly eradicate these weeds, the overall success of the garden and work to maintain it long-term greatly increase.  A little work at the beginning will save you many headaches down the road.
If you have questions about native plants or need help choosing what plants will grow best in your area, visit our spring plant sale or choose from landscape designs on the website.  With proper planning and careful consideration, you can create a sustainable garden utilizing native plants adapted to your landscape environment.  Transform your landscape using native plants that are sustainable, easy to maintain, and beautiful.