As a lover of nature and all its small, crawly things, I often drop everything to observe and identify even the smallest bug. Much to the annoyance of my coworkers and volunteers, I just can't give it up!
Learning to correctly identify the creatures around me brings a lot of fun and joy, but also:
Increases my scientific understanding of the world
Adds to my taxonomic and ecological knowledge
Builds empathy and compassion for the lives of smaller beings
Gives me a greater sense of place and familiarity in my Kansas homeland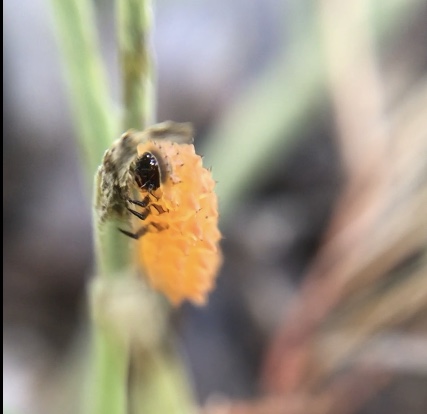 Identifying the creatures around you is not always intuitive. Recently I found some small, orange, wiggly friends in the landscaping at my house. And so begins the mystery! Here are the steps and resources I always use to identify new-to-me bugs. Hopefully they can be useful to you as well!
Step One: Photograph
Make sure to quickly capture some detailed images of your friend. Life for a bug is fast paced — they are moving, flying, fleeing, eating or being eaten! You will need to have a good photo to refer to, as your search for answers may last longer than your memory.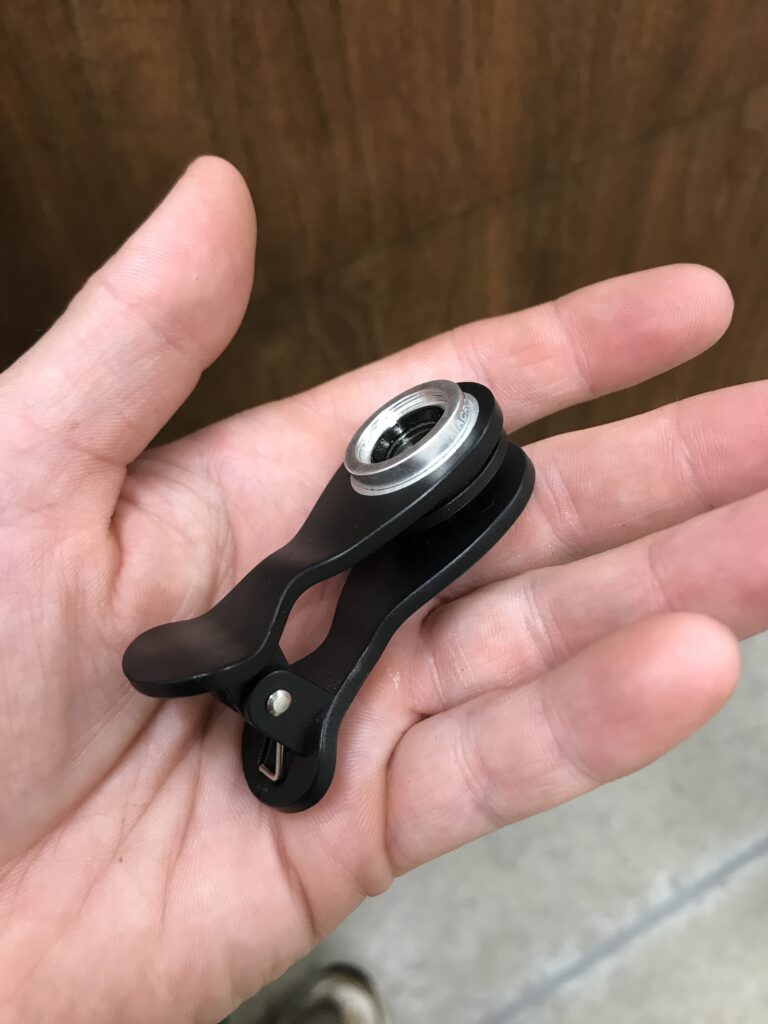 Insect or other?
Start by discerning whether you are a looking at an insect or something else. The word 'bug' is used to generalize all small, crawly things, but there are important distinctions. Spiders, for example, are not insects. Roly-polys are not insects. Earth worms are not insects. Counting legs and body segments of your specimen can help you determine if it is an insect; true insects will have 6 legs and 3 distinct body segments.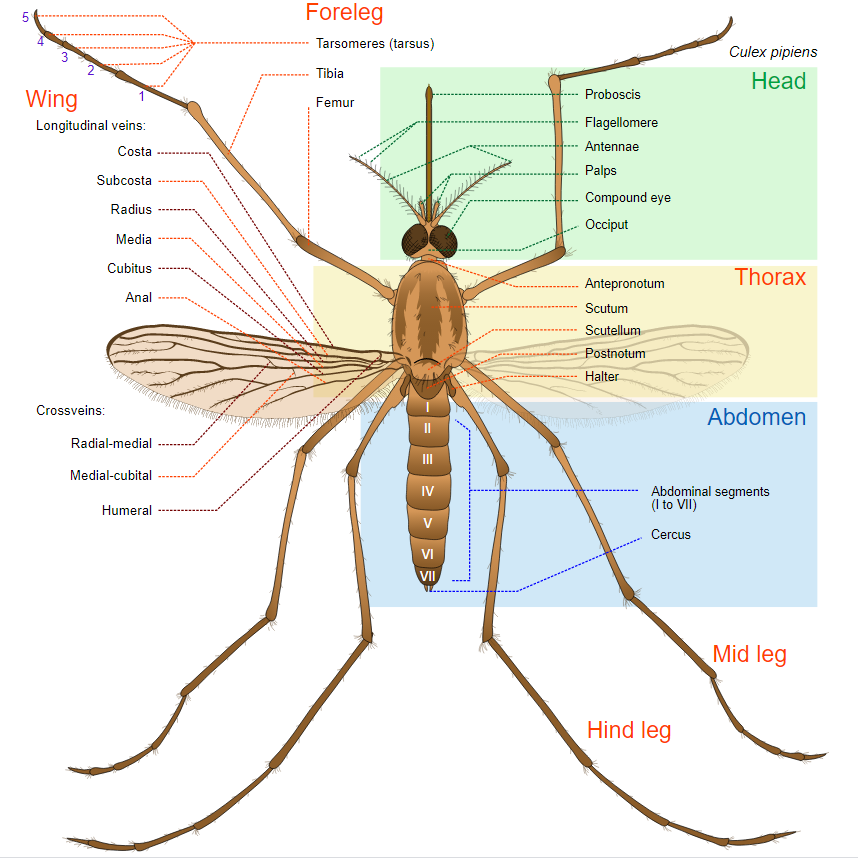 If you are a beginner and don't know much terminology, use the easy picture-based and shape-based search tool BugFinder. My mystery friend could not be found on this form. They had 6 well-defined legs but no obvious body segments. I thought perhaps I was looking at a caterpillar (still an insect!), so I visited DiscoverLife and answered their beginner-friendly caterpillar search form. In the past it has been tremendously helpful, but not this time.

Step Two: Where is it?
Where is this individual living? If you can identify its preferred habitat, you have a huge clue to discovering its identity. My mystery bug was living and feeding on Scutellaria resinosa, (also known as skullcap), but nothing else around it. Many insects have a host plant (a specific food plant that the babies must eat) or host plant family. By knowing the plant, I can work backwards and find out what insects are likely to feed on or interact with it. Sometimes these interactions are called faunal associations.
When searching the web to identify a new insect, remember to include the plant it was found on and the region of the world you are in. This will narrow your search. I love to use the maps at butterfliesandmoths.org to see what species have been spotted in my area.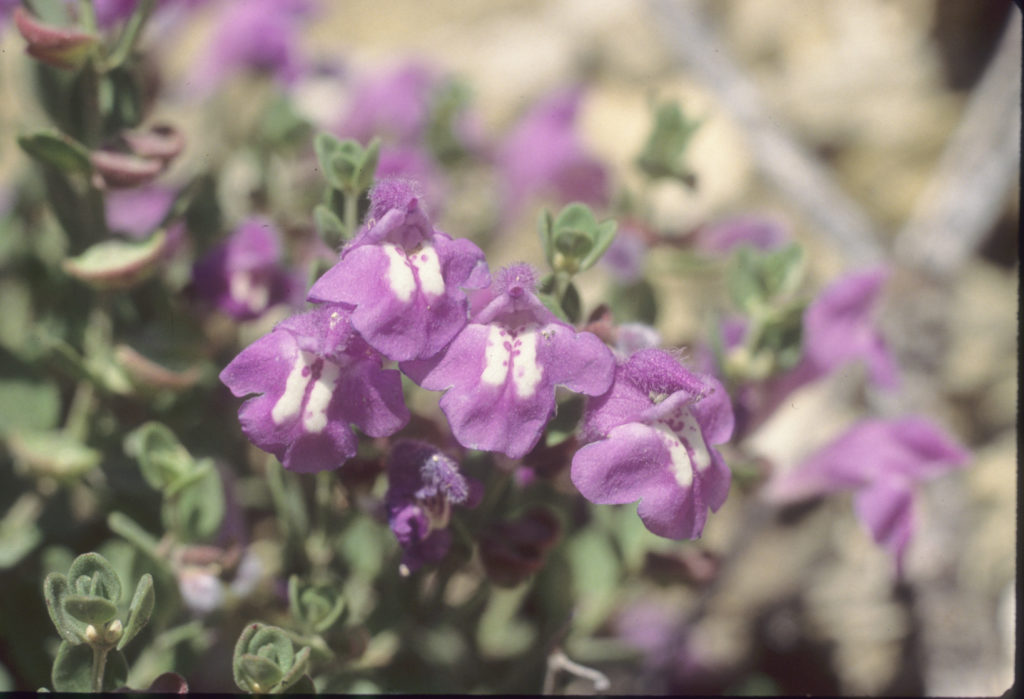 Step Three: Ask and Post
If you have scoured the internet and all your favorite insect guidebooks, but still are stumped, it is time to visit BugGuide.net. They are "an online community of naturalists who enjoy learning about and sharing our observations of insects, spiders, and other related creatures." There you will find a wealth of information on insects and their common whereabouts, but you can also post photos and ask questions of that expert group. They love to share their passion, and "to instill in others the fascination and appreciation…for the intricate lives of these oft-maligned creatures." You may also find answers by posting a photo to your local naturalist Facebook groups.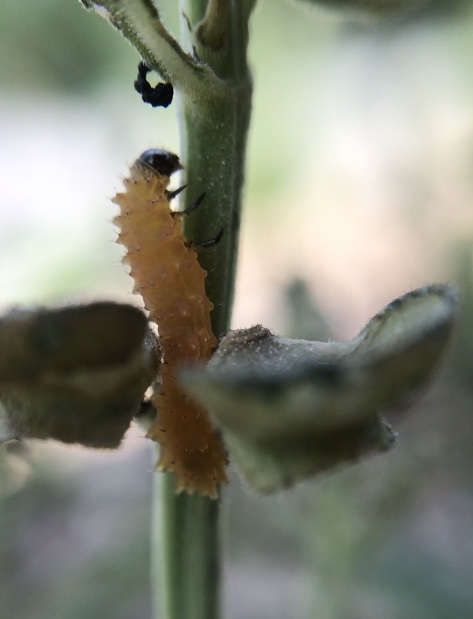 And the bug is…
A shining flea beetle larvae, Asphaera lustrans! I finally found my answer by searching through the records at BugGuide.net and coming upon this page. While I can't be sure, it was the closest match I could find. I also discovered that particular flea beetle hosts on Scutellaria, so I became even more convinced of its identity. I plan to post my photos and ask the experts on BugGuide to be sure.
Identifying wildlife and plants in your region is a lifelong pursuit; a never-ending puzzle. It can provide hours of stimulating entertainment for adults and children alike, and it will introduce you to like-minded folks who are also curious and engaged with world around us.
Next time you see a bug crawling across your porch or on your kitchen sink, don't squish! Capture it, take a photo, release it outside, and begin the fun of unraveling its mystery!