2015 seems to be the year of the genus Silphium in the arboretum.  In recent years, I can't remember them looking so bright or growing so tall.  With the spring and summer rains these sun-loving, yellow-flowered plants have reached a new level.  In fact, they are among the tallest plants of the prairie in late summer and autumn. We grow and sell four species: Prairie Dock, Silphium terebinthinaceum; Cup Plant, Silphium perfoliatum, Compass Plant, Silphium laciniatum; and Rosinweed, Silphium integrifolium.  Each of these are distinct and easily identified by their unique leaves.
Prairie Dock (Silphium terebinthinaceum)
I call this the Hosta of the prairie. It almost has a tropical-look to it, with large rough leaves up to one foot wide and two foot long.  It will make a statement in the landscape, but give it plenty of room and keep it away from walkways, because the long stems tend to arch over the path.  Individual clumps can become large over time reaching six feet in diameter.  The yellow flowers develop in mid-August atop tall leafless stalks.  This member of the tallgrass prairie is one of my favorite wildflowers.  In my opinion, Prairie Dock is a must in your wildflower garden. Update (2023), I love this plant but we have found that it self seeds everywhere.  If you include it in your garden be prepared to deadhead after flowering to avoid a monoculture of prairie dock.  Use with caution.
Cup Plant (Silphium perfoliatum)
A natural bird bath in the landscape.  Each pair of leaves clasps around the stem forming a small basin.  When it rains, these crude cups fill with water that is then available to wildlife.   They stand tall in the landscape and therefore work well as a screen.  I have also used them as a dark green background for other shorter perennials like black-eyed Susan, and gayfeather.  The yellow blossoms can be seen starting in July and are visited by a host of butterflies.  Later, birds cherish the seeds.   Cup Plant thrives in heavier clay soils or even wet conditions.  It will be happy in any setting if given ample sunlight.
Compass Plant (Silphium laciniatum)
Do you need directions?  This is the plant that can help.  The interesting basal leaves look like flat hands.  Those lower leaves usually orient themselves north-south to minimize exposure to the intense summer sun, hence the descriptive common name.  These extremely tall (up to ten feet) wildflowers are found in prairies and glades throughout the eastern third of Kansas.  Each stem is covered with tiny white hairs that give it a rough, bristly feel.  The bright yellow flowers emerge along the upper parts of the plant in summer.  Split or broken stems exude a clear sticky resin much like pine sap.  Native Americans used this resin as a mouth-cleansing chewing gum.  I think I will stick with Trident®.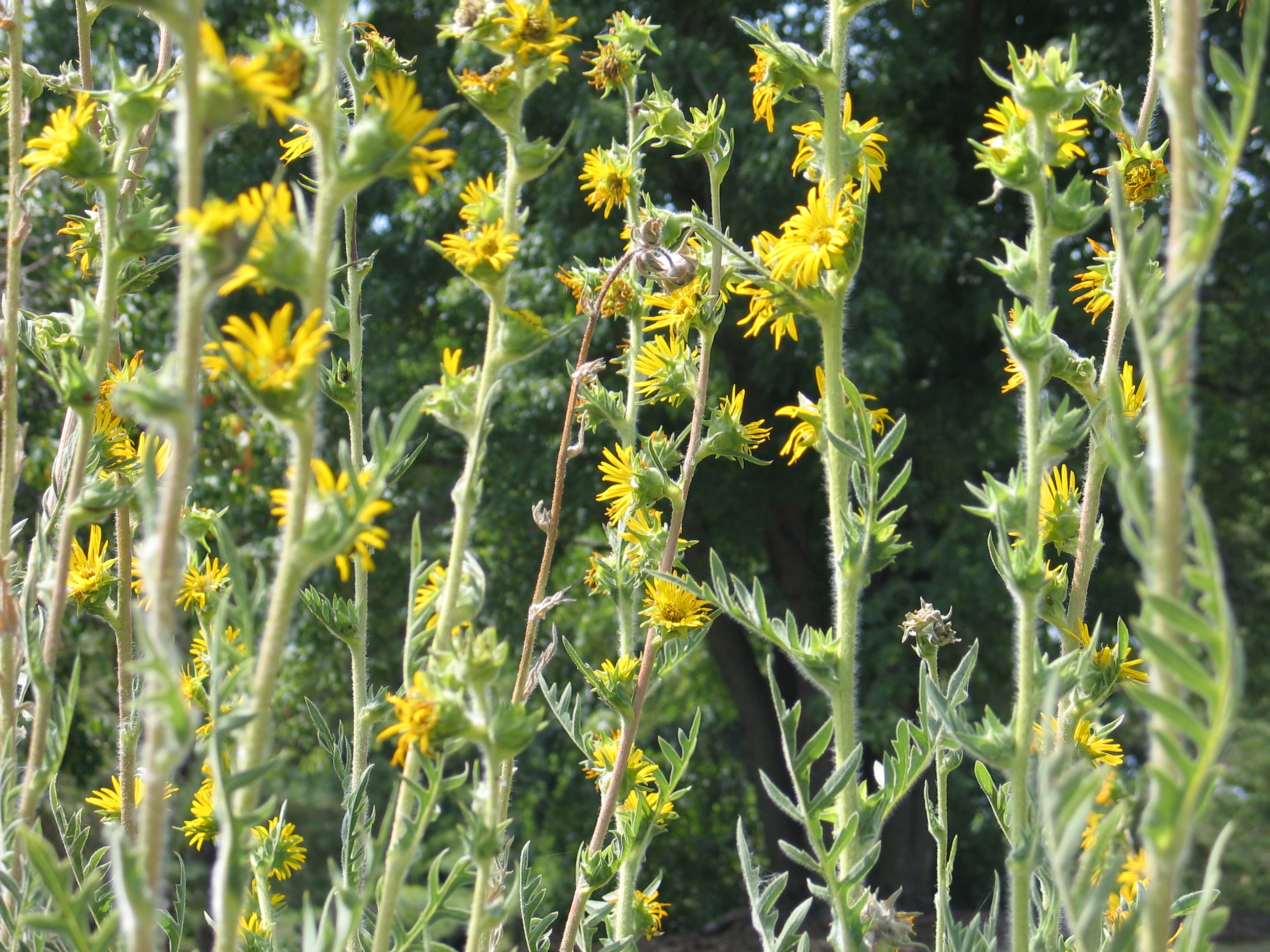 Rosinweed (Silphium integrifolium)
Rosinweed is shorter, but just as tough as the other Silphiums.  Again, the name describes the resin exuded if the stem is bruised or broken.  The golden yellow flowers that mature at the top of the stems are beautiful in the summer.  It is a pollinator magnet, attracting bees, butterflies and even hummingbirds to the flowers.  It becomes a natural bird feeder in the fall and winter as the seeds are devoured by birds.  It is quite drought tolerant once established and is at home in a wide variety of soils.
While each of these wildflowers are unique in appearance, especially as you look at the leaves, they all have that "clear, sticky juice" that exudes if the stem is damaged.  I love them in the landscape, but they need room because they grow so tall.  They are great in prairie settings or areas on the periphery of your yard.  You can't go wrong – just give them plenty of sunlight so the sunflower-like blooms can brighten your summer landscape.
Each of these plants can be purchased at our FloraKansas Fall Plant Sale, September 11 to 13.