On a recent trip to the Rocky Mountains, I visited the Denver Botanical Gardens. My family rolls their eyes because we always visit some garden while on vacation. They usually have a good time once they are there but their short attention span makes me hustle through the gardens. Anyway, I noticed some interesting native plant displays that I want to try at the arboretum.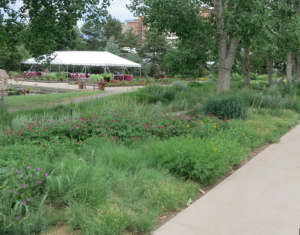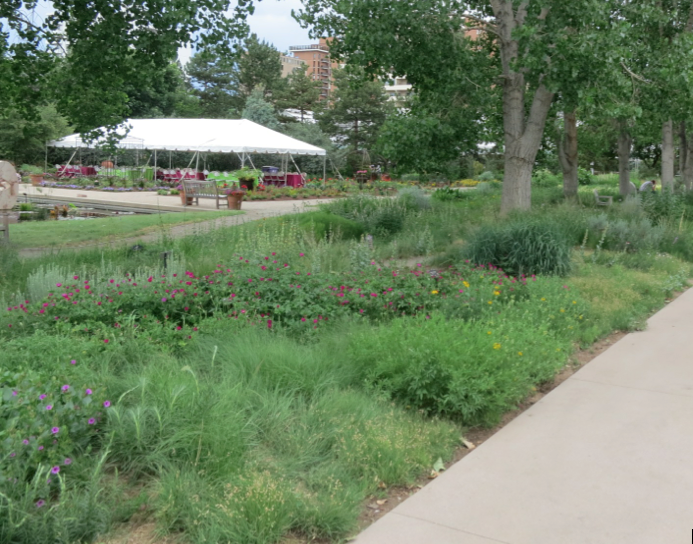 Under some cottonwood trees were strategically placed shorter native plants. Essentially, they were mimicking a savanna landscape which is the transition zone between open prairie and forest.
The plantings were diverse with grasses and perennials. One of the many things that caught my eyes was how the plants were grouped. It made such a visual impact. Blooming perennials popped while the grasses offered texture and soft forms that blended the planting together. A small trail weaved its way through the entire landscape allowing visitors to get up close to the plants.
The grasses they used were blue grama, little bluestem, side oats, and prairie dropseed. The wildflowers included purple poppy mallow, four o' clocks, columnar coneflower, penstemons, coneflowers, indigos, asters, blazing stars and goldenrods.
This display is totally scalable. By grouping at least five plants of a particular species together, they stood out in the garden. The grasses were used to line the path and edges but also were used as a backdrop to highlight the blooms and seed heads of the wildflowers. Grouping these individual species together makes it easier to weed, water and maintain.
We have been experimenting with this group approach at the arboretum with great success. A limited palette of wildflowers that bloom at different times of the year combined with grasses in artistic ways can have a tremendous visual impact.
Try spring bloomers next to those summer or fall blooming perennials. A little forethought before planting, matching the plants with your site, grouping species together, properly planting and establishing will go a long way to creating the effect you want in your landscape. I have found with natives that "less is more".
What plants or landscapes have you seen in summer travels that you would like to try?
This is the beginning of a blog from the Dyck Arboretum of the Plains about native and adaptable plants, why they matter, how to utilize them in a landscape, and the beauty of the prairies. We want to have conversations and provide you an opportunity to share your thoughts and opinions about gardening and landscaping in harsh climates. This blog will provide you with valuable information to help you in your endeavors. The right information and the right perspectives can make all the difference in your own landscape. Aldo Leopold stated, "A thing is right when it tends to preserve the integrity, stability, and beauty of the biotic community. It is wrong when it tends otherwise".
Our mission is to promote through education and stewardship, the conservation and use of plants native and adaptable to Kansas. That simple statement addresses the important concepts that will guide our content and conversations:
Education about the natural world around us along with planning, designing, planting and management of a prairie landscape
Stewardship of the land with best management practices and the proper use of our resources,
Conservation of native plants and how to integrate native and adaptable plants in beautiful, artistic ways into a home or business landscape.
I will share my 17 years of experience as Horticulturist at the arboretum with you. Hopefully, my successes and failures can help you along the way. I have killed plenty of plants over the years. I have also learned a few principles that make beautiful gardens. This new platform is a great way for us to learn together. You can help me and I can help you become better stewards of the land. Someone once said, "If it was easy it would be called growing, not gardening." Maybe we can make it easy for you and for me.
How do you use native plants in your landscape? What plants have you had success growing?
Posted by Scott Vogt, Executive Director, Horticulturist