A recent September Dyck Arboretum trip to Kansas City and the home of Lenora Larson spurred for me a dilemma regarding landscaping with non-native annual plants. I have typically spurned the use of annuals for reasons I'll elaborate on more later. But Lenora makes a very compelling case for using more annuals in the home landscape.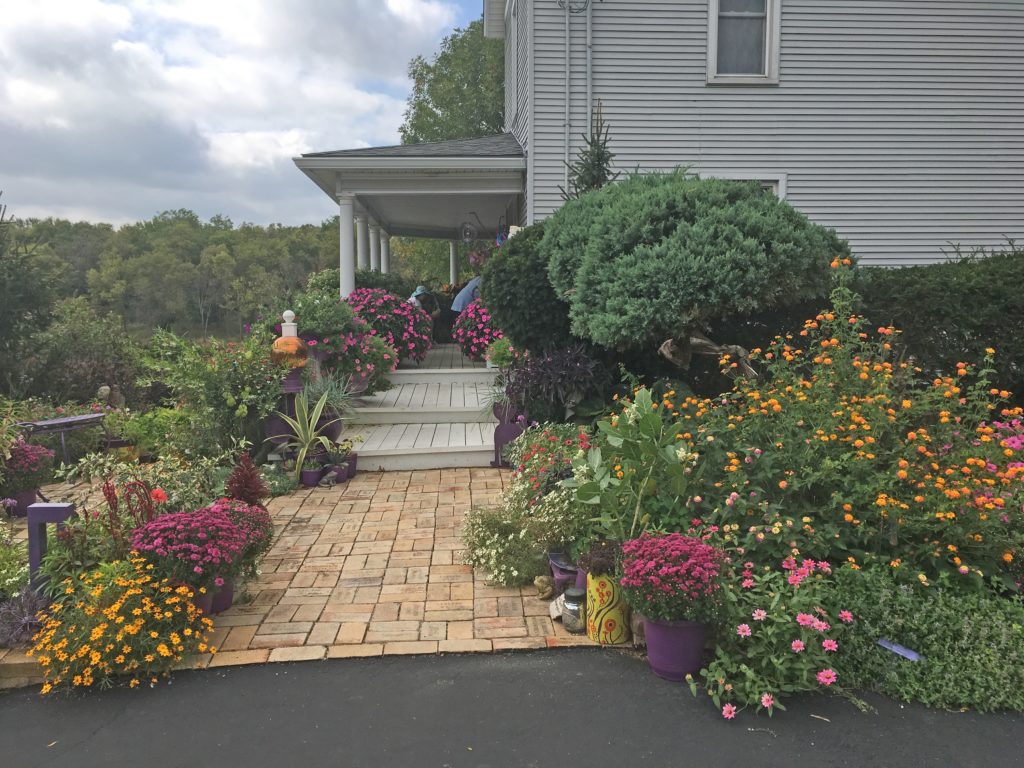 "Best Butterfly Godmother Possible"
Lenora Larson is indeed a master gardener with a mastery of providing host and nectar plants for a great variety of insects. Her father was a botanist and her mother was a landscape designer, so she certainly has a lineage for creating interesting and beautiful gardens. She was a microbiologist before retiring; with a scientist's curiosity, she keeps alive a keen interest in learning more about the natural world (especially plants and insects) around her. This passion was evident during her "Gardening for Butterflies" winter lecture talk at the Arboretum in March this year, and it was especially apparent as we toured the gardens around her home.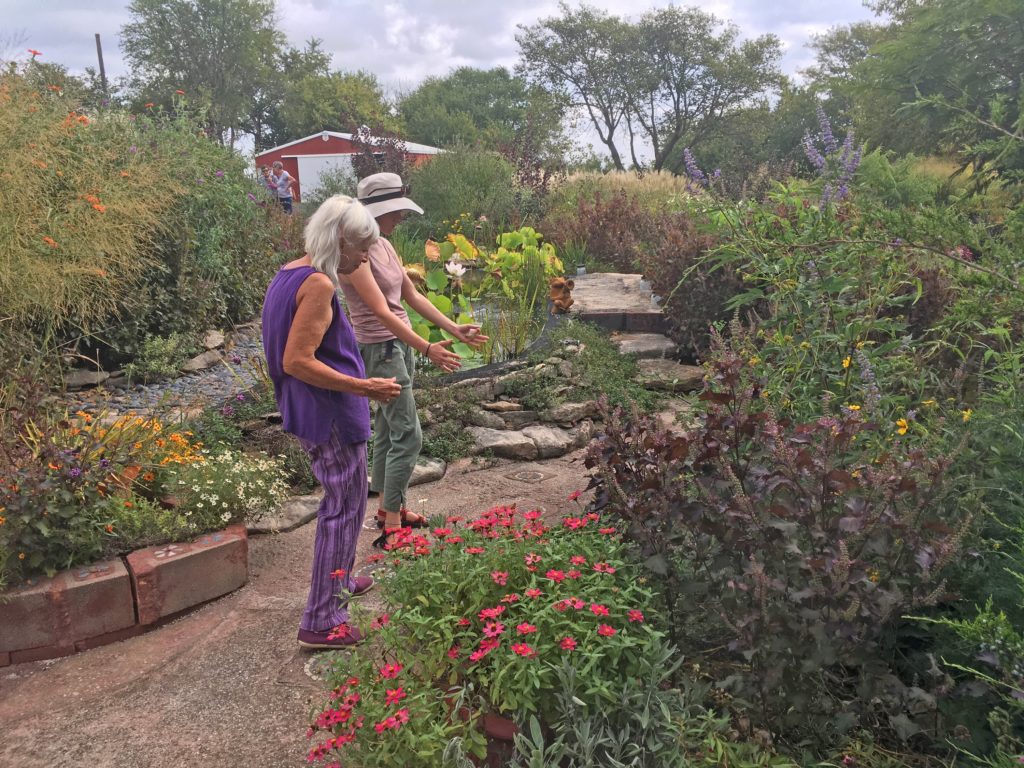 Lenora hates planting and, therefore, smartly touts the use of long-lived perennials as well as self-sowing annuals. She is a hard-working gardener, and loves spending 6-8 hours per day weeding and mulching during the growing season. She breaks down by hand all the vegetation on site to keep around the seeds and insect eggs that will keep the cycles going next year. Lenora is an artist who has a genius eye for aesthetics, composition, texture and color. Not only are her gardens graced with "plant art", but many permanent art installations of sculptures, trellises, paths, and walls are carefully and purposefully included as well. Her gardens are visually stunning.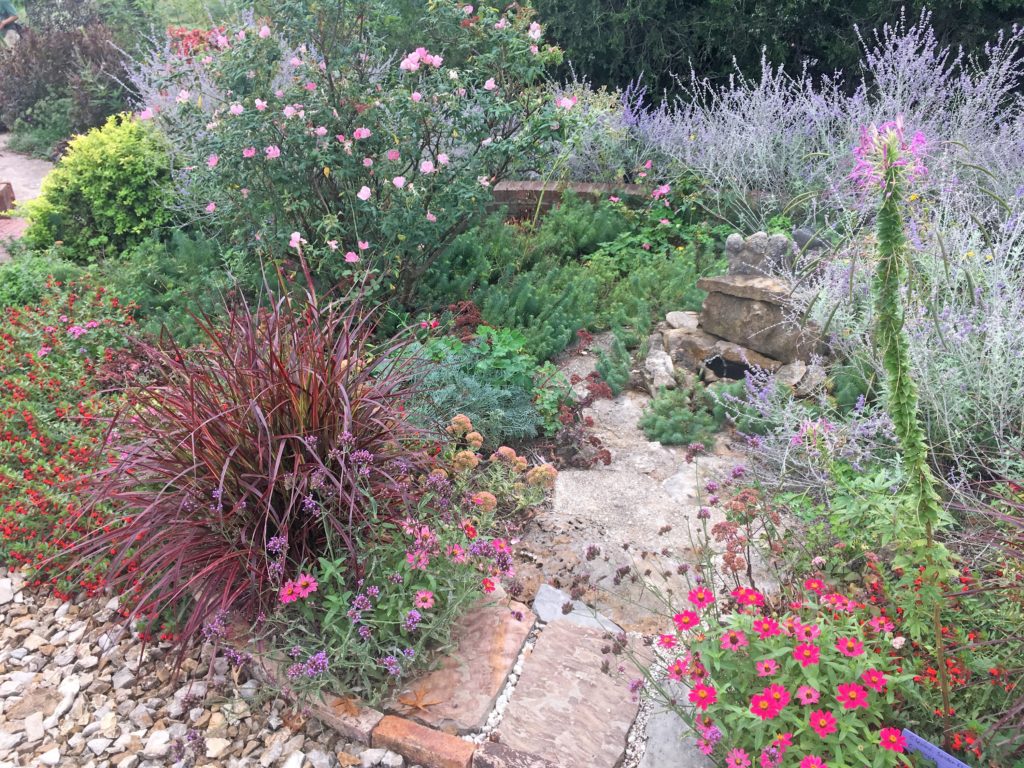 To an ecologist's eye, Lenora's gardens are fascinating. The numbers of butterflies, moths, bees, flies, beetles, and insects in general were incredible and so interesting. She could recognize and identify practically every insect we saw and her stories extended to amphibians, reptiles, birds, mammals and more. Lenora's planting formula is generally to plant about 50% native perennial host plants for hungry insect larvae, and then as many flowering nectar plants as possible (annuals included) for the adult insects. Thanks to the annuals, Lenora's gardens feature flowers from April through November. Lenora is willing to use glyphosate (e.g., Roundup) herbicide carefully to keep her paths looking clean when needed, but as you might imagine, she is staunchly against the use of insecticides.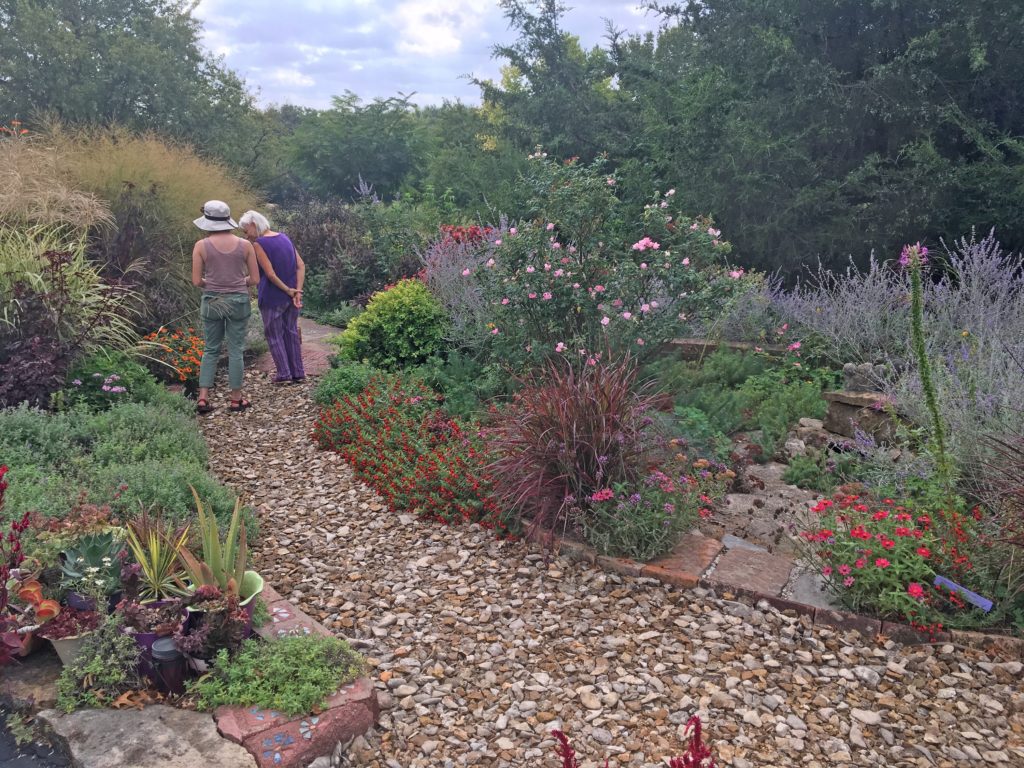 My Historical Context for the "Dilemma"
Allow me to give a bit of background on why landscaping with annuals even poses a dilemma for me.
I have been a bit of a snob in the past about planting only native perennial plants. With a fresh background in plant ecology and ecological restoration when I came to the Dyck Arboretum nearly 14 years ago, my focus was all about trying to mimic native plant communities while conducting prairie restorations, improving the ecology of my own back yard, and providing others with landscaping recommendations. This included not only the exclusive use of species with historic presence in south central Kansas, but trying to stick to local ecotype plants of those species as well whenever possible. Native annuals such as annual sunflower, and a couple of different ragweed species are important ecologically in their functions of holding soil and providing lots of seed food for wildlife. However, they generally aren't appreciated in landscaping applications, because they are aggressive and/or aggravate allergies.
These "native only" ideas were fairly compatible with the mission and focus at Dyck Arboretum, which are firmly rooted in landscaping with native plants. In Central Kansas, that means using plants of the prairie. This approach is what sets us apart from other plant nurseries. It feeds our mission of education and stewardship, and it connects us to a sense of place by embracing historical plant communities important to our Kansas cultural and natural history.
But while this restrictive approach of "natives only" had its merits in designing, collecting seed, and planting our Prairie Window Project prairie restoration at the Arboretum, I quickly learned that this ivory tower mentality was not held by most other people. It also wasn't a very sustainable approach for an organization engaging the general public on environmentally-responsible landscaping.
So, in addition to promoting use of native plants, our mission also embraces the use of adaptable perennials that may have originally grown elsewhere, but are still adapted to grow well in our soils and climate. Today, in a cosmopolitan world where information and biological organisms are shared easily around the globe, it seems impossible to take a natives only approach.
Using Annuals
One of the main reasons I've been biased against annuals for landscaping is their regular need for water. Annuals have shallow root systems compared to perennials. Dry, hot Kansas summers are not always conducive for growing annuals from places in the world with cooler and wetter climates.
Lenora Larson's house sits next to a well-fed pond that she uses for her irrigation needs. Cosmos and zinnias have done well as part of our community garden vegetable plot, because we water them regularly. And we do enjoy the abundance of butterflies they attract throughout the summer. I'm just not sure if I want to commit the time and environmental/monetary costs to keeping annuals alive around my home too.
But in 2018, I have decided that I'm going to give this annuals approach a try to supplement my native perennial gardens. I plan to follow Lenora's succinct 3-page guide, in which she summarizes her gardening approach and offers her favorite self-sowing annual plant species choices with descriptions of each. For many of these species she recommends, I've searched online and provided photos of the flowers below. Maybe you are already implementing many of Lenora's annual species suggestions and seeing the rewards. If not, consider joining me!