Fall is the best time of year to admire the beautiful regalia of native grasses. During the spring and summer, these grasses blend into their surroundings. As autumn deepens, the wonderful fall color and attractive seed heads of these grasses are on full display.
One of the most talked about grasses this fall has to be pink muhly grass (Muhlenbergia capillaris). A few years ago on the sidewalk in the northwest corner of the Arboretum, we established a couple groupings of these plants. This year, these swaths are topped with vibrant pink blooms.
Pink muhly grass is not only a beautiful ornamental grass, but it is also low-maintenance. We have not done much to keep these grasses going this growing season. It gives you the best of both worlds, a showy plant that doesn't require much time and attention.
These plants establish relatively quickly, either planted in the spring or in the fall. If you are planting in the fall, plan ahead by getting them in the ground at least a month before the expected initial frost. They are a warm season grass that needs soil at least 60 degrees to continue rooting.
In the spring and summer, the rounded, slender, long shoots of grass are dark green in color. As fall approaches, the plant produces soft, fuzzy flowers in pink or pinkish-red hues, with an appearance resembling cotton candy. As winter grows near, the flowers lose their color, but the dried plumes are still attractive.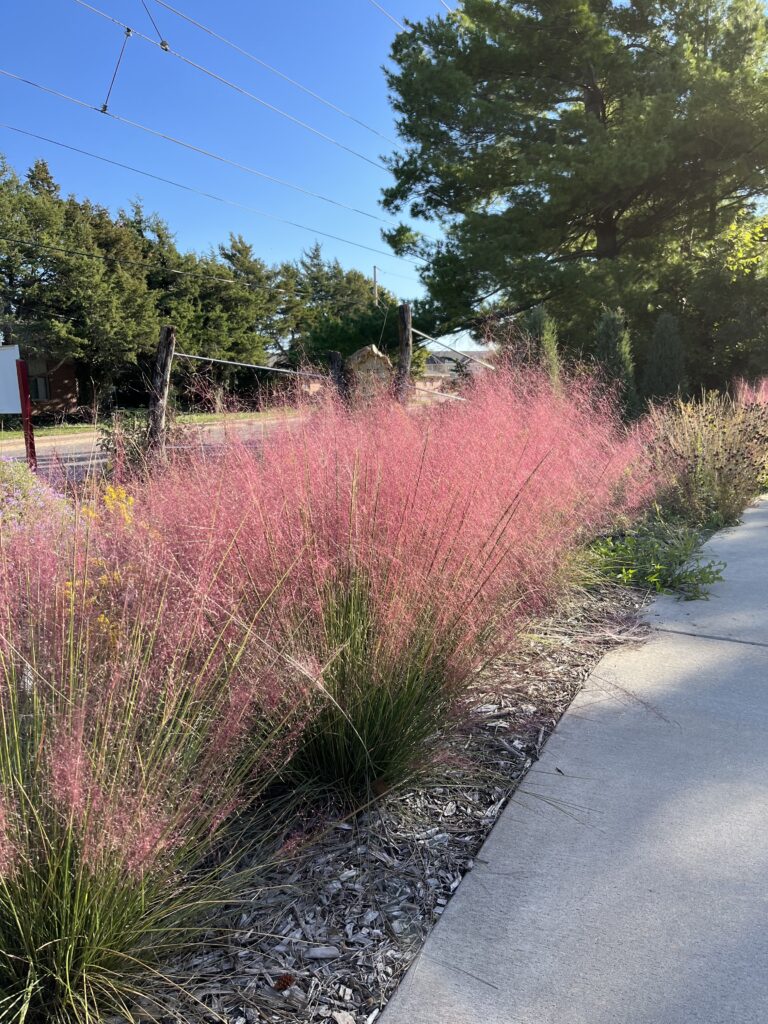 Muhlenbergia capillaris grows well in sandy or rocky woods and clearings with good drainage. It is native to Kansas and states south and east. We grow the straight species, but the cultivar 'Regal Mist' is another popular variety. Other beautiful cultivars include 'Pink Flamingo' and 'White Cloud'. Planting in large drifts is breathtaking.
While not as well-known as some of the other native grasses, it should be used more in landscapes because of its tolerance to poor soil and dry conditions. It needs good drainage especially during the winter, but is quite adaptable once fully established. As the clumps develop excessive thatch after three or four years, division may be helpful. Perfect for slopes; great in a container; beautiful when tucked into cut-flower arrangements.
For next spring, put this grass on your bucket list. You will not be disappointed. The soft watercolor effect will stop you in your tracks.