Daleas – now called Petalostemons and commonly known as prairie clovers – is a genus in honor of Samuel Dale, an English botanist (1659-1739).  Sixteen taxa of these hardy legumes are listed in the Flora of the Great Plains.  Few prairie clovers are cultivated, yet they offer splendid summer blooms and interesting, often fragrant foliage.
Here are some prairie clovers we have used in the Arboretum:
Petalostemon aurea  – Golden prairie clover
This herbaceous perennial grows 12-30 inches tall.  Its many flowers are on a dense ½ -3 inch long spike.  The specific epithet aurea, derived from the Latin aurum meaning gold, refers to the yellow flower that blooms in June through September.  Golden prairie clover is native to the western two-thirds of Kansas, especially on gravelly ridges and rocky slopes.
Petalostemon candida – White prairie clover
The specific epithet candida refers to the shining of pure white flowers, which appear in mid-June through July.  This species ranges from 12-36 inches tall and can be found growing in the eastern half of Kansas.  Because it is palatable to livestock, overgrazing can cause the elimination of the species from a range.
Petalostemon multiflora – Round-headed prairie clover
This plant puts on a prolific flower display of white flowers from mid-July to early-September.  The foliage is also quite fragrant, producing a tangy-sweet aroma when crushed.  This species ranges from 12-24 inches tall.  It is infrequent to locally common on dry rocky prairies and roadside banks in the eastern portion of the state and is selectively grazed by livestock.
Petalostemon purpurea – Purple prairie clover
This species produces fragrant purple flowers in June and July.  The finger-like foliage and upright habit make this prairie clover one of the best for the prairie garden.  The plants can be 6-36 inches tall depending on the variety and can be found in most prairie types in the eastern two-thirds of Kansas.  Like P. candida and P. multiflora, this species is palatable to livestock.  It is an important component of the prairie hay, is rich in protein, and nutritious to cattle.  It can become rare in heavily grazed pastures.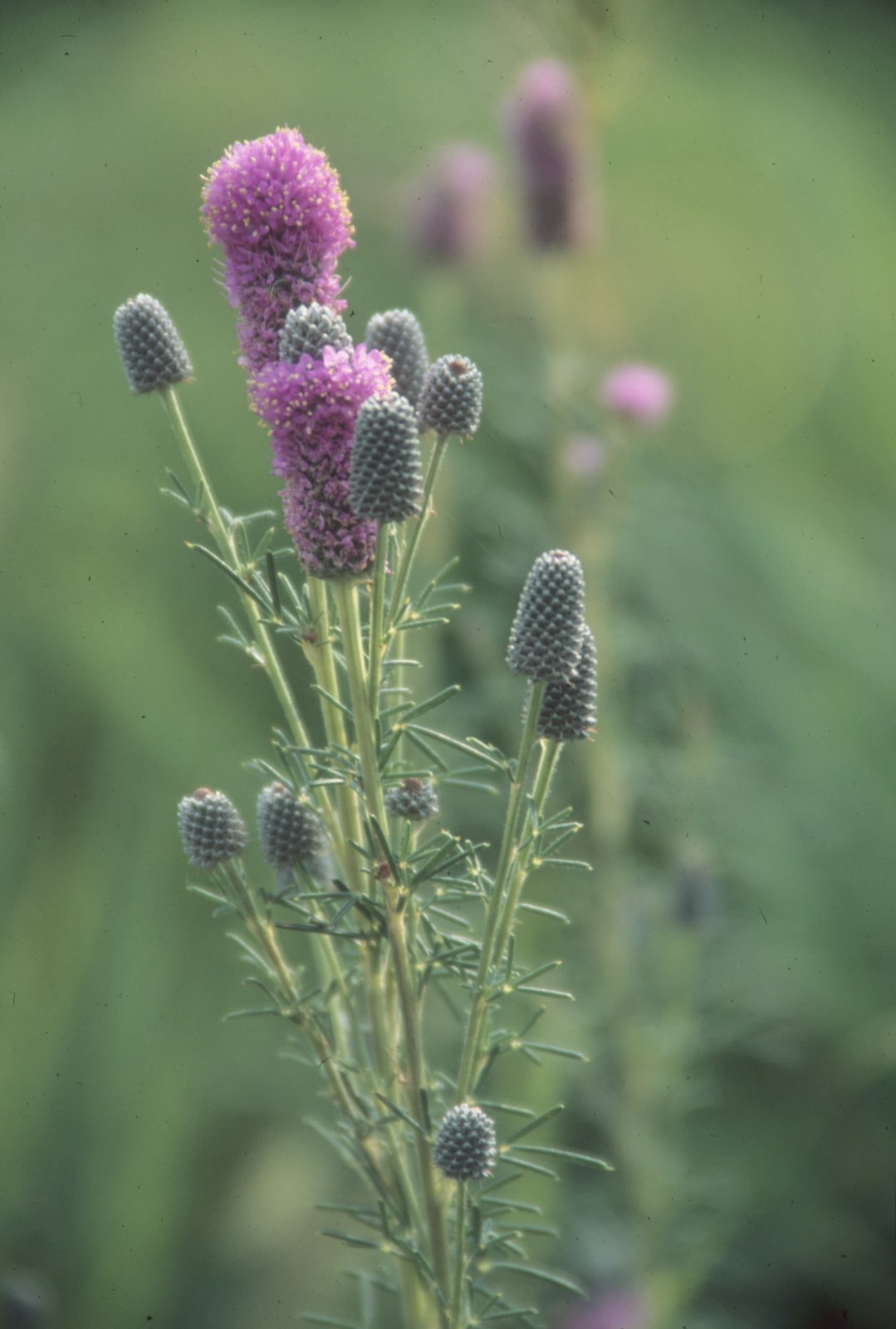 Petalostemon villosa – Silky prairie clover
This species ranges from 6-18 inches tall with lavender to pink flowers in June through August.  The leaves are covered with soft silky hairs, giving the plant a silvery sheen.  You can find this prairie clover on sandy soils south and west of the Arkansas River in Kansas.
Uses
Petalostemons have other uses besides being ornamental and planted in your prairie gardens.  No matter your soil type, there is a prairie clover for your garden.  Pollinators flock to the compact flower cones of these hardy wildflowers.  Melvin Gilmore, in his book Uses of Plants by the Indians of the Missouri River Region, says that these prairie clover leaves were sometimes used to make a tea-like drink.  The root was commonly chewed for its pleasant taste. The tough elastic stems were used to make brooms.  Sometimes the pulverized root was put into hot water and drunk to ward off disease.
These are past uses. I would highly discourage you from using these plants medicinally.  Just enjoy these tough wildflowers in your prairie garden.  Once established, they will prosper with little or no care.