One of the themes this spring for planting is diversity.  By planting a diversity of wildflowers and grasses in your garden, you will attract many different forms of wildlife, including pollinators and birds.  A wide variety of plants blooming at different times of the year will provide interest and beauty throughout the growing season.
As we have been busily getting ready for the plant sale this week, I can't help but notice the diversity of plants available this spring.  There are so many wonderful plants to choose and incorporate into a landscape setting.
Here are my top sun-loving plants for the spring sale:

Green Antelopehorn (Asclepias viridis)
This is the 2015 Kansas Native Plant Society wildflower of the year.  It grows 18 to 24 inches tall with green flowers in May and June.  It loves full sun and thrives in dry prairies.  Monarchs use milkweeds as a host plants.  Grow this species or any other milkweeds to increase habitat for the perilous populations of monarchs.
---
Penstemon 'Dark Towers'
It is beautiful in flower and foliage.  In early spring, the whitish-pink tubular flowers emerge.  Bees and even hummingbirds flock to these flowers to sip the sweet nectar.  Not only is it attractrive when blooming but the maroon-purple foliage adds interest the rest of the year.  A plant for the front of a border that is attractive at many different seasons of the year.
---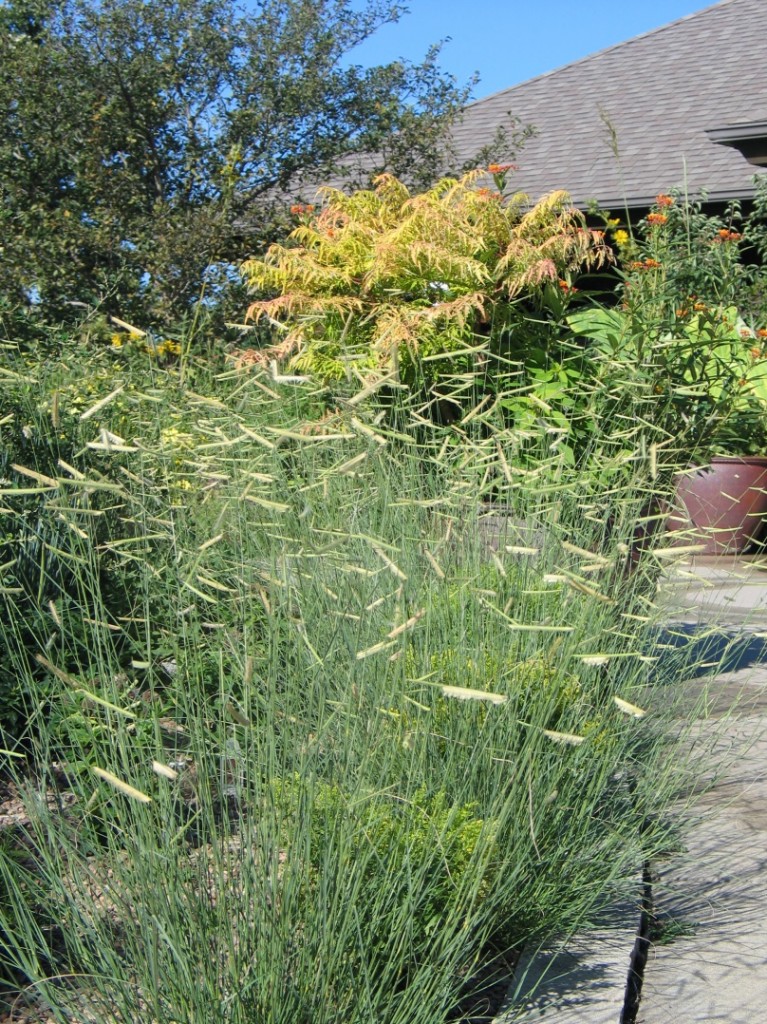 Blue Grama, Boutleoua gracilis 'Blonde Ambition'
I was blown away by this grass last summer.  It looked fantastic with the airy golden flowers all summer.  The horizontal eyelash-like flowers wave in the wind atop the fine blue-green foliage.  It grows effortlessly in any sunny site and just about any soil.  Great in mass plantings or along borders edges.  Quite the dramatic, unique grass.
---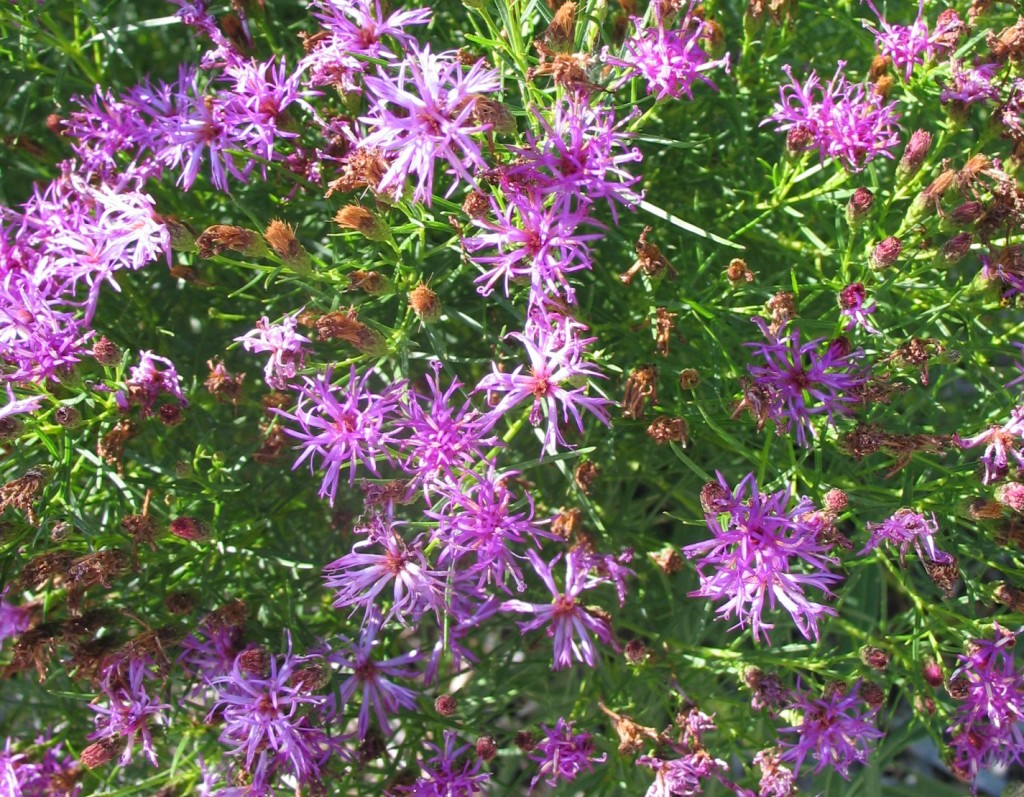 Ironplant, Vernonia lettermanii 'Iron Butterfly'
I have grown to appreciate the toughness of this wildflower.  This selection found in Arkansas has fine foliage like Amsonia hubrichtii but stays more compact.  The dark purple flowers cover the entire plant in late summer attracting pollinators by the herd.  It thrives in hot dry locations.  When other plants are wilting, it is performing like a champ.
---
Arkansas Bluestar, Amsonia hubrichtii
I have put this plant on my top ten list just about every year because it is a great plant.  Sky blue flowers in spring develop atop stems with narrow leaves that whorl the stem.  Each plant can grow about three feet tall and three feet wide.  The real show is in the fall as the entire plant turns a beautiful golden yellow.  Plant in mass or alone in the middle of the border.  A garden worthy plant that should be used more.
---
Little Bluestem Schizachyrium scoparium 'Twilight Zone'
This is a new and improved form of native Little Bluestem.  It colors up beautifully in the early fall but the iridescent silver-mauve foliage from spring to fall is eye-catching. Growing stiffly upright, this grass reaches three to four feet tall by the end of summer.  Plant as a backdrop for other perennials because the foliage is a wonderful complement.  Great native grass for interesting foliage and form.
---
Agastache 'Raspberry Summer'
What an awesome perennial!  The large, dark raspberry pink blooms cover this plant all summer and into fall.  Pollinators flock to the blooms and make the plant come alive with activity.  Plant in full sun and well-drained soil.
---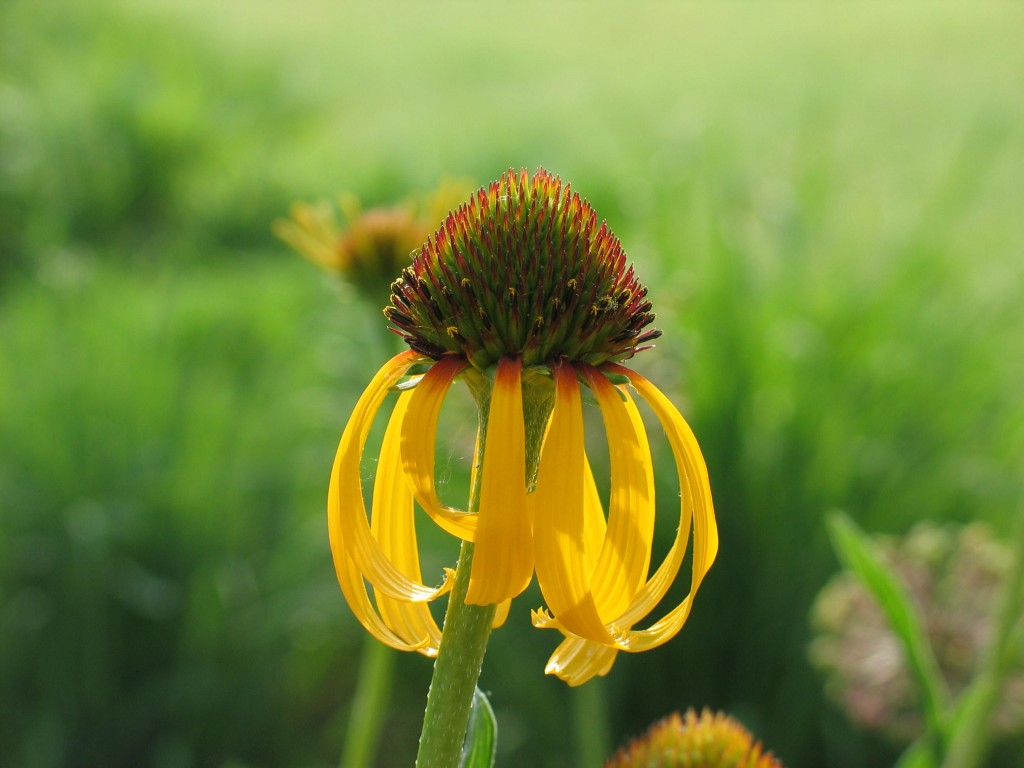 Yellow Purple Coneflower Echinacea paradoxa
A yellow purple coneflower is a paradox.  However, it is tough and beautiful.  The flowers emerge in May and June with long yellow ray petals.  It grows best in full sun, ultimately reaching 3-4 feet tall.  Mix with native grasses like Little Bluestem or Switchgrass to showcase the attractive seedheads later in the year.
---
Solidago "Little Lemon'
Goldenrods get a bad rap for causing allergies.  Actually, they don't cause your allergies in the fall – that is the fault of the ragweed pollen instead.  So now that you know that tid-bit of information, you can plant this dwarf goldenrod in your garden.  It grows to 12 inches tall and mixes well with short grasses along a border or edge.  Plant in full sun for best results.
---
Beebalm Monarda 'Cherry Pops'
Brilliant cherry-red flowers cover this new bee balm in midsummer.  The well-branched plants have clean mildew-resistant foliage creating a compact mound.  Each nectar sweet flower attracts hosts of pollinators throughout the summer.  Great new form for the front of a border or along a sidewalk.
---
It is time to get these plants in the ground.  The beneficial rains of the past few weeks have really got me itching to plant some of these varieties this spring.  There are so many beautiful plants that are worth trying.  Hopefully, you will have a chance to stop by the plant sale, take a look and give some of them a try in your own garden.