This time of year, we get excited about heading outside for some spring garden clean up. The warmer weather signals that spring in just around the corner. All of last year's plants, including grasses, perennials and the mountains of leaves blown into the garden, have to be cut down and hauled away, or do they? There is so much to do, but before you clear cut the garden, look closely at what you are removing from your landscape.
Through winter, your garden has provided habitat for many different beneficial insects and wildlife. By removing everything above ground, you are removing nesting sites and the homes of the pollinators you have attracted to your yard. All the old stalks, stems and leaves have protected and sheltered these insects through the coldest weather. So how can you save them and still get your garden ready for spring? Here are some suggestions that will save most of the beneficial insects hibernating in your garden.
Carefully remove old growth
Most native bees are solitary creatures that overwinter in the ground or in hollow stems of perennial and grasses. Because they make their winter homes in some of the stems of your plants, cutting these plants to the ground will remove their nesting habitat.
An alternative would be to cut them down to 18 inches now, remove the upper portion and spread it loosely along the edges of your garden or property. Then you can go back when temperatures are consistently above 50 degrees and completely remove the rest down to the new growth at the base. By that time the bees and beneficial insects will have emerged from their winter slumber.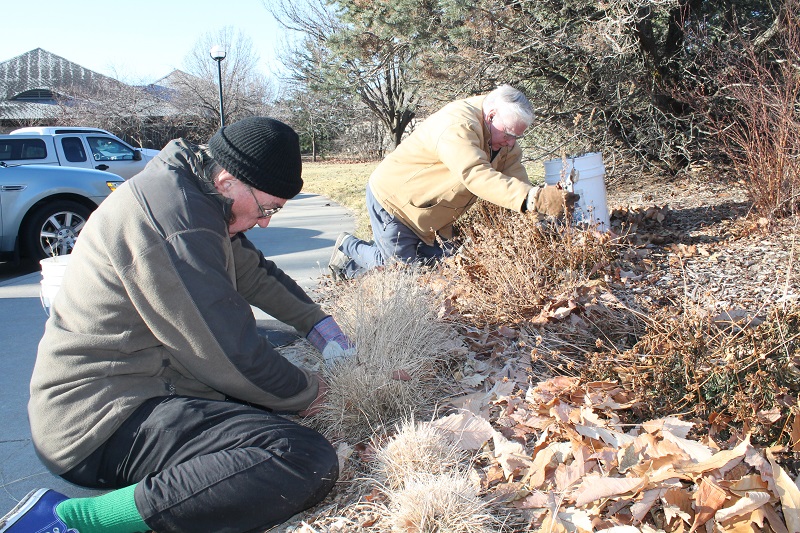 Another option would be to remove the stalks completely just like you have done in past years. I would then bundle the stems together loosely and hang them along the fence or tree line. From there, the insects can emerge and fly to your garden area.
I didn't realize how many of these stems and stalks harbored the beneficial insects I want in my garden. It is important that we allow the life cycle of these insects to reach completion. I want to encourage you to be patient and careful when you cut down and remove the old growth from your garden. Either keep those plants up longer into the spring or keep them somewhere in your garden so the pollinators and beneficial insects can come out and stay in your neighborhood.
Strategically clean up leaves
We all have piles of leaves that have accumulated over the winter in our gardens. Just like the hollow stems of perennials, leaves protect beneficial insects, including ladybugs, damsel bugs, and butterflies like commas, morning cloaks and question marks through the winter. Other pollinators overwinter as eggs or pupae in leaves. Holding off leaf removal until daytime temperatures are consistently above 50 degrees will favor the hatching of a new brood of beneficial insects to begin their lives in your garden.
This simple and thoughtful approach to spring clean up will have a positive impact on the overall health of your garden. Instead of clearing your garden of beneficial insects, you will be connecting your garden with the complete life cycle of these pollinators. Your garden can have a positive impact on the plight of these endangered species. It will be a landscape that supports the pollinators and beneficial insects we enjoy and need so much.