The other day I was watching a show on television that was trumpeting the benefits of organic matter.  It really made me think.  I know organic matter doesn't exactly get everyone fired up, but one comparison that was presented in this program really opened my eyes to the benefits of prairie plants to the soil.
They took soil samples from the edge of a field, which was untilled remnant prairie, and from the farm field itself.  The prairie edge had nearly six percent organic matter, while the field ranged from two to three percent organic matter.  That may not seem like a big deal, but the prairie provides tremendous improvements to the soil.  There is so much going on underground in a prairie.  Here is an explanation of what native plant roots do for the soil:
They add organic matter.
Organic matter is extremely important in a healthy soil.  It attracts microbes, earthworms, and fungi that bring the soil to life.  These organisms break down the thatch at the surface as well as the roots that die from year to year.
Organic matter reduces compaction, making the soil spongy and able to bounce back.
In addition, organic matter increases the water holding capacity.  It is said that for every one percent of additional organic matter, the soil can receive four percent more water holding capacity.  This is important through prolonged periods without rain.
Organic matter helps prevent soil and wind erosion by binding sandy soil particles together.  This binding property of organic matter prevents caking, cracking, and water run-off that occurs when clay soils dry.
They add nutrients.  
The breakdown of organic matter consequently infuses minerals throughout the soil profile.  For every one percent of organic matter in the soil, it releases on average:
20 to 30 lbs. of Nitrogen
4 to 7 lbs. of Phosphorus
2 to 3 lbs. of Sulfur
Organisms in the soil are vital in the decomposition process.  They help recycle the nutrients into forms that are readily available for plants to absorb through their roots.  It is a symbiotic relationship.  Other plants, like legumes (prairie clovers, lead plant and indigos), actively fix nitrogen from the air and add it to the soil.  These native plants live harmoniously together, forming a matrix of roots that keep giving back to the land.
They improve soil porosity.
What we see above ground is only 1/3 of the entire prairie plant.  The roots are 2/3 of the plant and 1/3 of those roots die each year, adding organic matter to the soil and opening pores, so water can percolate deeply into the ground.  If you have a heavy clay soil, native grass roots can break through compacted soils.  It is rare to see standing water in a prairie because of the holes punctured deep into the earth by plant roots, allowing rainfall to be readily absorbed.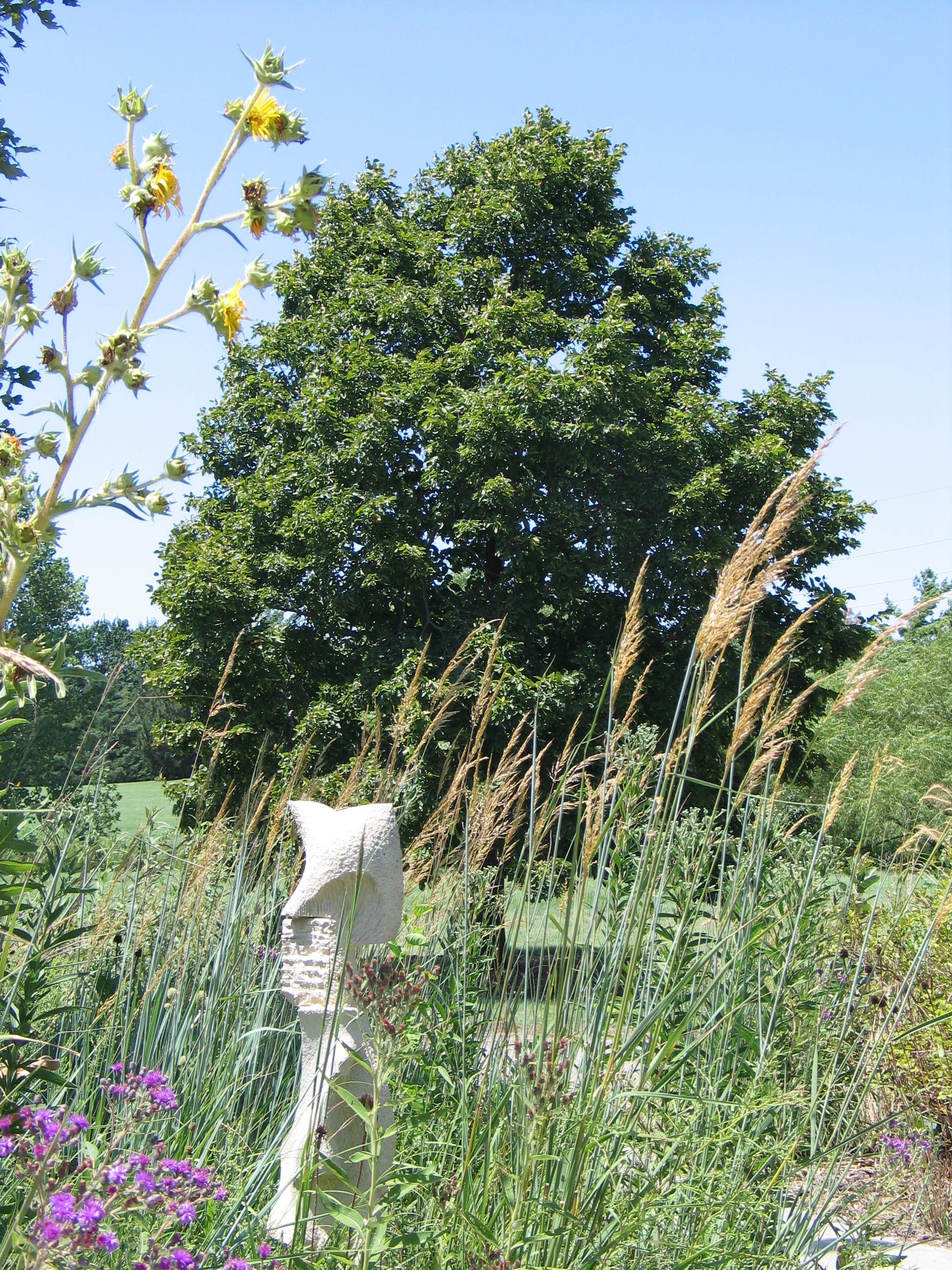 The rich soils of the prairie that were broken for farming were a result of huge quantities of organic matter.  In some places in the Tallgrass Prairie, the top soil was over ten feet deep from centuries of organic matter decomposition.  Think of the prairie soil as a living organism that gives and takes and gives and takes.  It is true, prairies develop healthy soils.  Why not start bettering your own soil by growing a prairie?