When one thinks of classic and elegant conifers, Eastern white pine often comes to mind.  Unfortunately in the Great Plains, summer heat, wind and drought restrict growing Eastern white pine to only well protected sites.  We have a stand of Eastern white pines strategically planted with protection from these adverse conditions.  Even these few original Eastern white pines planted in the early 1980's are slowly expiring because of environmental challenges. 
Fortunately, there is an alternative.  The Southwest white pine, Pinus strobiformis, is a tough, drought- and heat-tolerant conifer. Its native range extends from Texas to Arizona and south to Mexico.  They inhabit dry, rocky slopes in mountainous areas.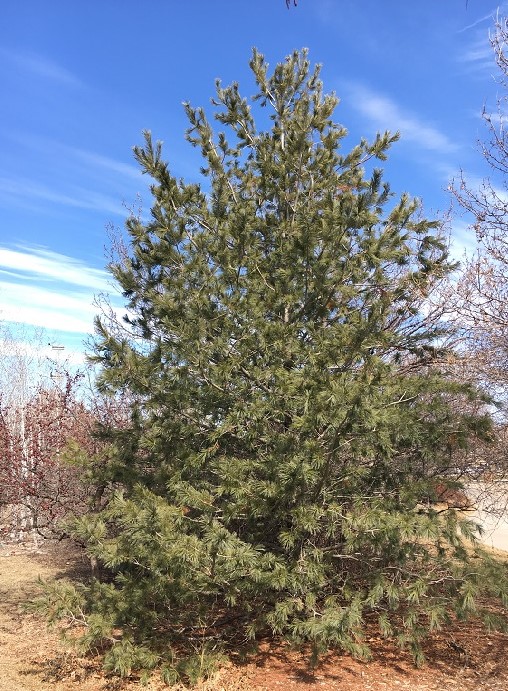 Habit
Somewhat shorter and broader than its eastern cousin, the Southwest white pine reaches 30-60 feet in height at maturity, with a broad, rounded crown.  Needles are five per bundle (fascicle), 1.5 to 3.5 inches in length with a dark green to blue-green color.  The top and bottom of the needles have somewhat distinct white stomatal lines.  Though not as long and soft as the needles of the Eastern white pine, the needles are very soft textured and pliant.  The long cylindrical cones mature in two years and produce a brown oval seed that is edible.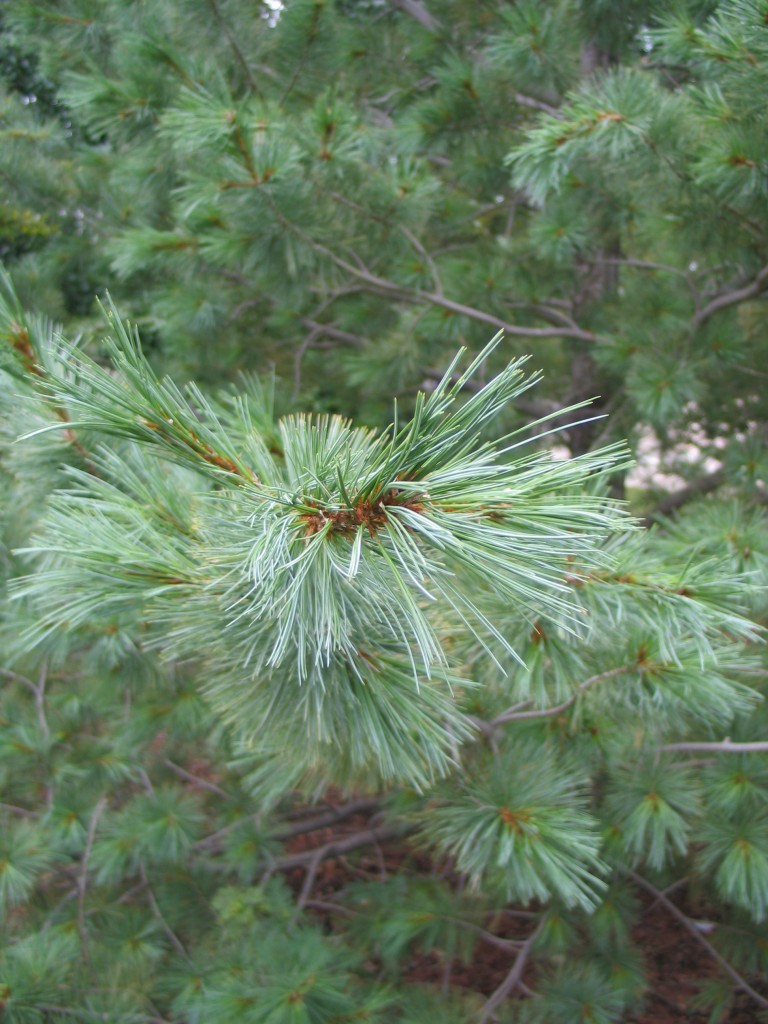 Culture
Adaptable to our high pH soils, Southwest white pine prefers well-drained soil in full sun.  It is a moderate to fast grower. Young specimens in the Arboretum have grown 10-12 inches per year since they were planted in the mid-1990s.
Also consider a Southwest white pine as an alternative to Austrian pine, which has suffered from Sphaeropsis tip blight in the last decade.  It can be used as a large specimen or in a screen or windbreak planting. Its hardiness, drought resistance, and fast growth are definite attributes to consider in our challenging climate. 
Other evergreen and conifers we use here at the Arboretum: Arizona Cypress, 'Taylor Juniper', 'Canaertii' Juniper, Black Hills Spruce, Pinyon Pine and Vanderwolf's Pyramid Limber Pine.  There are no guarantees on any of these.  They may develop blights, or other diseases in time.  Certainly they are all attractive to bag worms. 
The bottom line is that growing evergreens in Kansas will always be a challenge.  These are the best options for landscapers. Take a look at our 2020 Native Plant Guide for Spring FloraKansas Native Plant Festival for other landscape options.