In a previous blog post I discussed tips for common weed identification, but hinted at a second installment covering plants that don't quite qualify as weeds. After all, a weed is just a plant out of place! Some lovely native flowers have 'weedy' tendencies but don't deserve total eradication from the garden. Here is an introduction to a few of those characters, and what you can do to control them when weeding your gardens.
Spiderwort – Tradescantia ohiensis or T. tharpii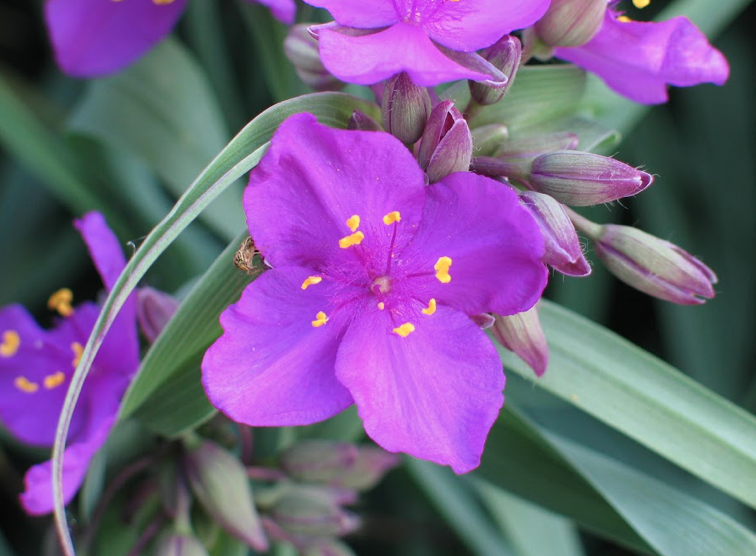 Ranging from true blue to purple, spiderwort germinates readily from seed and can quickly take over a garden. I find it in every garden we have here at the Arboretum. Hairy leaves with purple veins and a pronounced fold along the mid vein are easy ways to identify spiderwort. The short stemmed species (T. tharpii) is a nice filler around other perennials and will grow as a ground cover. T. ohiensis is taller and more unwieldy, crowding out desirable plants. When Arboretum volunteers are weeding, I ask them to remove all but a few intentional clumps. I cut the flowers frequently to prevent those clumps from seeding.
Prairie Petunia – Ruella humilis
So petite but not so polite, Ruella spreads rapidly and travels all over the garden, thanks to its exploding seeds pods. White, pink, or lilac flowers are borne on purple stems with deep green foliage. With a mainly prostrate habit, this creeper makes a nice border plant, especially spilling over rock edging. Deep rooted, it is hard to pull once mature. If these fellas get started in your garden, regular weeding won't do it – you will need to dig them out. But maybe they are the free, fast growing ground cover you have been looking for!
Curly Cup Gumweed – Grindelia squarosa
Gumweed can be found growing north of our Prairie Pavilion, but not for long! I am overdue in weeding them out. This western US native is cheery and adorable, but too wild to be running amuck in our formal gardens. I'd be much happier to see it growing in our prairie or around the pond edge. If you have the space, don't pull them all out – it is attractive to pollinators and can be controlled by cutting the flowers before they seed.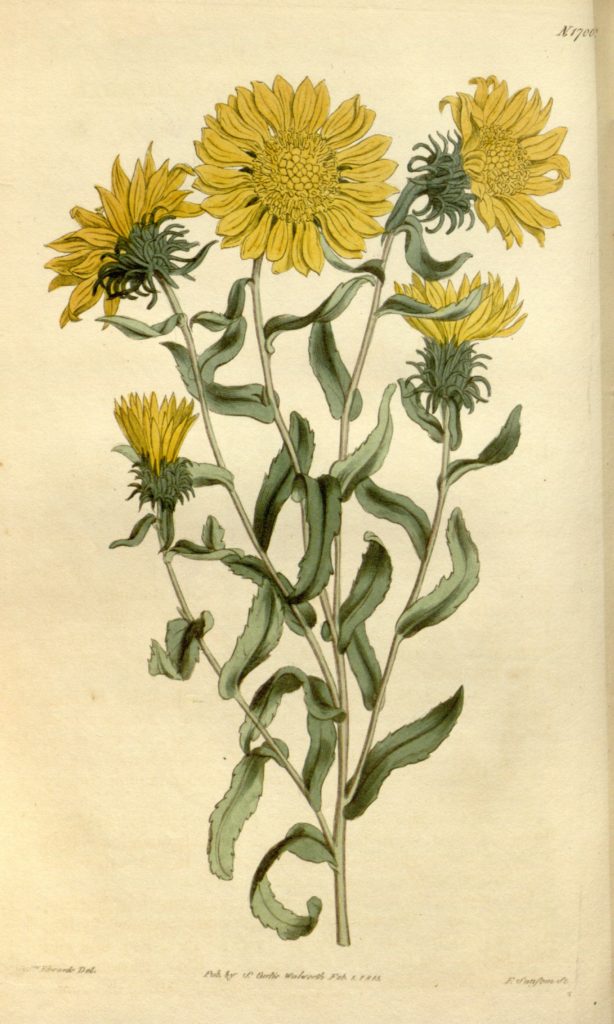 These are just a few of the weedy native flowers that your soil's seed bank may be harboring. Perhaps they can find a happy home in your garden, as long as you are willing to tame their bad habits.