Black-eyed Susan (Rudbeckia sp.) are one of the most recognizable summer-blooming wildflowers. Their bright yellow flowers explode in the summer and are covered with all sorts of pollinator activity. Bees, flies, butterflies, and beetles feed on its nectar and pollen. The fruiting heads also provide seed for birds over the winter. Here is a look at a few species and cultivars worth trying.
Missouri black-eyed susan (Rudbeckia missouriensis)
In the wild, Missouri Black-eyed Susan grows in rocky limestone glades, barrens, and tallgrass prairies. It ranges from Illinois and Missouri, south to Arkansas, Oklahoma, and Texas. Although not native to Kansas, I have found it very resilient and quite adaptable to various growing conditions. It has large bouquets of bright yellow flowers atop 18" stems. The foliage is narrow with the leaves and stems covered with a dense fuzz. It's a nice addition to the front/middle of any border or informal meadow landscape.
Brown-eyed Susan (Rudbeckia triloba)
This native gem can be found in eastern Kansas and on into much of the southeastern Great Plains. It grows naturally in open woods and savanna areas with medium to moist soil. Each plant can produce loads of charming, warm yellow daisy flowers with brown button centers. It keeps pumping out blooms through much of the later summer through fall. The slender branched stems are surprisingly sturdy and help the plant reach an ultimate height of three to four feet. It is a wonderful habit plant with blooms for pollinators and seeds for birds. It does self-sow, so know that it will move around. You will need to selectively weed plants out of your landscape, if you are agreeable to that sort of thing.
We have carried a cultivar of Brown-eyed Susan called 'Prairie Glow' with attractive flowers of burnt orange with yellow tips surrounding a chocolate center cone. 'Prairie Glow' prefers full sun to light shade, and is also adaptable to many soil conditions.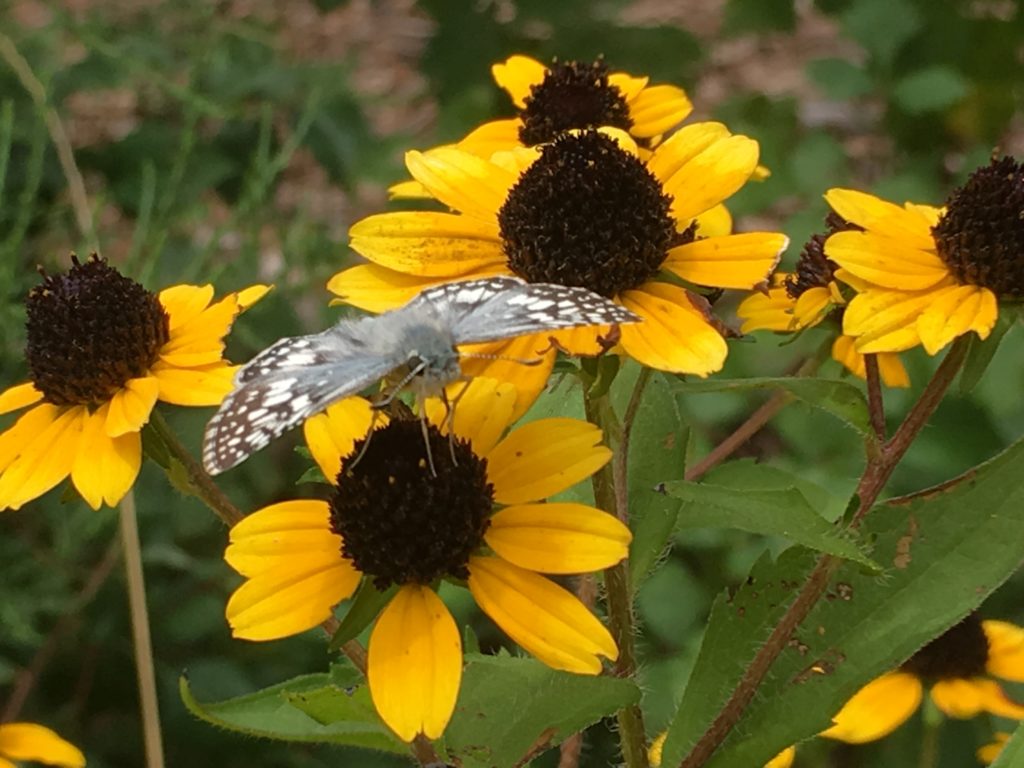 Sweet Black-Eyed Susan (Rudbeckia subtomentosa)
Sweet black-eyed Susan grows throughout much of the central and eastern Great Plains in low, moist soil of thickets, creek banks, pastures, prairie ravines and ditches. The flowers are spectacular and rival sunflowers in quantity of blooms, if the root system can find consistent moisture. A large variety of insects love the nectar and/or pollen of Sweet Black-eyed Susan and flock to the blooms during July, August and September.
This is a great plant for a full sun to part shade location, but only when there is ample moisture. It will not endure dry soils. Plant it by a stream, water garden or pond where water is available on or near the surface. 'Henry Eilers' is a nice cultivar discovered in Illinois as a stabilized mutation with rolled or quilled ray petals. This cultivar reaches five feet tall and two feet wide. 'Little Henry' is a shorter form which grows 3 to 4 feet tall but has the same quilled flowers.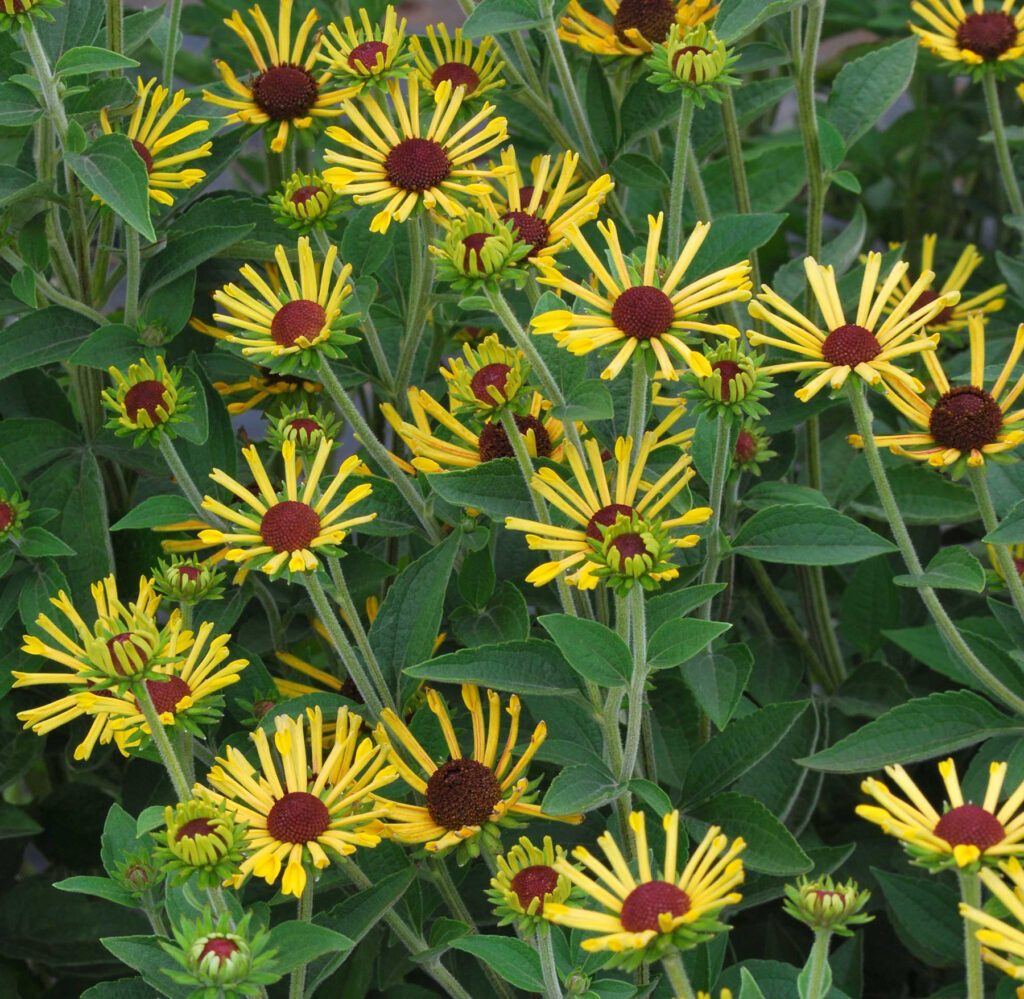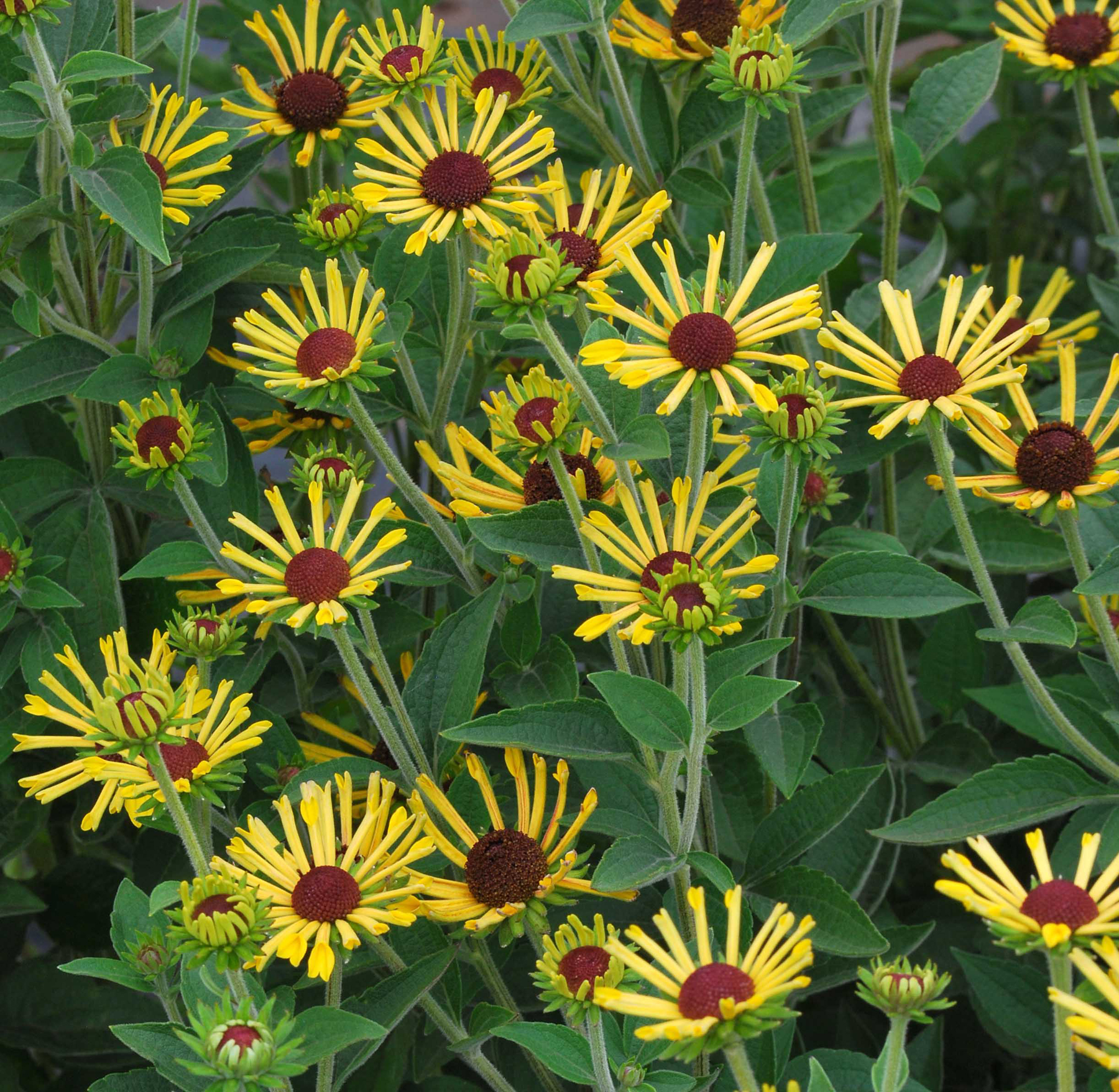 Black-Eyed Susan (Rudbeckia hirta)
There are many forms of this poor man's daisy, because it is so easy to hybridize. Typically, the species is found in full sun to part shade in mixed and tall grass prairies as a short-lived perennial or annual. It seeds readily and is a favorite to include in many prairie seed mixes. The bright yellow blooms from June through September are a welcome sight in any landscape from prairie to wildflower seeding. Some cultivars available are 'Cherry Brandy, 'Prairie Sun', 'Cherokee Sunset', 'Indian Summer', 'Autumn Colors', 'Denver Daisy', 'Goldilocks', 'Goldrush', 'Rustic Colors', 'Sonora', 'Toto Gold', and 'Toto Lemon'.
Cutleaf Coneflower (Rudbeckia laciniata)
This species grows in similar habitats to sweet coneflower – moist soil of creekbanks, thickets and open woods. A cut leaf coneflower really stands out in full sun and adequate moisture. The leaves are deeply lobed and the large, wide clumps, two to four feet across, can reach five to six feet tall. Each stalk can have multiple large flowers with a greenish-yellow central cone. They bloom from July to October. A garden worthy cultivar of cut leaf coneflower is 'Herbstonne'.
Orange Coneflower (Rudbeckia fulgida)
This eastern United States black-eyed susan is one of the most widely used in horticulture. Many cultivars, varieties and subspecies are incorporated into landscape designs. The native form thrives in glades, meadows, and prairies. Rudbeckia fulgida var. deamii, Rudbeckia fulgida var. fulgida and Rudbeckia fulgida var. speciosa are two of my favorite native forms of orange coneflower. They grow well in landscapes with medium to moist soil and plenty of sun. These clumps slowly spread by rhizomes ultimately forming a dense mat of dark green leaves. The blooms pop up from July through September.
'Goldsturm' was a popular cultivar, but it has been used less because it has issues with septoria leaf spot and powdery mildew. New forms like 'American Gold Rush', 'Little Goldstar, and 'Viette's Little Suzy' have resistance to both septoria leaf spot and powdery mildew. These are great alternatives to 'Goldsturm'.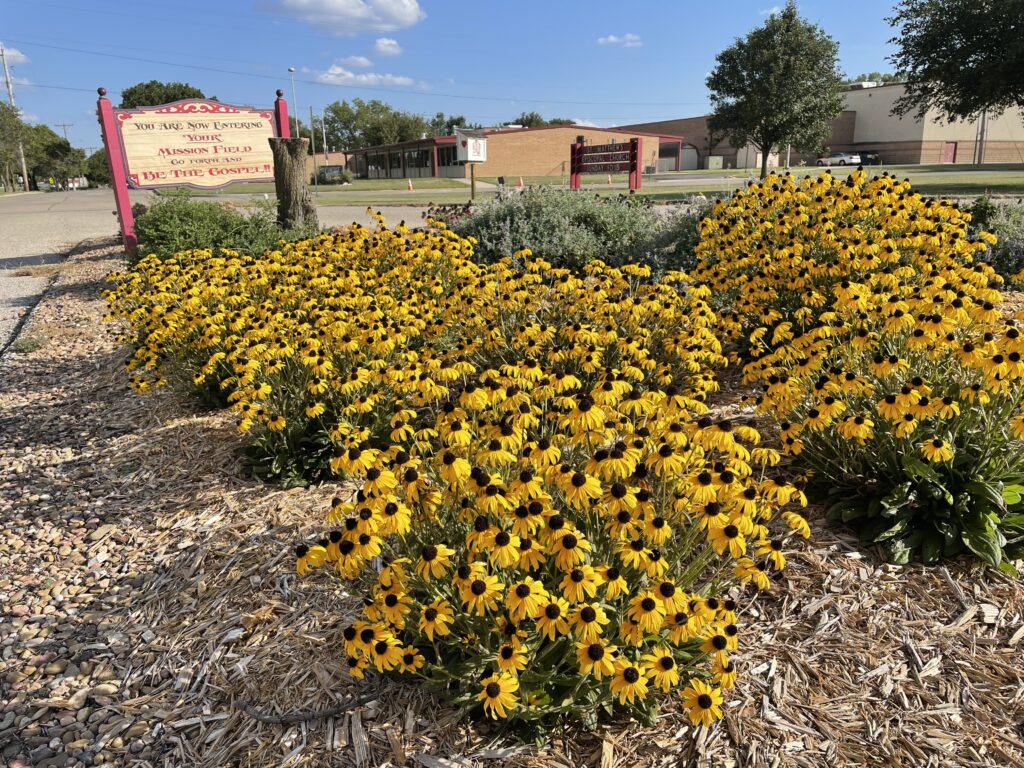 Giant Coneflower (Rudbeckia maxima)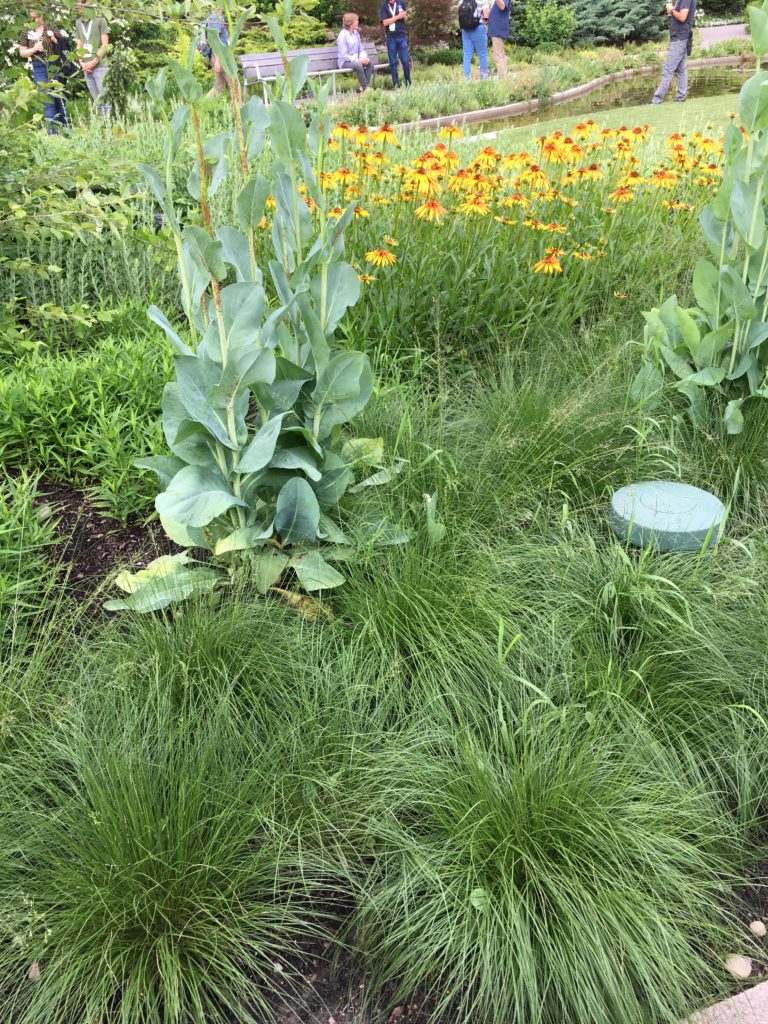 I love this coneflower for its blue green leaves and large coned flowers in June and July. It makes quite a statement in the landscape with flower stalks to six feet. Native to Texas, Oklahoma and Louisiana, I have found it to be quite adaptable. It appreciates regular moisture but can handle some dry periods. Birds eat the seeds from the large cones during the winter.
There is a Rudbeckia for just about any landscape situation with full to part sun and wet to dry. Pollinators love them and birds too. Add some to your garden for their late season bloom.