"Society grows great when old men plant trees whose shade they know they shall never sit in." – Greek Proverb
A group gathered at the Dyck Arboretum this past Monday evening to remember all that has been accomplished on this plot of land since 1981 – the plant and wildlife communities that have been established, the beauty that has been added to the community of Hesston, the lives that have been impacted, and the lessons learned.  All of these fruits came from a vision, a dream, a notion of what was possible – AND a lot of hard work and determination.
And though a 35th anniversary may not seem as notable or momentous as a 25th or a 50th anniversary, this celebration is particularly special to us. It is the first significant celebration we've had without both Harold and Evie Dyck, our founders. In the past, we've had their words and ideas and presence here to help guide us. Now we, the Dyck Arboretum staff and board, volunteers, as well as the Dyck family members, continue to realize their vision through our work.
Aldo Leopold: Visionary and Legacy Maker
On Monday we learned about the life and work of another visionary. Aldo Leopold, a towering figure in the world of land conservation, devoted his adult life to studying nature, being in wilderness, and documenting what he heard and saw. (You may recognize Leopold's name from several of the sculptures along our walking path.) Most notably, Leopold tended a piece of land with his wife and his five children and restored it to its most natural, most wild, most harmonious state.
I was particularly amazed to learn that, over the course of several decades, Leopold's family planted nearly 50,000 trees on their land, restoring a small farm, with deteriorating sandy soil and a scarcity of wildlife, back to wilderness. When they first acquired the land, one of the Leopold children shared, it wasn't much to look at. But as they all began to pitch in and work hard, their father's vision took hold in each of them. Can you imagine – over a period of sixteen years, they planted 3,000 trees EACH YEAR? They had a vision and dream of what that land could be, but it required commitment and lots of hard work to realize that dream.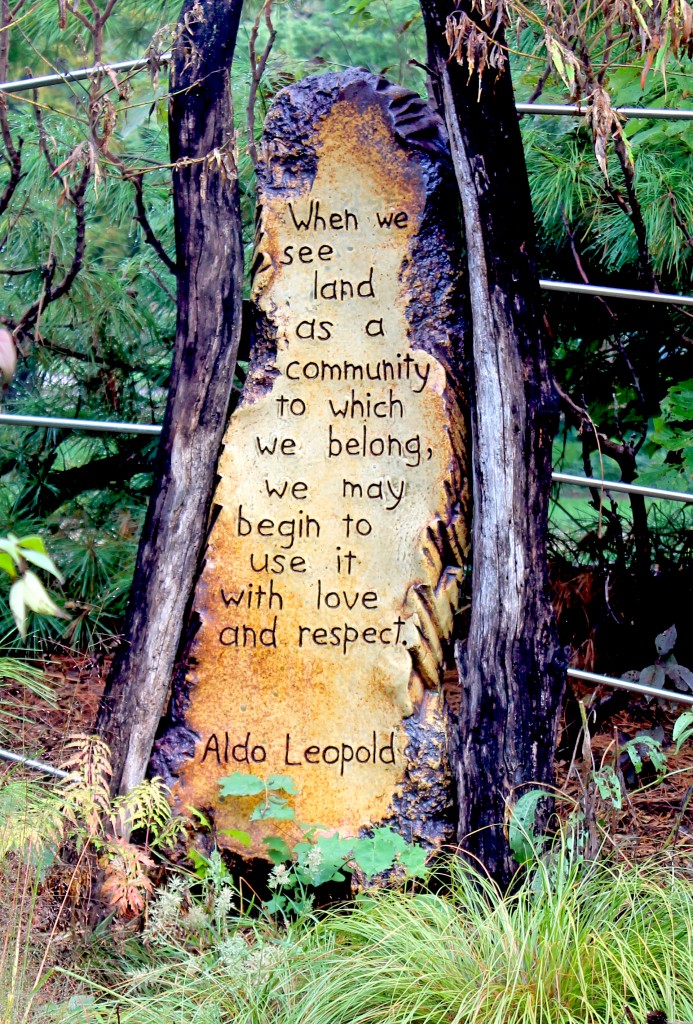 Visions and Legacies
As a part of the celebration this week, we also planted a tree, a tiny black oak sapling, grown from an acorn that was collected from Leopold's land in Wisconsin.  As we planted this tree not fifty yards away from the first bur oak that was planted here in 1981, it got me thinking about the difference between "vision" and "legacy".
At what point does someone's vision or dream for the future become their legacy? Is it when that person is no longer living? Is it when certain milestones or goals are reached? Does it happen slowly, over time, with each acorn or seed that is planted or sown, or with each visitor or student who learns something new? Is it when the vision is passed on, capturing the imagination of a new generation?
To play on a metaphor we use frequently here at the Arboretum, if planting an acorn represents a vision, what part of a tree's life cycle represents legacy? Could it be when the tree that grows from the acorn drops seeds of its own?
Leaving our Own Legacy
When the Dycks first shared their vision with their family, friends and community members, they didn't have much to show others to illustrate what they were dreaming of.  They only had an empty piece of land, once a couple of fields where wheat and alfalfa grew. But they planted that first bur oak tree, and the vision began to spread.
That tree is now on the eastern edge of our parking lot. It is easy to miss, but for the many acorns it drops on the pavement in autumn. Many who visit here will not notice it, nor the small plaque at its base that reads "Bur oak, Quercus macrocarpa. The first tree planted in the Arboretum, October 10, 1981." It is only one of many trees, shrubs, wildflowers and grasses that have since been planted here, all playing a part in creating a living, breathing, dynamic landscape.
Meanwhile, in the median of the parking lot, there now also grows a small "Leopold" black oak sapling, the shade under which our children and grandchildren may take refuge. It is a piece of Leopold's legacy and a reminder that our work isn't done yet. It begins a new legacy for us here at Dyck Arboretum.
"We mourned the loss of the old tree, but knew that a dozen of its progeny standing straight and stalwart on the sands had already taken over its job of wood-making."  – Aldo Leopold, "Good Oak" from A Sand County Almanac