When I recommend native plants for a particular landscape, I've learned to focus on the fact that people and the insects they are hoping to attract are conditioned to desire seeing a concentration of blooms with decent repetition. Some of the fascinating parts of landscaping with native plants are that they also have interesting features regarding their vegetation, seed pods, relationship to insects as host plants, and natural/cultural history stories that accompany them as Kansas native plants as well. But first and foremost, their flowers are what most intrigue the masses.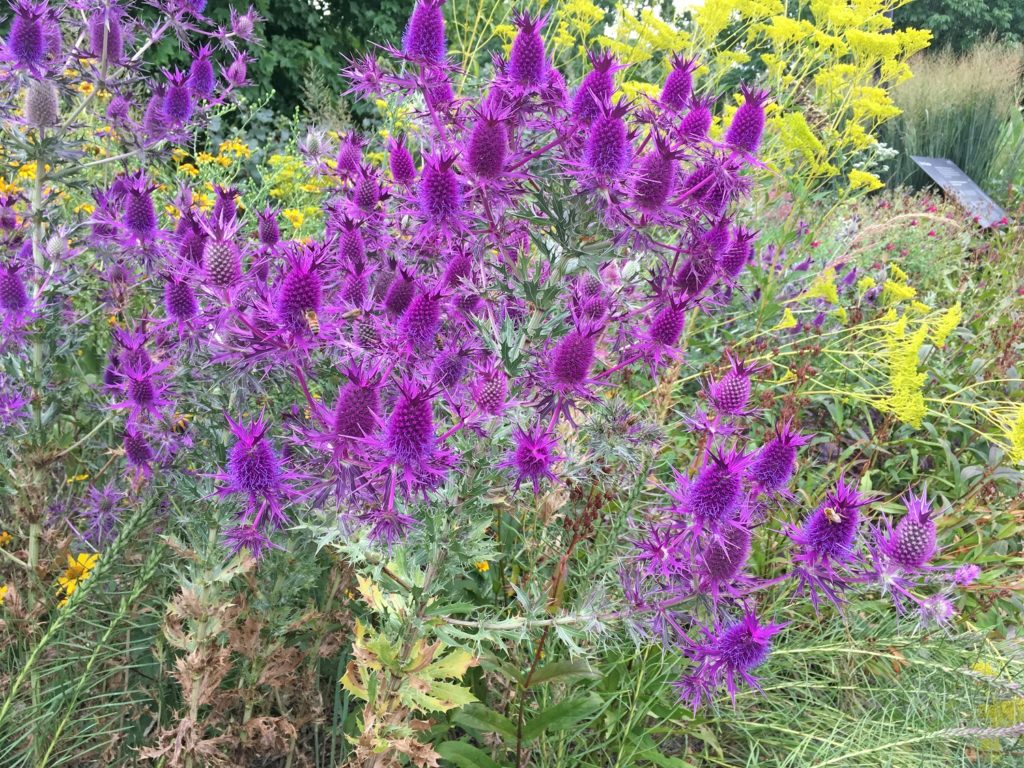 A Long Growing Season in Kansas
The challenge when landscaping in Kansas is that our growing season is long, spanning 7 to 8 months, generally from March to October. A given landscape only has so much space for plant repetition and one has to choose which plant species will be planted in big numbers to have a concentration of color when desired. With a school planting, for example, I will mostly choose species that bloom in either April-May or August-September when students will see and enjoy them.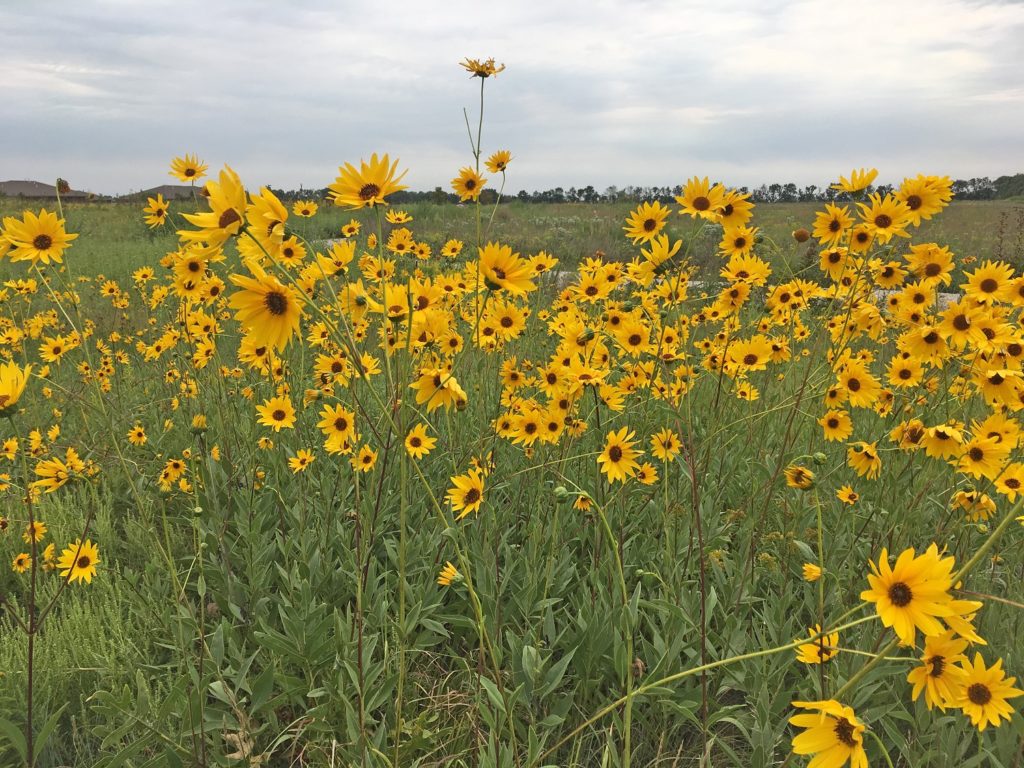 When you plant just a handful of species with big numbers of each for a few different times of focused colorful brilliance, you look like a genius during those times of flowering. Each perennial species, however, blooms for only a couple of weeks or so. When the plants are not blooming, critics of native plantings may label your garden as "too wild" or "dead-looking" when vegetation begins to senesce. These folks are not too forgiving of the fact that perennial plants must first build vegetation before they can flower. and then invest energy in building roots so they can come back again next year. So, one needs to find a reasonable balance between sufficient repetition of a given species and making sure there are enough species to provide blooming overlap throughout the growing season.
Prominent Prairie Grasses in July
This concept of concentrated flowering, or lack thereof, is on my mind every July when the Kansas temperatures are hottest and the well-adapted warm-season prairie grasses that are a significant part of the prairie matrix begin to shine. Grass flowers are wind-pollinated and understandably not investing in colorful flowers with a design to attract pollinators. It always seems to me that prairies in July are dominated by green, and that any blooming non-grass flowers stand out.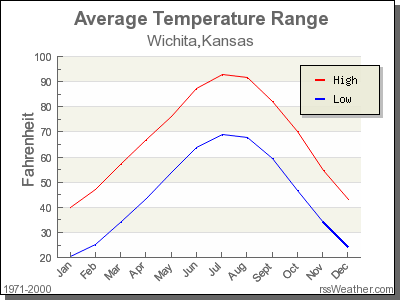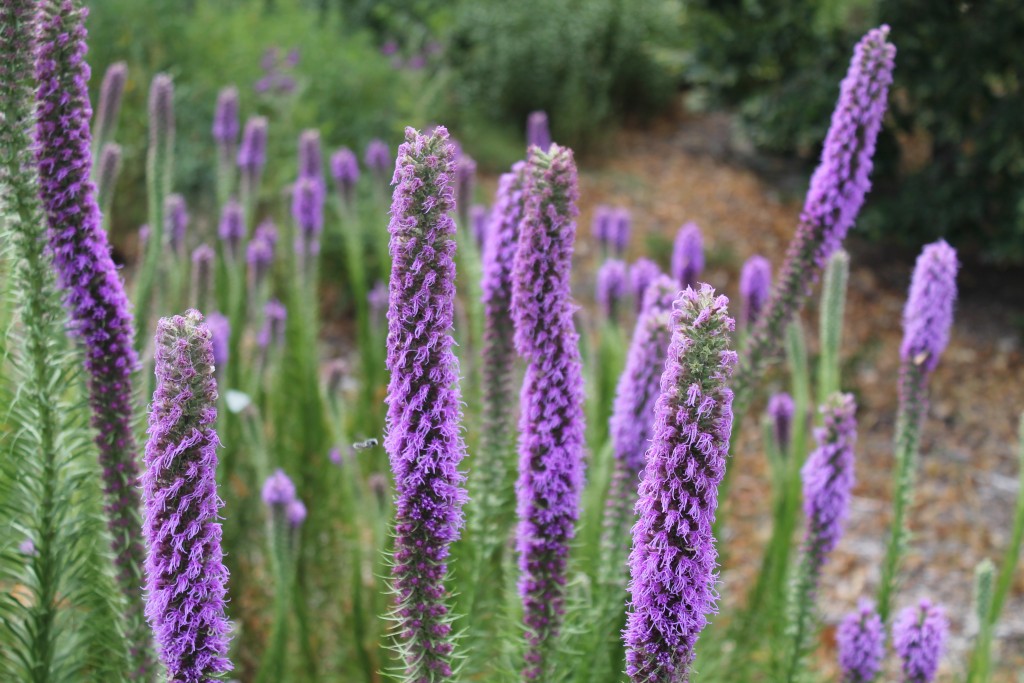 Inspiration of High Elevation Wildflowers
My family and I usually get away for vacation to Colorado or somewhere west of Kansas to enjoy different landscapes. These trips usually take us to areas with higher elevations, cooler air, and snow-melt streams. Above 5,000 feet in elevation, these areas have much shorter growing seasons, roughly half of that in Kansas. This phenomenon concentrates the flowering of available species into a tighter window of opportunity causing many blooming occurrences to overlap. Since late July is the center of that growing season, the wildflowers are often at their peak during our visits.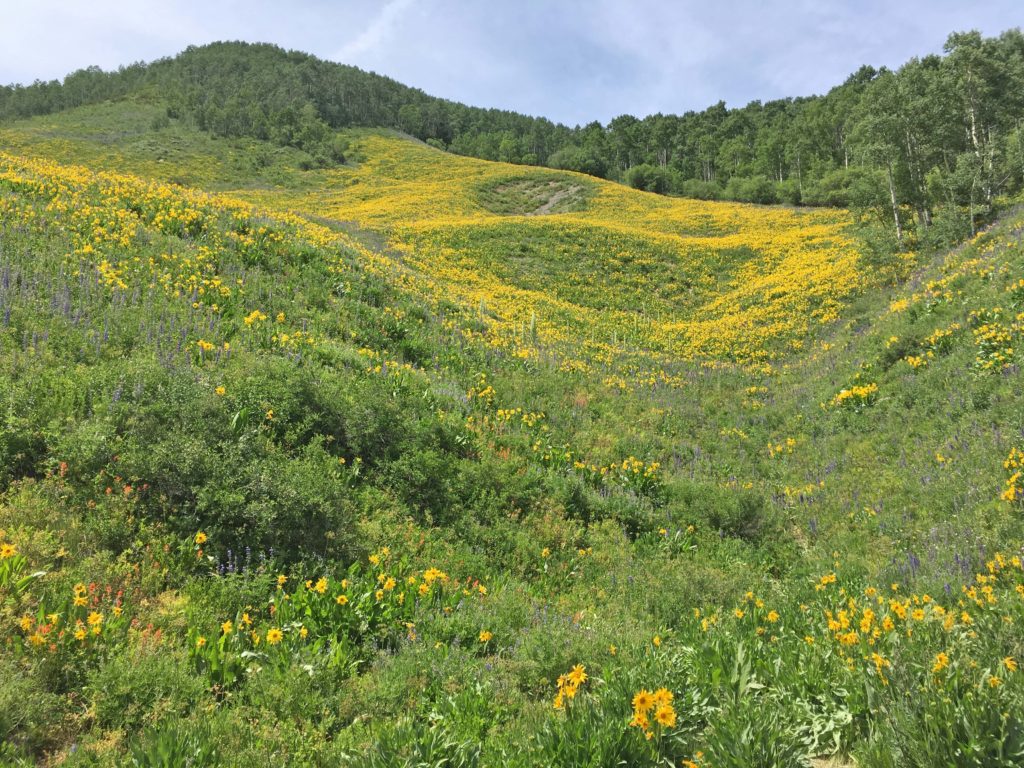 During our last two July vacations to Montana's Glacier National Park (GNP) and Colorado's Rocky Mountain National Park (RMNP) in 2018 and 2019, respectively, we witnessed especially lush displays of wildflowers that made hikes for me most enjoyable. The following photo collage includes species observed on mountain trails that made me pause and take note. They each have similar-looking close relatives in Kansas.
While I know that most mountain wildflowers won't survive in Kansas, I am still inspired by them. I observe their site-specificity with regard to moisture/light, what wildlife they attract, and their growth form — often including many plants of one species creating a concentration of color. Our upcoming Fall 2019 FloraKansas Plant Festival will offer many native species that thrive in our Kansas climate and soils. Plan to peruse the options, see what catches your eye, plant them in repetition, and be inspired.