I've been fascinated if not mesmerized recently with this phenomenon of blackbird "ribbons" flying across the sky. While they've become familiar to me during the winter in recent years, I've noticed them with much greater regularity this year. While the photos and video taken with my iPhone don't do the phenomenon justice, they will at least give you some idea of what these ribbons look like.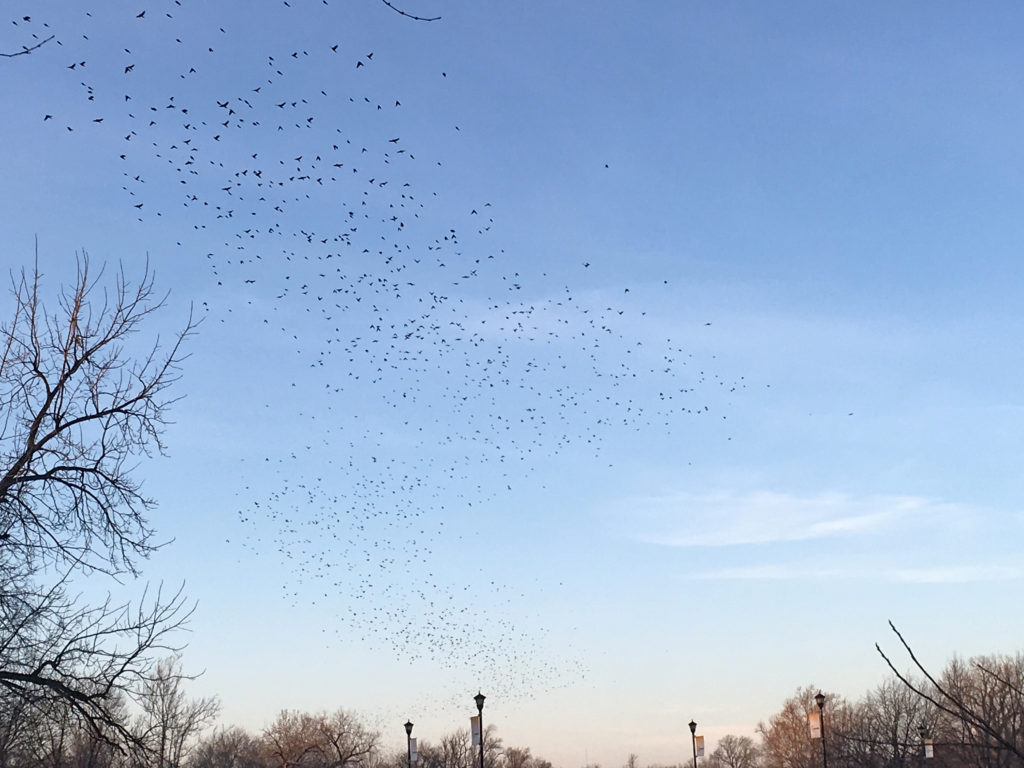 Since early January I've seen good examples of this phenomenon perhaps 15-20 times. When I've seen them, they have either been flying east around 8:00 a.m. or flying west around 5:00 p.m. They range in density, usually stay within 100 feet of the ground, and stretch for miles. I've tried to do some sampling counts while watching them, often for a duration of 5-10 minutes, and figure they number easily in the tens to hundreds of thousands of birds – if not more – in these formations.
Whenever I've see them, I have not had binoculars with me and have been unable to get any positive species IDs. They seem to all be red-winged blackbirds, but I wouldn't be surprised if grackles and/or starlings were in the mix. Local birding expert from Newton, Gregg Friesen, has spent time identifying species in blackbird flocks and says they commonly consist of 90 percent red-winged blackbirds, 5 percent brown-headed cowbirds and a mixture of starlings and the occasional Brewer's blackbird.
Some plausible reasons for flying en masse like this might include protection from predators, higher probability of finding food, aerodynamic efficiencies in flight and more. But why the consistency of "punching the clock" with regard to time of day and direction? Does it have something to do with photoperiod? Perhaps they do it throughout the day and I'm only seeing them during my commute.
Some searching for information via the Web, the Kansas Bird Listserv, and my bird books, has turned up very little on this phenomenon besides that red-winged blackbirds like to flock in winter. I posted my inquiry to the Kansas Bird Listserv (a very knowledge-rich resource of birding enthusiasts from around the state) and got some insightful responses.
There is some interesting footage and information on the Web regarding starling murmurations that resemble these blackbird ribbons. Here is one such article made available by the Cornell Lab of Ornithology. University of Kansas science educator, Brad Williamson, describes that the behavior and spacing of birds in these formations can be explained by simple rules in mathematical models that most likely relate to competitive advantages in finding food and protection from predators.
Educator Eugene A. Young from Northern Oklahoma College responded to my inquiry with the following: "Certainly there is strength in numbers, aerodynamics helps, but it appears the birds are usually flying from the roost to forage areas.  Once they get to these areas, they disperse into smaller flocks (100-10,000).  These flocks, as the crow flies, can travel 50 miles.  Once they are done foraging, they begin to gather in larger concentrations, and eventually make their way back to the roost.  And different lineages begin to accumulate along the route, eventually forming these long meandering lines of birds.  I suspect they use visual cues to find their way back and forth, thus the low flights.  But upon reaching the roosting area, they accumulate in staging areas before they go to roost.  Often this is wires, trees, bushes or on the ground, and huge congregations form."
Eugene also confirmed that the timing of movement from roost to forage and back happens right around the time I was seeing this happen and that it relates to photoperiod. A related and informative article (Young, E. A.  2002.  Blackbirds Singing.  Kansas Department of Wildlife and Parks Magazine, 59(2):2-6) can be found here.
This year at Dyck Arboretum of the Plains we are trying to be more in tune with phenology as we study the writings of Aldo Leopold. Observing this pretty amazing phenomenon has been just one of many ways I've been enjoying a connection with the natural world around me using phenology.
I'll leave you with a fitting quote from the end of Eugene Young's article…
"To appreciate the beauty of large blackbird roosts in Kansas is to recognize that large spectacles of animal life are becoming rare. Rather than to be deplored for their droppings and contentious odor, they should be applauded for their mere presence. Imagine what it would have been like to cross the Plains with the large bison herds, or never being out of sight of prairie dogs. What about the huge flocks of passenger pigeons that once flew across the Midwestern sky, with millions of pigeons from horizon to horizon? These moments are gone, lost forever, except for the thoughts and accounts left behind by those fortunate enough to bear them witness. Where can you see such phenomona today? Here in the Plains, but a few short months of the year!"