It's obvious to me that interest in landscaping with native plants continues to expand. More and more people are reconnecting with the natural world through their native landscapes. Besides creating habitat for wildlife, including pollinators and insects, these newly developed gardens conserve water, reduce chemical and pesticide use and beautify the landscape. As you think about preparing to establish a landscape with native plants, here are some things to consider.
Analyze the Location
You know your garden better than anyone. You know the soil type. Does it stay wet or is it extremely dry or something in between? You know how much sun your area receives during the day and throughout the year. You know where the water flows. Are there areas that you can utilize as a background or backdrop? Is there something you are trying to screen? Is there an area you are trying to develop? These are important questions that ultimately determine the types of plants you will choose.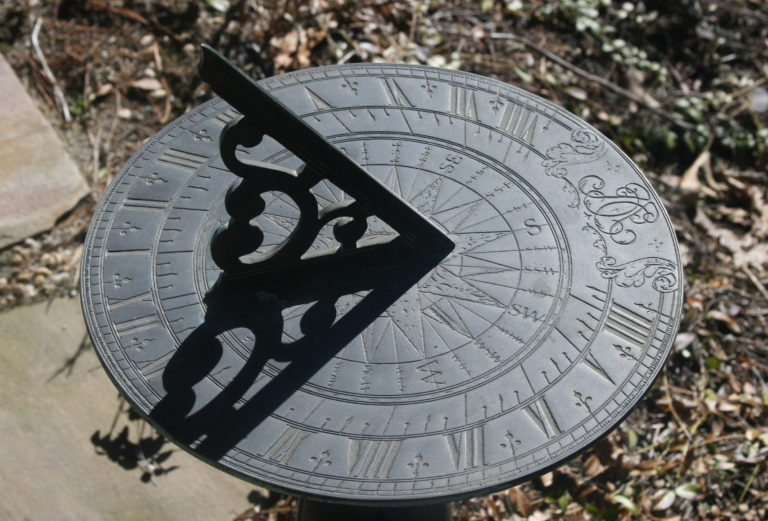 Prepare the Site
Site preparation doesn't have much to do with plant selection, but it is an important step to consider any time you are preparing to establish a landscape. You need to get perennial weeds such as bindweed and Bermuda grass eradicated before you plant your garden. If these weeds are not eliminated, they will overrun and out compete anything you plant. Trust me on this. I am still fighting these weeds in certain areas in my yard because I didn't complete this step.
It is also good to define the area with some kind of border. Start by laying out a garden hose and moving it around until you settle on size and shape that seems appropriate for the space. I recommend starting small. Develop an area you can manage and fits your lifestyle. You can always expand, but a bed that is too large can quickly become overwhelming. Once you have defined the border, I use metal edging, brick, limestone or landscape stone as a buffer for a mower or weed eater. Edging makes your native garden look intentional.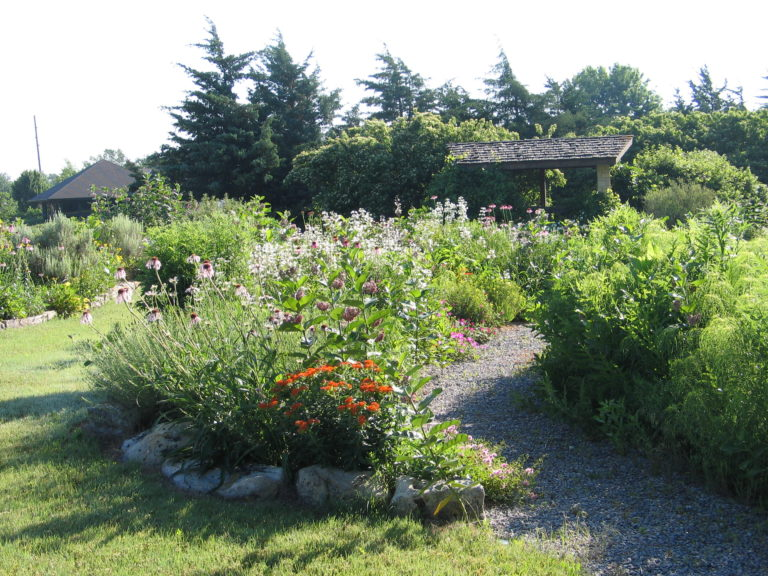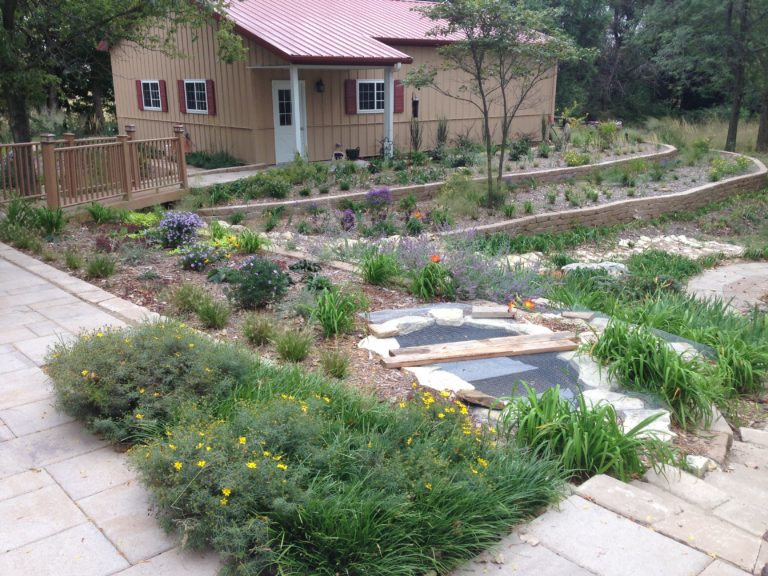 Choose the Plants
Once you have gathered all this information about your site and all the initial work has been done, you are ready to decide which plants will grow well together. The most important step in the selection process is matching plants to the site. There are a group of plants or a plant palette that will grow in your site with little or no water once fully established. You need to become familiar with every aspect of the plants through investigation, research and experience. I often start with one or two plants I know will grow in this location. Once I have established them as the foundation, the other plant combinations come easier.
I design each landscape with the finished picture in mind. I consider heights, bloom time, habit, forms and textures. We often only think about these plants when they are in bloom. But don't forget their other qualities, such as seed heads that provide visual interest in the winter months. It provides you an opportunity to highlight these qualities with another perennials or native grasses (e.g. coneflower seed heads against little bluestem).
I group plants together for visual affect and stagger blooms throughout the season. Conceptually, I lay out plants in such a way that plants with different bloom times are next to one another. For instance, I would not plant two spring bloomers next to one another, but rather a spring bloomer next to a fall bloomer next to a summer bloomer. I even like to mix some grasses with certain perennials so you have the structure of the grasses propping up the perennial. Also, you want something coming into bloom and going out of bloom from spring through fall. Grasses add wonderful texture and movement to the garden during the winter months.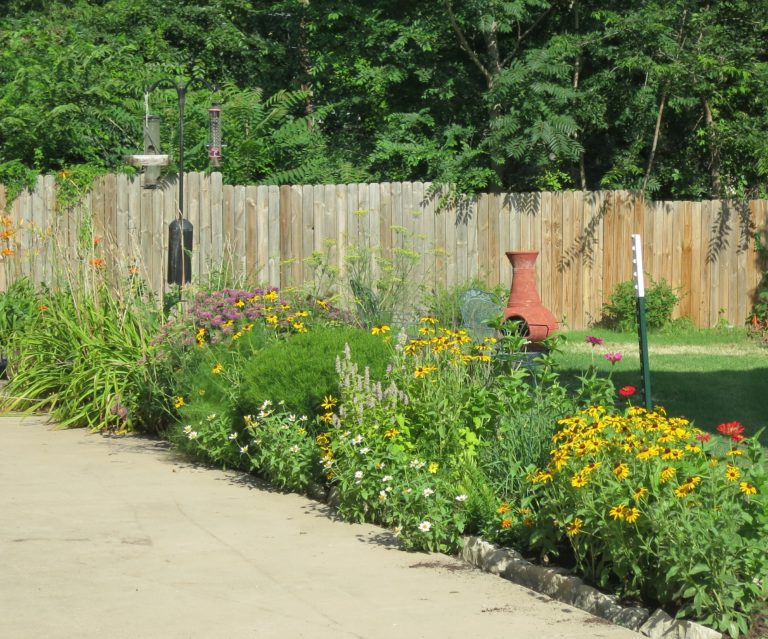 Maintenance
One of the misconceptions about native plants is that you just plant it and forget it. That is generally not the case. Establishing native plants in your garden or landscape usually requires putting extra work in those first few years. It takes time for those root systems to fully develop. Over time, you will begin to reap the benefits of native plants, especially if you have done your homework before you put the first plant in the ground.
Those tiny plants are most vulnerable during the first two or three weeks after planting. You must water them daily and sometimes twice a day in warm, dry seasons until you start to see some new growth. There is a fine line between over watering and under watering. Generally, you try to rehydrate the potting soil of those plants each time you water. Many maintenance practices used for traditional cultivated plants also work for native plants.
The first couple of years, I try to keep the tags around the plants so I don't accidentally pull a small wildflower or grass. Pull all the winter and summer annual weeds when they are small and certainly don't let them go to seed. February or March is the time to prepare your bed for spring.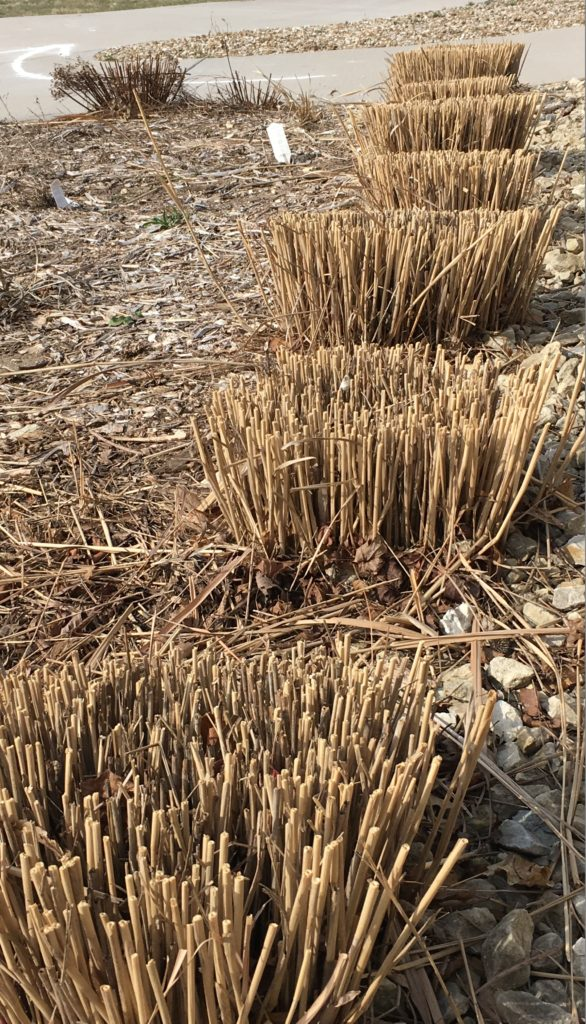 Northwind Switchgrass cut back and ready for spring
Your native landscape connects you to the land. The economical, ecological and beautiful garden you create can be enjoyed for years to come. I predict that your native landscape will be a hub of pollinator and butterfly activity. It will be an important link to other gardens in your neighborhood. It may even inspire you to establish other prairie gardens in your landscape.
Your success may influence others to follow your example. A native plant garden should be cherished, because you are helping the natural world in so many far-reaching ways. Believe it or not, your garden will have a positive impact. So get started! Let your imagination and creativity inspire your design.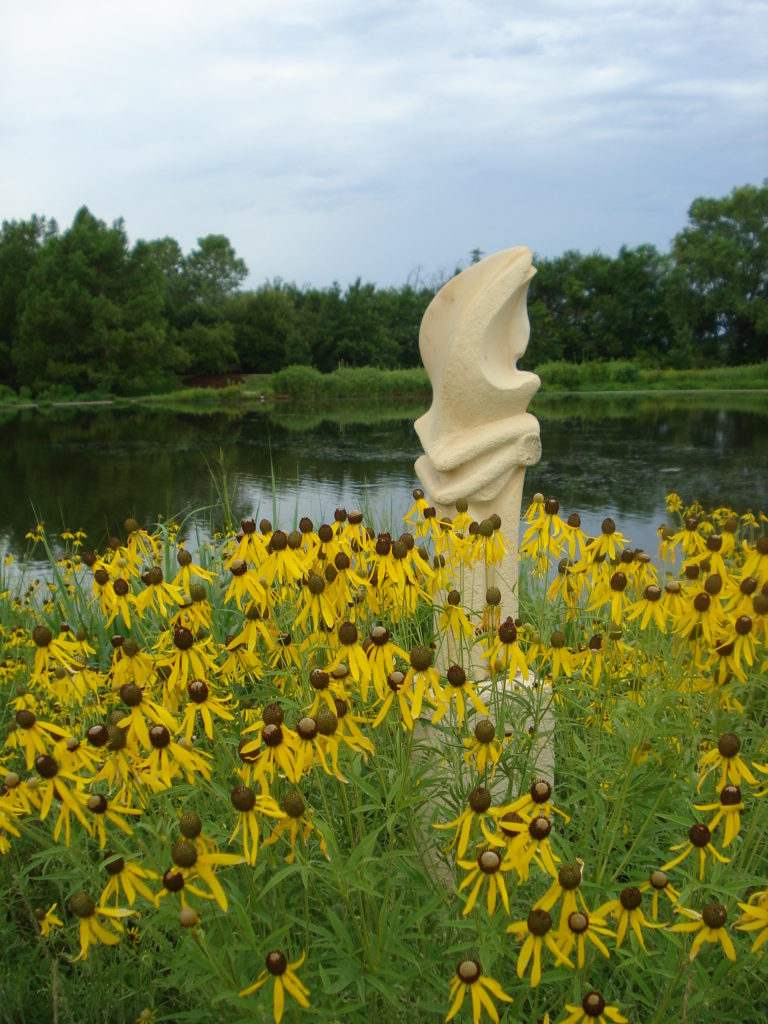 Bearer of the Ammonite by Paul Friesen. Photo Courtesy of Jen LeFevre