Gardening is a learning process.  I have been working at the Arboretum for nearly 25 years and I am still learning new things.
Wildflowers and grasses, as it turns out, live in communities. They grow best surrounded by plants that coexist well and rely on each other. My designs have focused on individual plants grouped together for dramatic effect, but they would be much happier bunched with native grasses like little bluestem.  It is a subtle change in design approach, but can make a tremendous difference in the overall success of the planting and give plantings a much richer sense of place.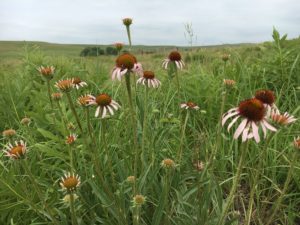 Another epiphany has come with the realization of the trade-off that plants make in the landscape. We tend to automatically believe that just because we put a plant in the landscape it will be happy. I have killed my share of plants by making this assumption. We manipulate the soil and install irrigation with the hopes of keeping the plants chosen for the site alive and thriving. Instead, we should be searching for the right plants for the landscape that do not have to be coaxed to grow. Although there are thousands of plants available, only a select few will grow freely under these specific conditions.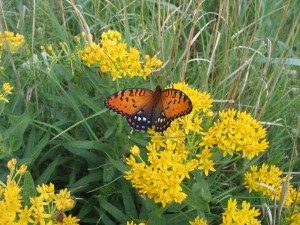 This is the trade-off. Plants cannot move and are bound to where they are planted. They have to survive in the soil, light, nutrients, water, pH and temperature of that particular site. They have to tolerate these conditions to grow and reproduce. If any of these resources is lacking in any way, the plant will give up something to continue to grow. The leaves will curl, plant growth will be stunted, flowers will be smaller or if it needs more light, the stems will be elongated. The plant is not growing as it should because it lacks one or all of these important resources or conditions.
Our natural response as gardeners has been to supply these resources by changing the conditions, which keeps these plants on life support. I have come to realize there is an alternative. The importance of matching plants up with the site is vital to the success of the landscape design. There are plants that thrive in our gumbo clay soils here in Kansas without organic matter amendments. For centuries, plants with deep roots that can punch through the dense soil for extra moisture have prospered without supplemental help.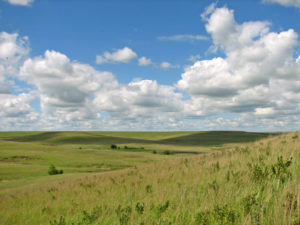 Think of the landscapes and gardens we love. They seem to thrive effortlessly. They have constraints and can be harsh, but they are lush and beautiful too. They create a sense of place and thrive regardless of the conditions.  Stress on plants helps define what will grow in a particular landscape. It makes us choose wisely the plants that we incorporate into our designs.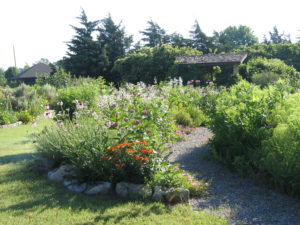 As you plan for spring and begin to choose plants, be conscious of the land. Ask yourself what plants will thrive in this garden? What plants were not happy last year? Make a concerted effort to understand the plants you specify for your landscape. As I have said time and again, match the plants up to your site. I just have to take my own advice. If you are looking for a few plants for your area, find them at the 2018 FloraKansas Plant Sale.