During the doldrums of late summer, light blue flower spikes thrusting skyward along Kansas roadsides and prairies provide welcome contrast to the yellows of the state's many sunflowers. Pitcher sage, also known as blue sage or pitcher plant, is a delicate looking prairie native with ironclad constitution.
Pitcher sage is a somewhat common plant in the rocky areas of the tall and mixed grass prairies. This plant is an erect, hairy perennial ranging in height from one and a half to four feet with short, thick rhizomes (horizontal underground stems). Very adaptable to garden situations, it prefers drier soil in full sun. In sandy sites it has been known to self-seed, but this is seldom a problem in clay loams. The crowns can slowly broaden from rhizomes as the plant matures. 
Pitcher sage blooms from late July to early October, although peak bloom is early September in most years. It is blooming right now in our Prairie Window Project in the south part of the Arboretum. The light blue flower color is common in prairies around south central Kansas. There is a cultivated variety, Salvia azurea "Grandiflora," that displays an intense deep blue flower. Once established, it requires water only during extended dry periods.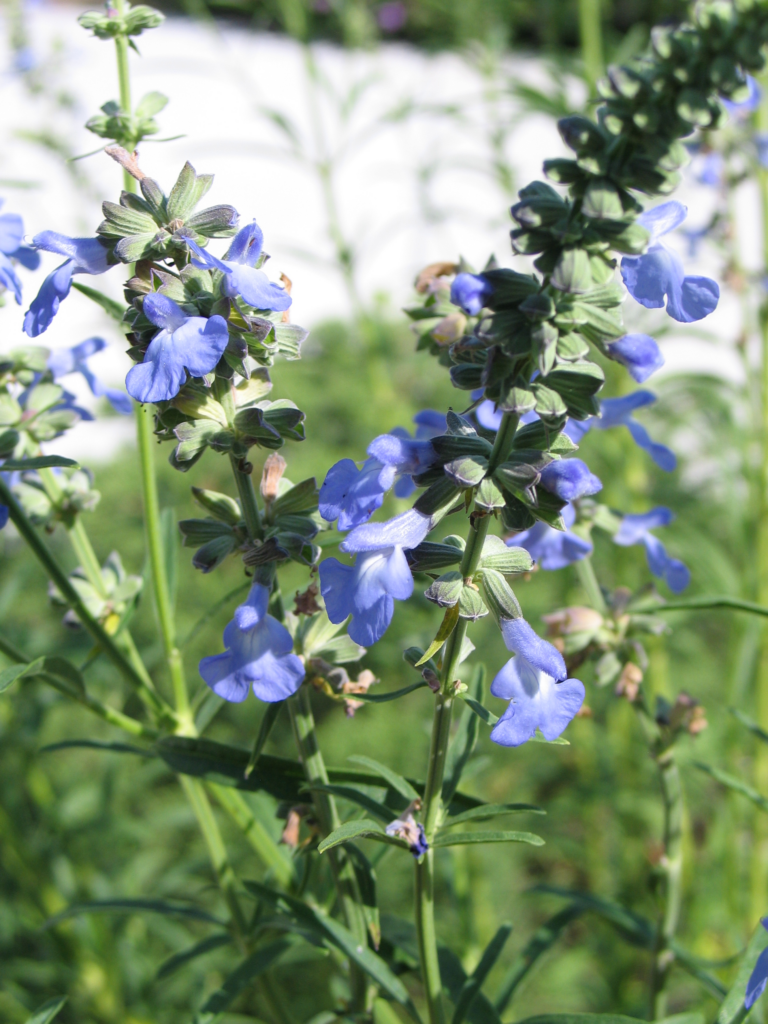 Besides the unique light blue coloration, the flowers possess an unusual mechanism to ensure cross-pollination. The corolla is lobed with a narrow concave lip covering the style (female) and the anthers (male) which mature at different times in the same flower. The lower lip is broad and protruding, providing a landing pad for visiting honey bees, bumble bees and other pollinators.  The bee grasps the platform, thrusts its head down into the throat of the flower and pushes its sucking mouth parts into the nectar glands. By this action, the bee is simultaneously pushing down on the structure at the base of the stamens. This causes them to descend from the upper lip spreading pollen on the bee's back. As the bee visits other flowers, it spreads pollen to receptive styles. 
The Arboretum grows pitcher sage for its late summer color and the bee activity it provides.  The plant is a bee magnet in full bloom. It is always entertaining to watch lumbering, black and yellow bumble bees wrestle their way into the flowers in search of nectar while unwittingly carrying the promise of another seed crop on their striped backs.