Buffalograss gets its name from the "buffalo" that once roamed the Great Plains and foraged on this dense native turf.  As a component of the shortgrass prairie, early settlers used sod, held together by buffalograss, to construct their sod houses. Prairies were woven together with buffalograss and that's why it makes such a nice lawn option.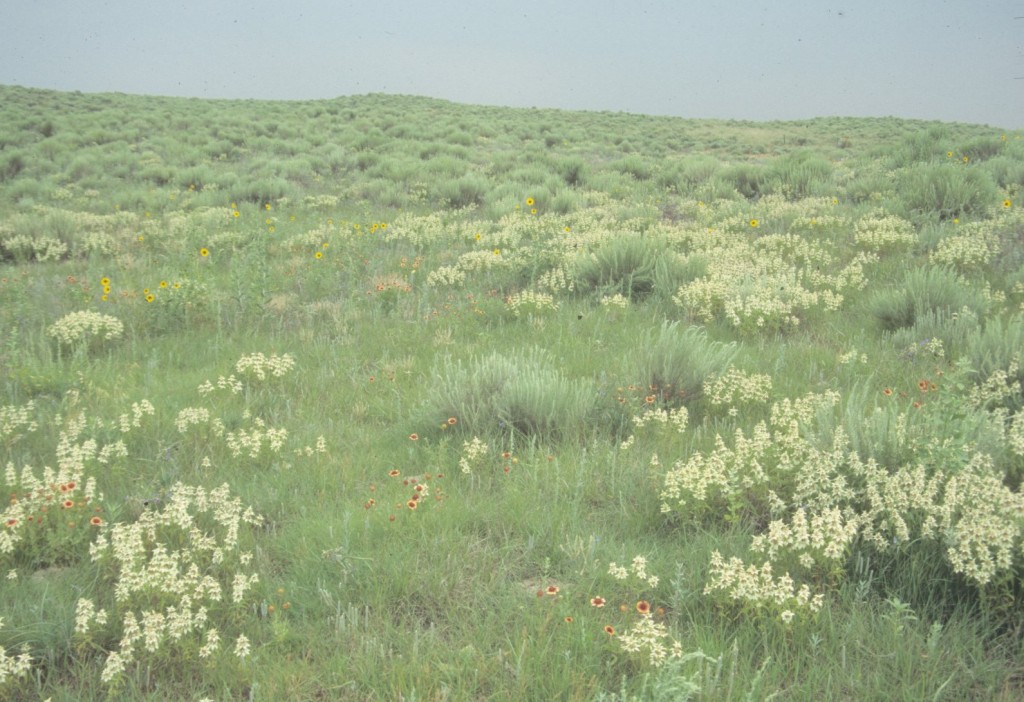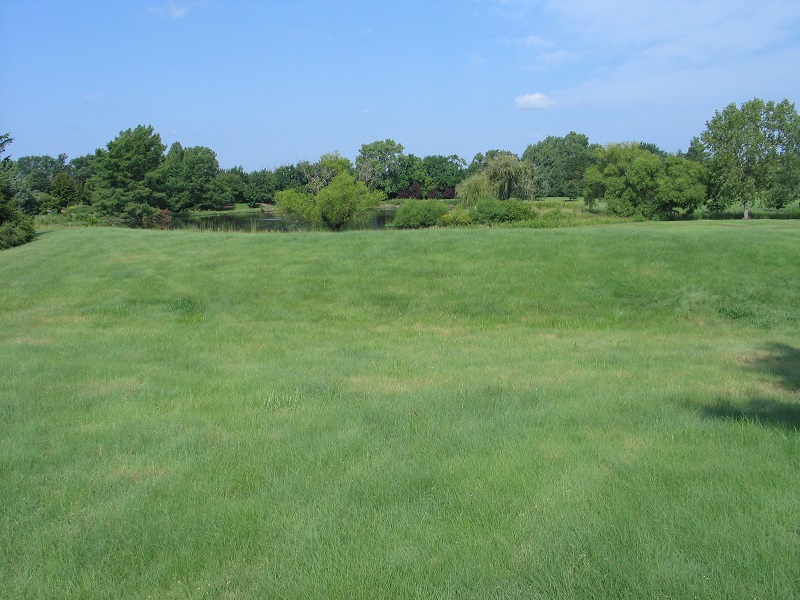 Background
Buffalograss is dioecious, with male and female flowers on separate plants. The male flowers held above the foliage are on small, comb-like spikes. Female flowers cluster on short stems down in the leaves closer to the ground.  From seed, you get both male and female flowers.  Like blue grama, I find the male flowers attractive enough that I leave them when I can.  They can be mowed off for a look that's more formal, manicured turf grass.
Regular Seeding
Typically, we seed buffalograss in the summer when soil temperatures are above 60 degrees.  In South central Kansas, it is recommended that seeding of buffalograss be completed no later than August 15.  Later seeding is not very successful because the newly germinated seedlings do not get fully rooted before winter.  That has been a good rule of thumb, but requires so much water in the summer to get the seeds to germinate.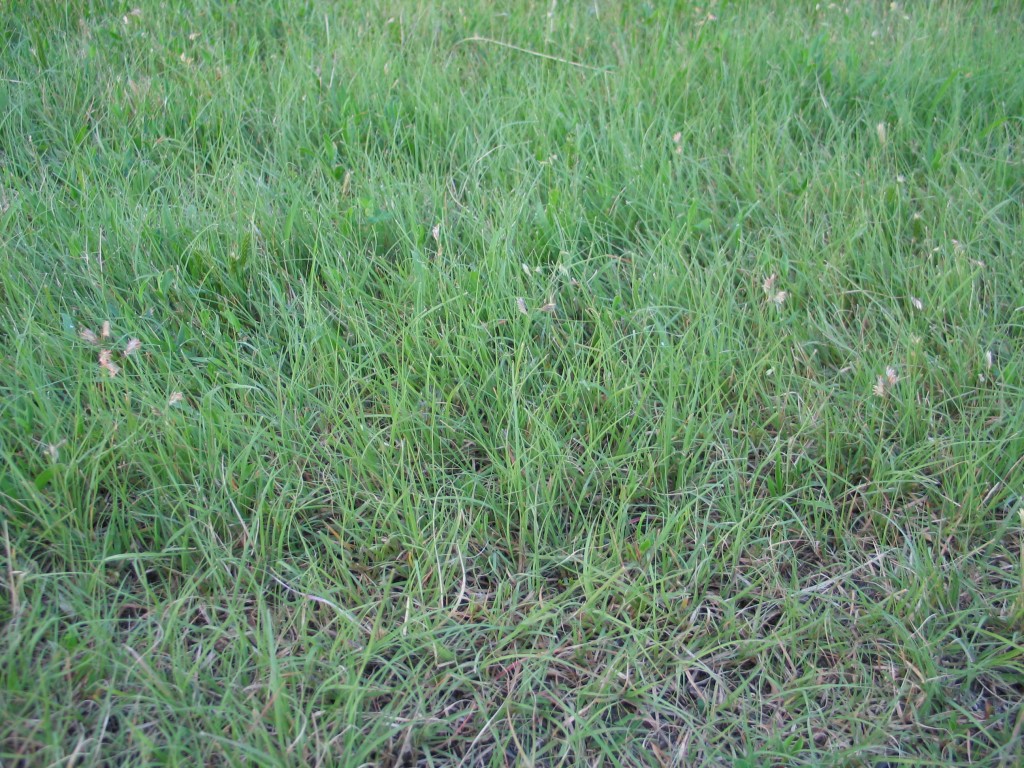 Our Experiment
This winter we will be trying a new seeding technique with buffalograss.  We have our area prepared and ready for planting. This November, we will seed annual ryegrass with buffalograss seed.  The ryegrass is a cool season grass that prefers cooler weather.  Once germinated, it will hold the soil through the winter while the buffalograss seed is naturally planted with the freezing and thawing of the soil.  The round seeds will not germinate because soil temperatures are below 60 degrees.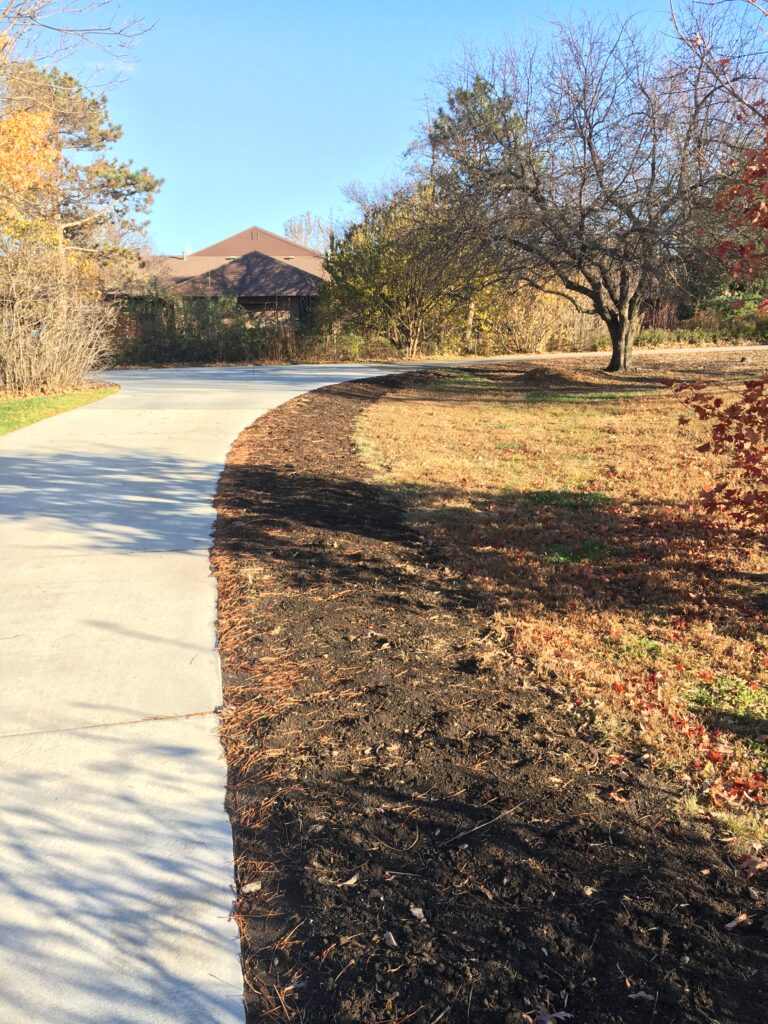 Next Year
In the spring, the buffalograss seed will germinate as the soil temperatures warm. By May, the new seedlings will benefit from spring rains and the buffalograss will begin to spread under the canopy of the ryegrass. As the temperatures warm into the summer, the annual ryegrass will begin to fade and the buffalograss will become more prominent. By the end of the summer, a new thick buffalograss planting will be fully established, spreading and healthy.
This is an experiment. We will keep you posted on the progress of this planting. I believe it has real potential because it uses natural processes to plant the buffalograss seed. We will use less water compared to germinating the seed in the summer and the ryegrass holds the soil to prevent erosion.  It sounds good in theory but it has yet to be tried. 
Buffalograss (Bouteloua dactyloides) fun facts
It is a larval host for green skipper butterflies.
The genus was named for Claudio and Esteban Boutelou, 19th-century Spanish botanists.
The specific epithet, dactyloides, means fingerlike, which refers to the inflorescences.