Achieving any goal is a challenge. I find those goals that matter to me the most especially difficult and daunting. Success in moving toward these big goals needs a compelling "WHY". Whether in self-care, your job, or with your family, why you want to make the effort helps keep you motivated and moving the ball forward.
It is the same for gardening with native plants. Why are native plants so important? In difficult times, even I need to be reminded of "WHY" we promote the use of native plants here at the Arboretum and in the urban and suburban home landscape. 
What is YOUR why?
With so much angst about the state of the environment, gardening with native plants is something each of us can do. We all want to see positive change, but often the solutions seem too big and out of reach. I believe the first step is to start with your own yard and neighborhood. 
Choose natives for all the good they do. Choose native plants not because they are easy (they're not), but because they belong in your yard.
Choose natives because you can. It is your choice. And when you choose to use natives, and many others make the same choice, you will have a collective positive impact on the world around you.
Choose native as an example for others to follow. Imagine what that would look like over time – all the relationships you will develop with other gardeners and the conversations you will be able to have.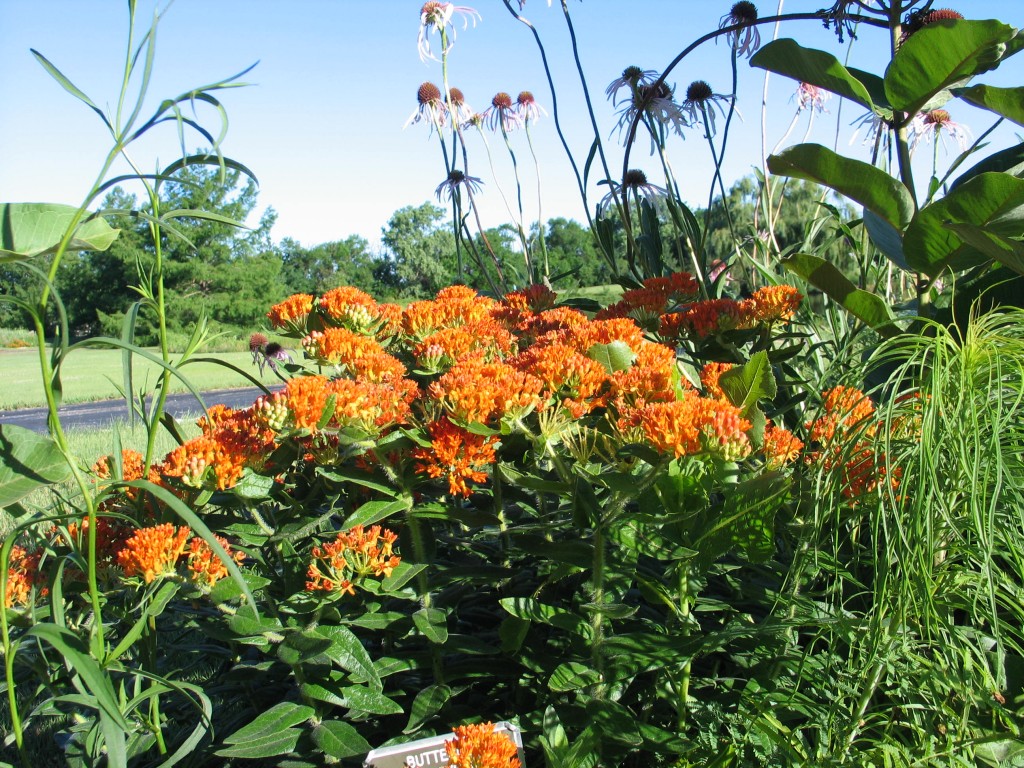 Here are a few other reasons native plants should become the "new normal" in gardening:
Low Maintenance
There is no such thing as a no-maintenance landscape. Native plants still need some care, but compared to a traditional landscape with a lawn, tidy shrubs and a few trees surrounded by perennial beds, native plants are extremely low in maintenance. Native plants are adapted to our climate and can grow in the toughest environments. Once established, their deep roots take them through prolonged periods of drought.
Saves money
There are obvious savings associated with a native landscape compared to maintaining a traditional landscape. A native landscape uses less water, little or no fertilizer and no chemicals or pesticides, which in turn saves you time. I am frugal and a native landscape is a low cost alternative to a traditional lawn-dominated landscape. Conservation and stewardship are trends that help you and the environment.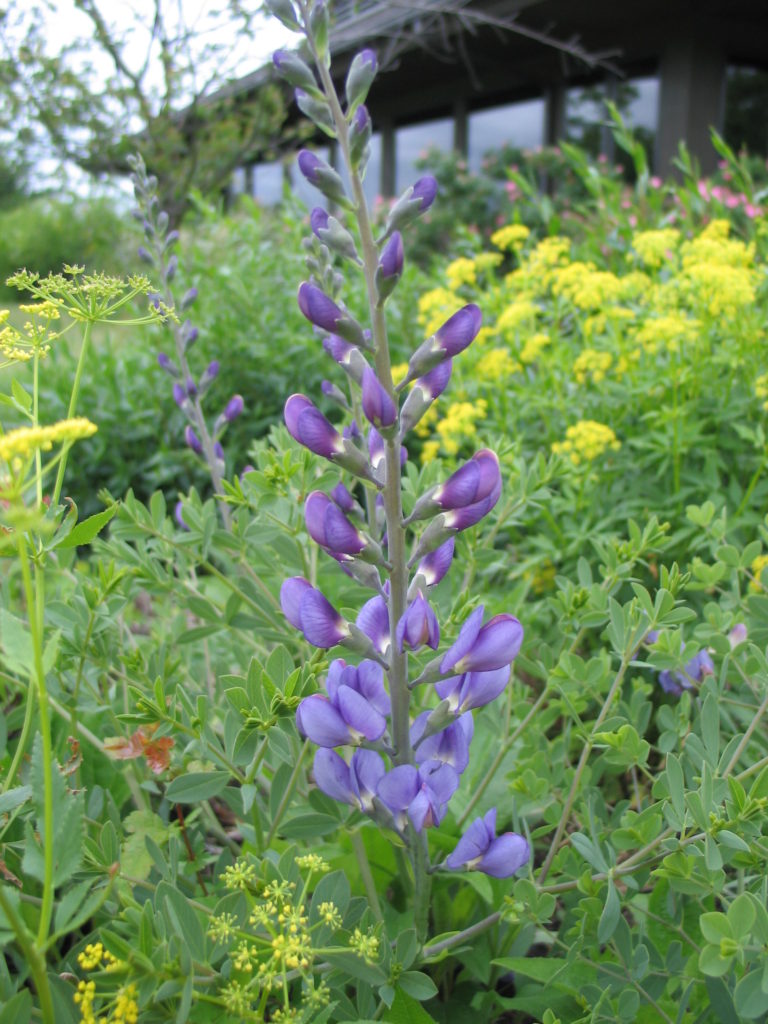 Saves water
We have seen an increased interest in native plants because of the water they save once established. Many homeowners are decreasing their lawns as a way of saving water and money. Most roots on a fescue or bluegrass lawn are only three to four inches deep compared to prairie wildflowers and grasses that develop extensive root systems several feet deep. Big bluestem grass, for example, establishes roots up to ten feet deep. With a shallow root system, a typical lawn requires ten gallons of water per square foot through the summer to keep it looking green. If you minimize your lawn, you will begin to diminish your dependence on water.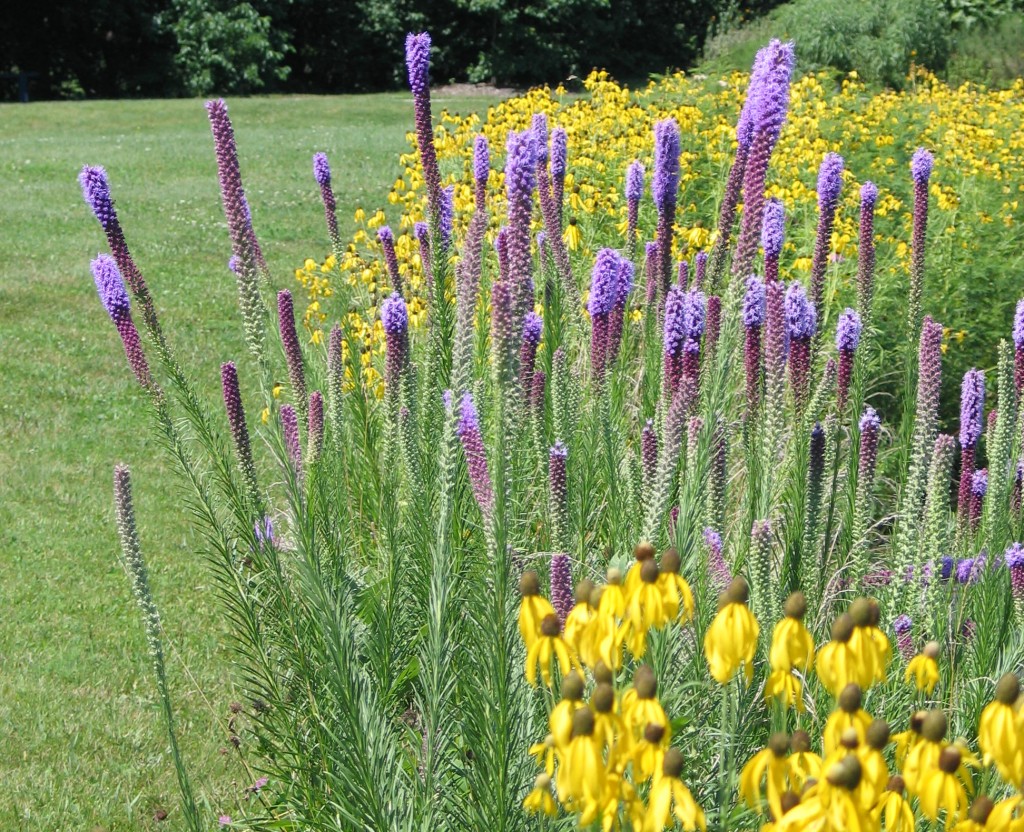 Beautiful plants
If you have ever walked through a pristine prairie or observed the changing seasons in the Flint Hills, you know the exquisite beauty of wildflowers in bloom coupled with native grasses. It is understated and taken for granted. I am always amazed at the complexity and intricacies of these prairie plants. They create a very unique sense of place. Here are a few design ideas to get you thinking about your own native garden.
Attract pollinators and wildlife
Pollinators and wildflowers have a symbiotic relationship. If you have wildflowers, you will attract butterflies. There have been over 20 butterfly species identified and documented at the Arboretum during the butterfly counts. They seek out our wildflowers and utilize them throughout the year. Monarch populations are declining. They need milkweed, and since we have milkweed in the Arboretum, they show up. Also, just like the monarchs, songbird populations are declining.  They need prairie habitat for survival along with wildflower seeds to feed overwintering birds.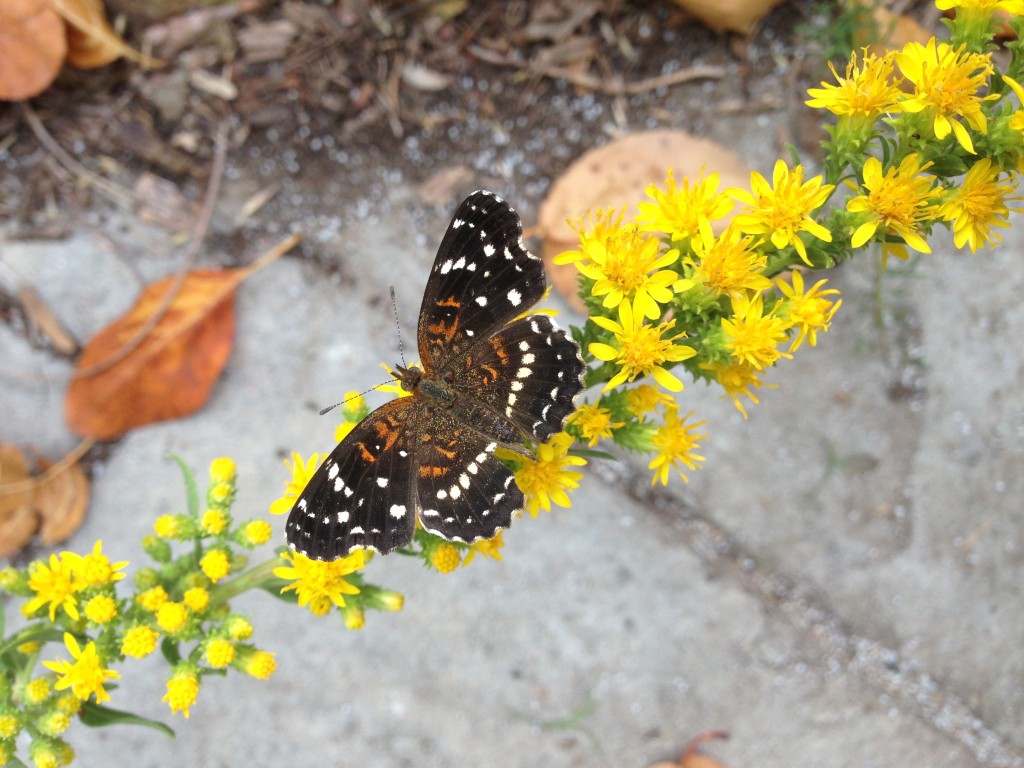 Often the "WHY" we do something gets lost in the tasks of creating something new. I need to be reminded "WHY" from time to time to reset my focus. Certainly there are more reasons "WHY" to use native plants – we each have our own unique perspective and motivation. I hope reading this has helped you reconnect with your why, so you can move ever closer to your native plant gardening goals.