I would highly recommend that you visit Little Jerusalem Badlands State Park, a new gem in the crown of great destination places to visit in Kansas. The High Plains and western Smoky Hills landscapes of Western Kansas are too often overlooked as a flyover region or burden of windshield time to endure as Kansans head west to the mountains. But if you take the time, I am sure you will become enamored as I have by the geologic history, wide-open viewshed, and various biological elements of the short to mixed grass prairie ecosystem. There are various intriguing features for a visit to Little Jerusalem.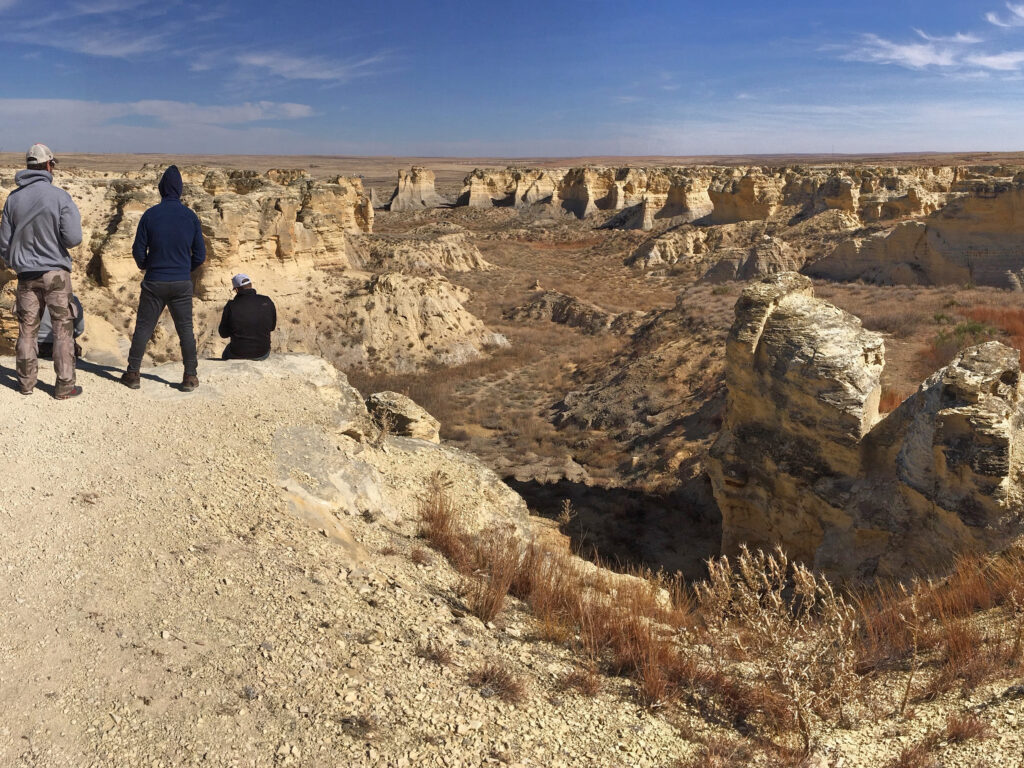 A Look Back in Time
You will immediately notice the layer cake geology in the Niobrara Chalk spires and unique standing features carved by the Smoky Hill River at Little Jerusalem over. Layers of shells, shark teeth and bone fragments were deposited at the bottom of an ancient Cretaceous era inland sea covering this area from 145 to 66 million years ago. These are favorite areas for paleontologists to find skeletal fossils of swimming reptiles such as mosasaurs and plesiosaurs.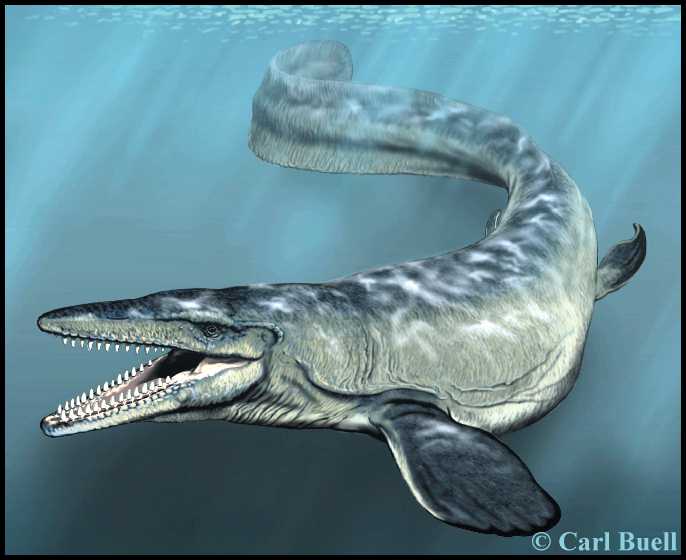 Recreation in Wide-Open Spaces
Treeless plains make for stunning landscape views and Western Kansas has no shortage of them. Wide-open spaces, few people to see, and a typically windy environment also make this an excellent place to socially distance yourself during a pandemic outdoors while exercising your body and mind.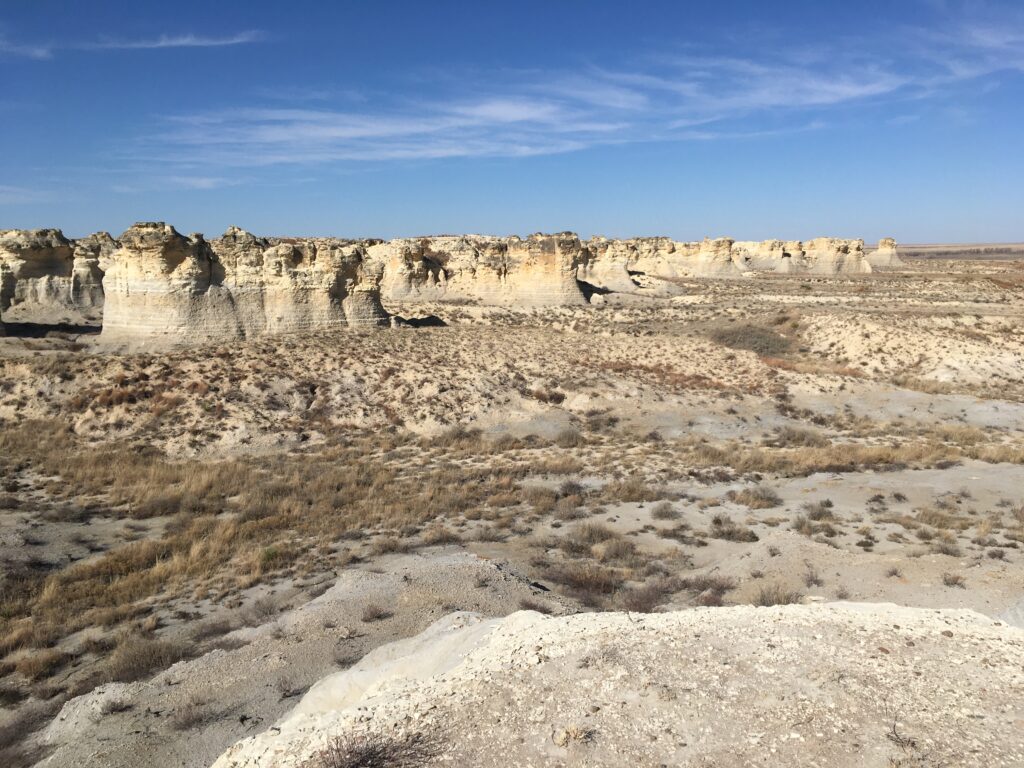 After arriving at the new parking lot and paying your $5 car fee at the self-pay station, you can set out on hikes to great views either a 1/2 mile or a little over 2-miles total in length. I took in the views at all three of the overlooks which were all impressive. But I would have to say that the views from the overlook furthest in distance (1.2 miles) from the parking lot were most spectacular. Most of the trails consist of packed gravel that are easy to walk on.

Rare Plants and Animals
There is so much to see at Little Jerusalem in the short and mixed grass prairie all around. You can simply take in the beauty of the colors and textures as part of the surrounding landscape. Or you can investigate closer to see an array of interesting examples of flora and fauna unique to the area. Great Plains wild buckwheat (Eriogonum helichrysoides) is found around the chalk bluffs of Western Kansas (with the largest population found in this park) and nowhere else in the world. Ferruginous hawks (Buteo regalis) are open-country birds that breed in grasslands and the most nests in Kansas are found along the bluffs of the Smoky River.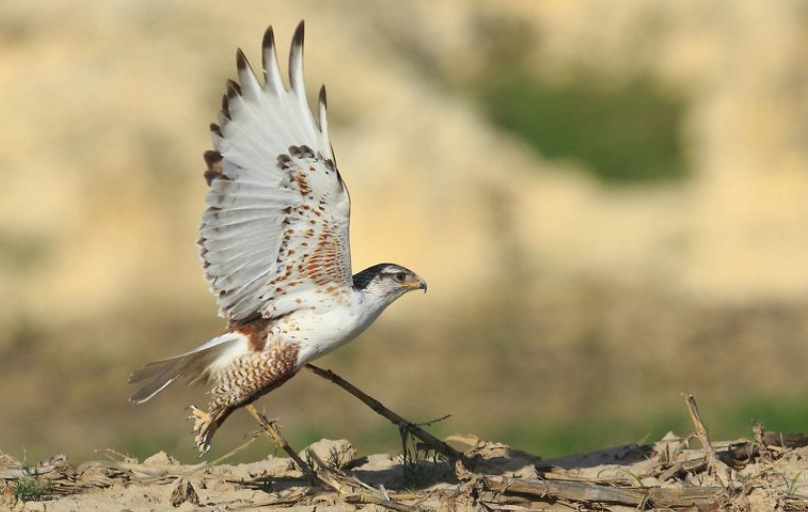 Close to Other Worthy Features
While planning your visit to Little Jerusalem Badlands State Park, consider visiting a few other worthy public and private features in the area in or near the Smoky River valley and watershed.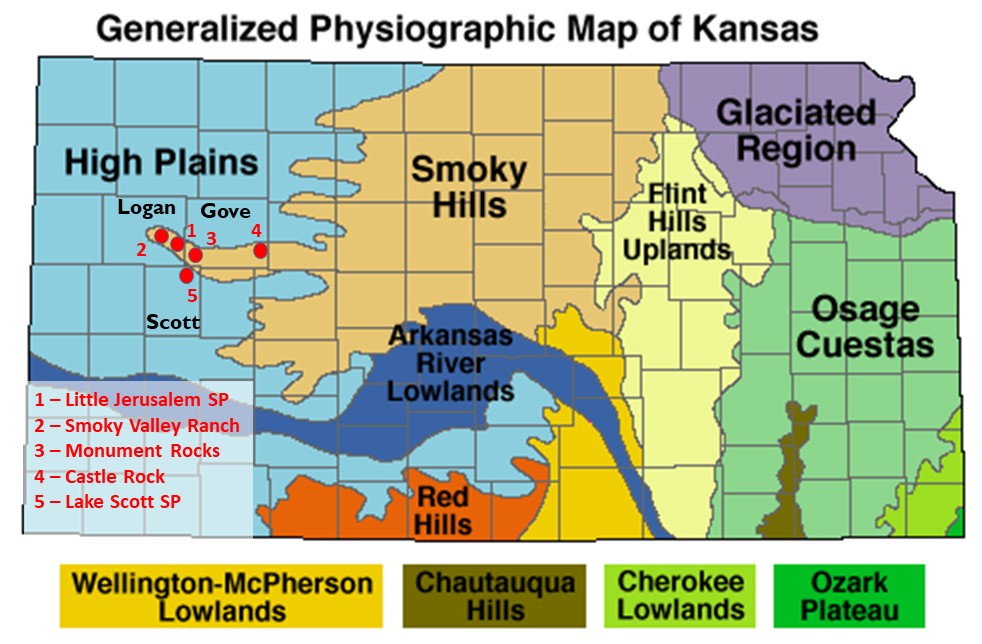 Smoky Valley Ranch in Logan County has been protected and is currently being managed by Kansas Chapter of The Nature Conservancy. It is an expansive example of short and mixed-grass prairie managed as a working ranch that features dramatic chalk bluffs, grazing cattle and bison, black-tailed prairie dogs, and the federally endangered black-footed ferret.
Monument Rocks National Landmark and Castle Rock, combined in consideration for one of the 8 Wonders of Kansas, are both impressive examples of Niobrara Chalk towers on either side of Gove County. Both features are on private land where visitors are allowed to get close to the features. Be respectful of the rules including no climbing, fossil hunting, camping, littering or bonfires.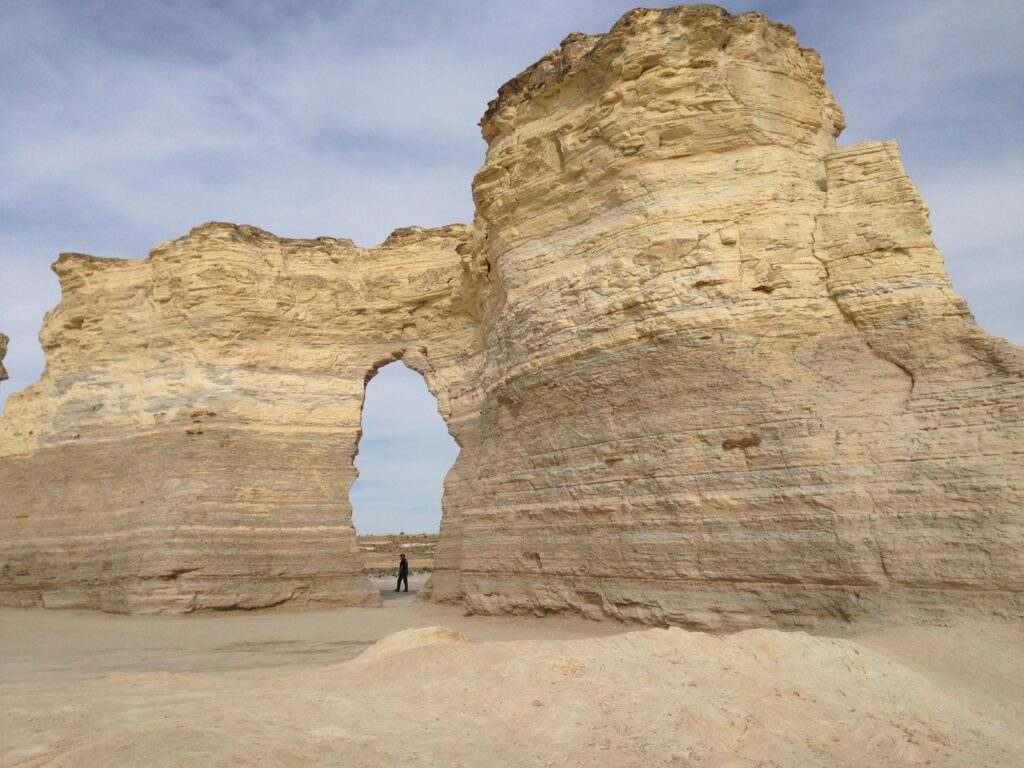 During your Western Kansas visit, consider renting a cabin or camping at beautiful Lake Scott State Park. It is considered by National Geographic as one of the country's 50 must-see state parks. Extensive hiking trails, a state fishing lake, and various features of cultural history from Pueblo Native Americans to early European settlers can all be found here.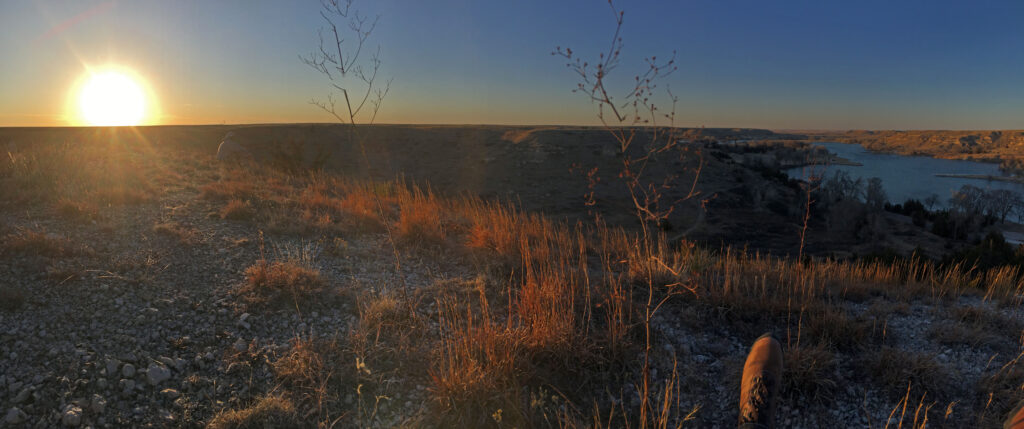 I'll leave you with a poem (Prairie Wind by Fred D. Atchison, Sr.) featured on one of the signs at Little Jerusalem where one is invited to "Have A Seat, Fill Your Lungs":
I am thinking of you, prairie wind

running free across Kansas plains

and see the evidence of your presence

billowing seas of golden grain.

You etch your mark on sandstone cliffs

sculptures carved by a timeless hand

and move soft brushes of prairie grass

drawing circles across the sand.

It is humbling when I realize

these soft breezes reaching me now

whispered lullabies to the Indian child

before the prairie was put to the plow.

I have witnessed your destructive force

throughout the reaches of your domain

and felt the comfort of your caress

when you become gentle again.

You are an adversary to work against

and you break those who will not bend

an ally to all who work with you

when finally we learn to walk with the wind.