Even when the mercury drops and the snow flies, I am still thinking about gardening! Winter is the best time to sketch and plan; to dream up additions to your landscape so you are ready to install when spring arrives. Of course, at Christmas time my mind is always drawn to plants with silver and gold tones. Here is a little sample of some of my favorite holiday-colored landscape picks that can bring joy all year.
Short-Toothed Mountain Mint – Pycnanthemum muticum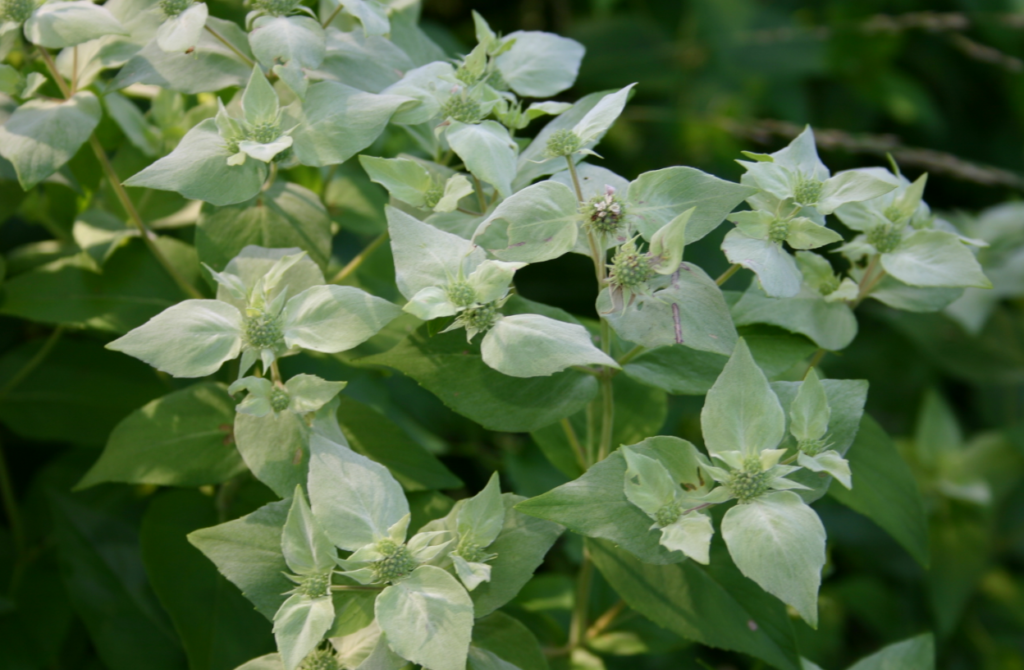 It is no secret that I am a fan of mountain mints. There are several species that grow well in our area, and I have planted them all! I appreciate its low maintenance habit, long lasting blooms, its usefulness in floral arrangements, and have I mentioned it is a pollinator magnet? Insects go absolutely bonkers for the hundreds of tiny white blooms that cluster at the top of the plant. P. muticum is a special favorite because of its wider, silvery leaves. A strong silver tone brings a coolness to the garden in summer, and nods to the first frosts of fall.
Gray Santolina – Santolina chamaecyparissus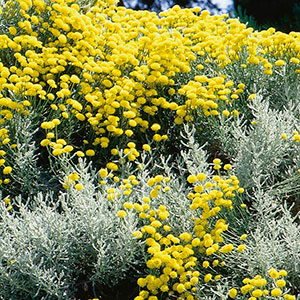 A Mediterranean native, this drought-loving plant is a fabulous ground cover. Plant in full sun and well drained soil, and forget about it! It needs no fuss, and rewards you with yellow, button-like blooms in early summer. The silver foliage stays attractive all year in our area, and has a powerful, sage-y fragrance.
I could also include the well known garden plants like Russian sage and Lamb's ear in this list — both grow very well in Kansas and add that touch of silver compliments contemporary and cottage gardens alike.
Goldenrod – Solidago sp.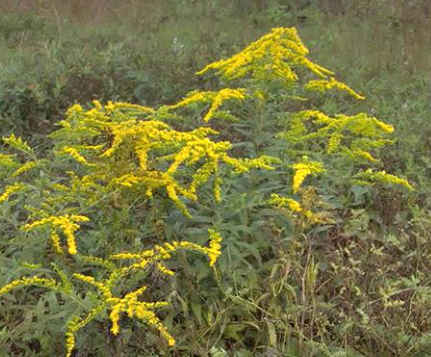 Goldenrods are, of course, a great way to add gold tones into your landscape. Toward the end of the growing season, when the sun streams in at a lower angle, these beauties come into bloom. Their golden flowers are not only beautiful, but they are a vital source of nectar for migrating monarchs. My favorite cultivated variety is S. rugosa 'Fireworks', but there are many good ones to choose from.
Switchgrass – Panicum virgatum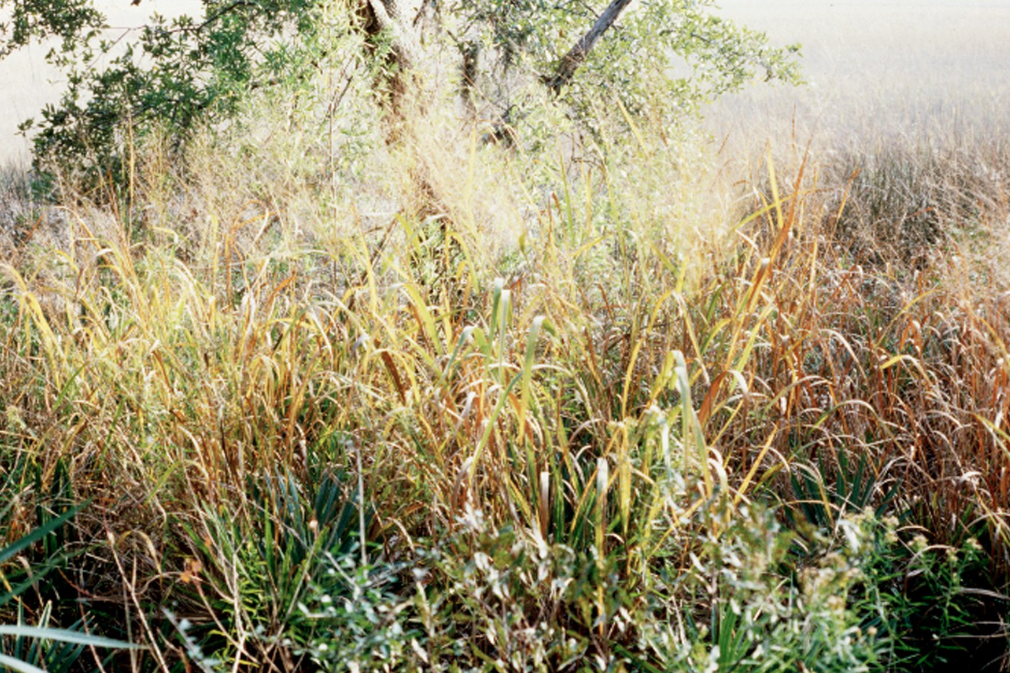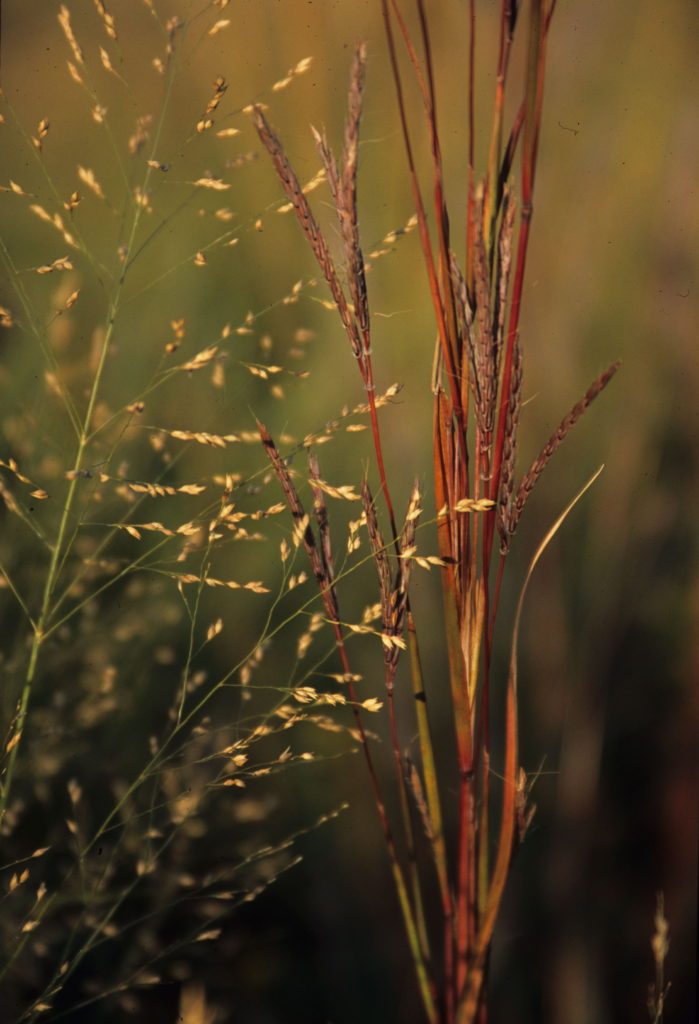 While I enjoy the lustrous green of switchgrass in summer, I really prefer how it looks in November and December: golden bronze arching leaves and fluffy seed heads holding a bit of morning frost. The gold tones of dormant switchgrass make it useful for decorating your Christmas tree (try slipping in few seed heads and watch the lights make them twinkle!) or for making dried wreaths and bouquets. Birds also love to nibble on the grass seed through the winter, so be sure to leave some standing to provide that critical habitat.
So go ahead, dream of spring! Anytime of year is a good time to make plans for improving your garden and landscape. Each season offers a new perspective on what colors, shapes and textures work well together. If you are lucky, perhaps someone will get you a Dyck Arboretum Membership or an eGift card to use at our FloraKansas Native Plant Festival for Christmas to help make your native garden dreams a reality!