There are some experiences we will always remember and others we need to be reminded of from time to time.  One of those experiences happened for me with the Texas Buckeye near the Arboretum parking lot.  Each spring when it blooms, I am reminded of the time I about killed that tree.
It was one of the first years I was working as the horticulturist/grounds manager.  I was mowing close to that tree, which had been planted the year before.  It was supported with wires from the trunk to stakes in the ground.  I turned the mower and WACK!  The top of the tree hit me on the head.
Have you ever had the sudden realization that something isn't right?  Have you ever had that feeling in the pit of your stomach to not turn around?  I turned around to see that the back of my mower had caught one of the wires and pulled the tree over, breaking the trunk about two feet off the ground.  I wanted to crawl in a hole.
The Texas Buckeye (Aescules glabra var. arguta) tree, which was now laying horizontal, had been sought diligently for this specific spot.  In one second, I had killed it.
Have you ever had thoughts of hiding something you did wrong?   That thought flashed into my mind.  Will anyone notice? I was in a jam.  So, I decided to take my lumps.
I walked into Larry Vickerman's office, who was the director at that time, and told him the bad news.  To his credit he didn't yell at me, but I certainly would have deserved it.  He took a look at it and we decided to try to set it upright again.  We gently unhooked it from the mower and made it vertical and then wrapped the place where it bent over with tree wrap.  We crossed our fingers that it would survive.  It did survive the rest of that year and bloomed the next year.  It has continued to bloom each year since and each spring I am reminded of the time I was hit upside the head.  Maybe there is a lesson to be learned in this story.  Maybe I need to be hit upside the head from time to time.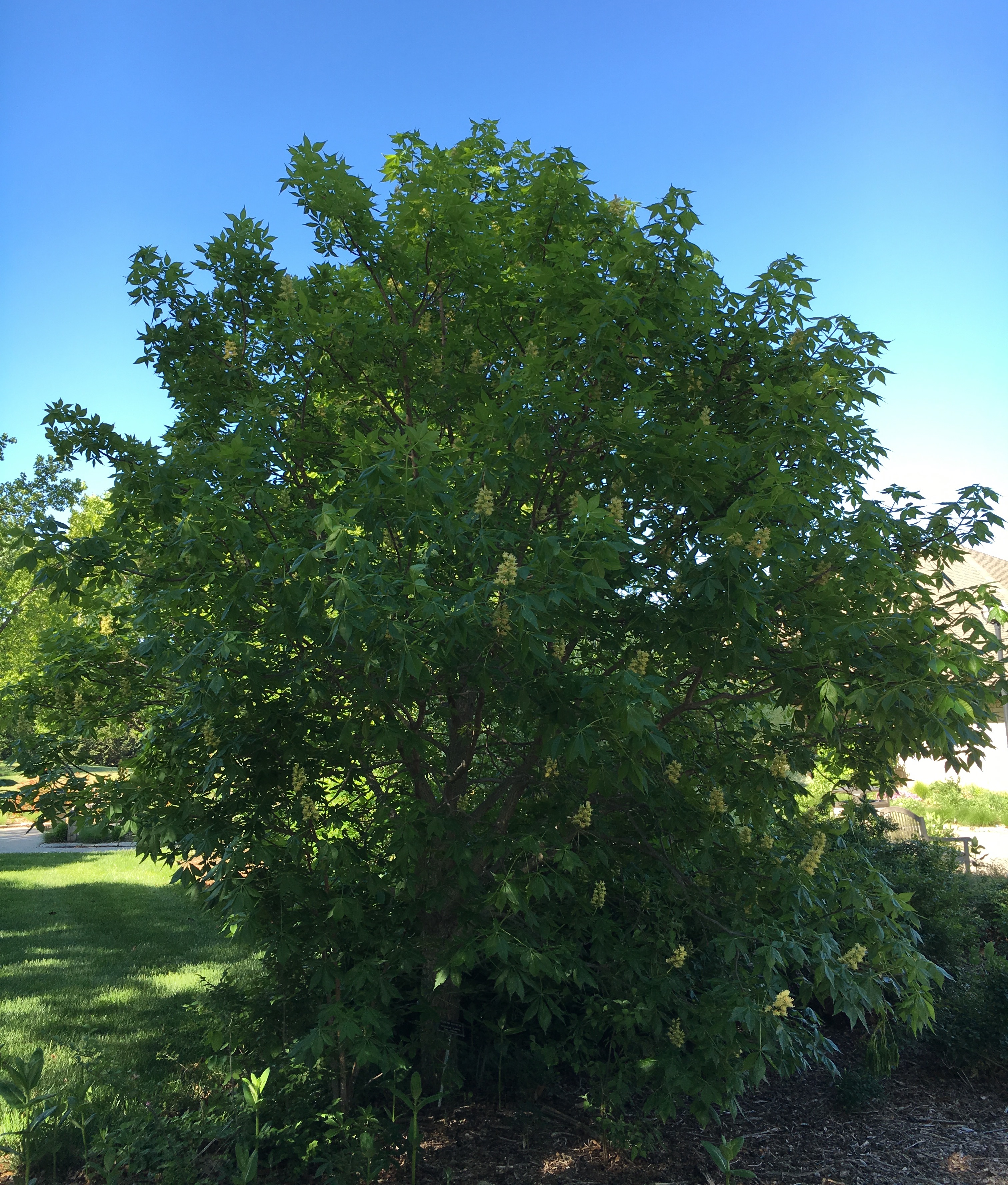 Anyway, if you look close, the scar is still visible, but it has fully healed.  This beautiful small tree has palmately compound leaves that will turn yellow-orange in the fall.  The real show in is May when the creamy, yellow flower panicles emerge.  The blooms are spectacular and very eye catching, because they appear at the ends of the branches.  It is an understory tree, which becomes most visible when in bloom.  The leathery seed pods develop later in the year and contain tannish-brown, shiny seeds that look like "buck (deer) eyes" .  The seeds are known to be poisonous along with all parts of the plant as well. If the tree becomes really drought stressed, it will prematurely drop its leaves.  Ultimately reaching 20-25 feet tall and 15-20 wide, it is a wonderful small tree for the landscape.
This is a great native small tree that deserves more use.  Each year, I get a renewed sense of relief, because I know what I did to it, yet is still thrives.  If this Texas Buckeye can survive being toppled by a mower, it can survive anything you throw at it.