At FloraKansas it's always a pleasure to hear from members who are renovating an entire landscape in
native and adaptable plants all at once. Dramatic transformations have a wow factor about them, with the instant gratification of an "extreme makeover". However, so many Dyck Arboretum members have been tending and transforming their gardens over several years or even several decades. This is the case with Ron Flaming's backyard meadow.
As a Harvey County Master Gardener, Ron's front garden is immaculate. A well-tended quarter acre of lawn is framed by several foundation beds of carefully-selected shrubs and groundcovers. A small planting of wildflowers surround a weeping understory tree at the curb. But it's the back garden that really takes you on a native plant journey.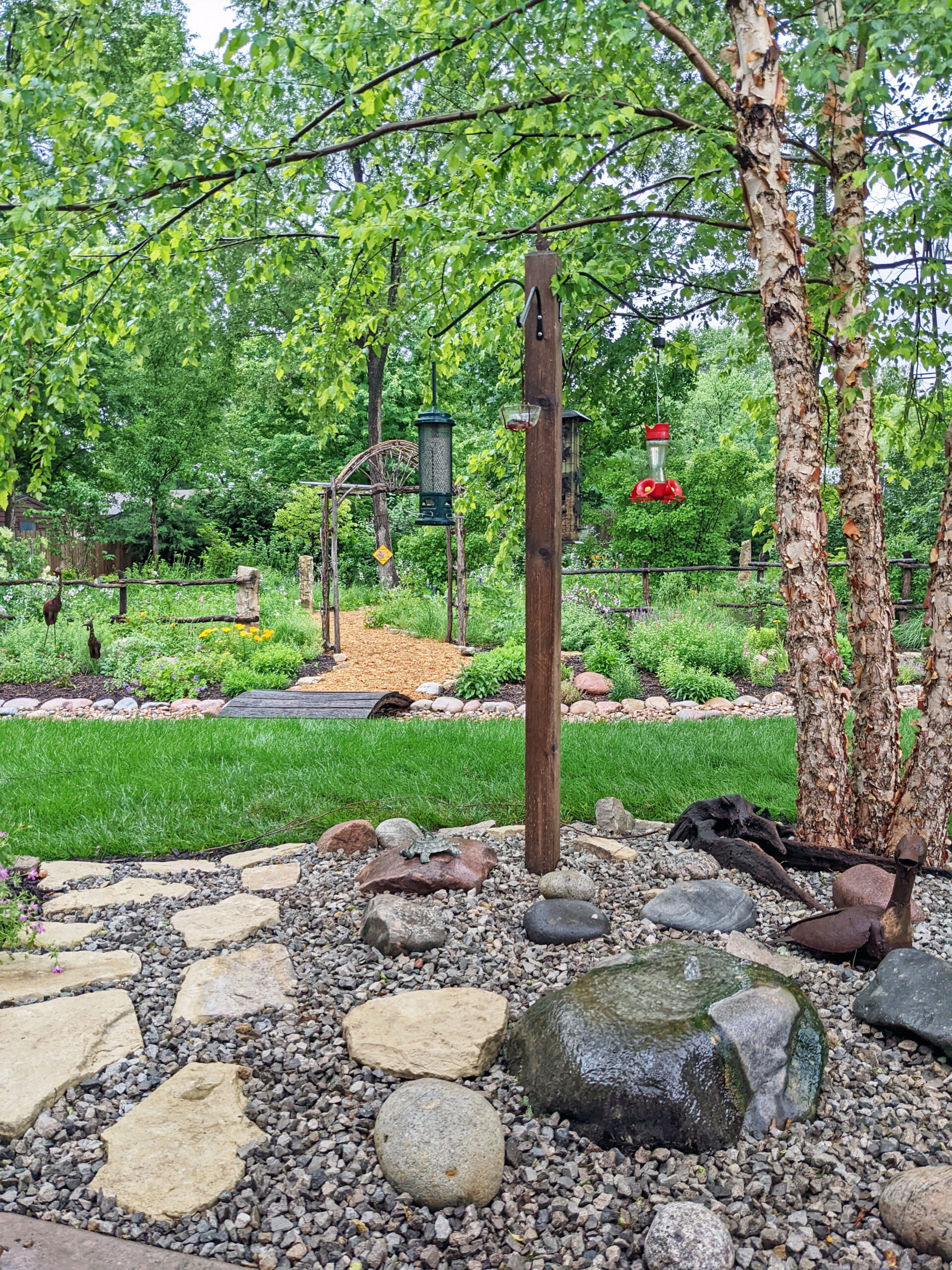 Several river birch trees surround a puddling water feature and a rock garden by the patio. A few hummingbird feeders round out this pollinator sheltering space. Just a step beyond the rock garden, a small bridge flanked by formal native plantings, leads you to an arbor and a winding path through a meadow planting.
At the time I visited in early June, the meadow featured mixed-grass prairie species. I was able to recognize little bluestem, side oats grama and prairie dropseed, as well as a smattering of wildflower blooms mixed in: common milkweed, penstemon, and baptisia. Several complementary non-natives like delphinium gave a
nice pop of color as well. The path curved around the back side of a rustic garden shed. Behind the shed is a rare wooded microclimate, which allows understory shrubs and woodland wildflower species to thrive.
Ron's many-layered meadow garden gives me hope as I grapple with my own yard. Once shaded by an 80-year-old American Elm, my backyard now bakes in full sun, presenting a new challenge. But I am inspired by Ron and am reminded that it's amazing what a gardener can accomplish over the years with a lot of persistence, creativity and grace.
---
The act of curating an inviting outdoor space for oneself, one's family and for wildlife is something I'd like to draw attention to over a series of "Kansas Garden Success Stories" to share with our followers. If you are a member of the Arboretum who would like to share the story of your garden and your journey with Kansas native plants, please send me a message at arboretum@hesston.edu with the subject line, "Garden Spotlight".