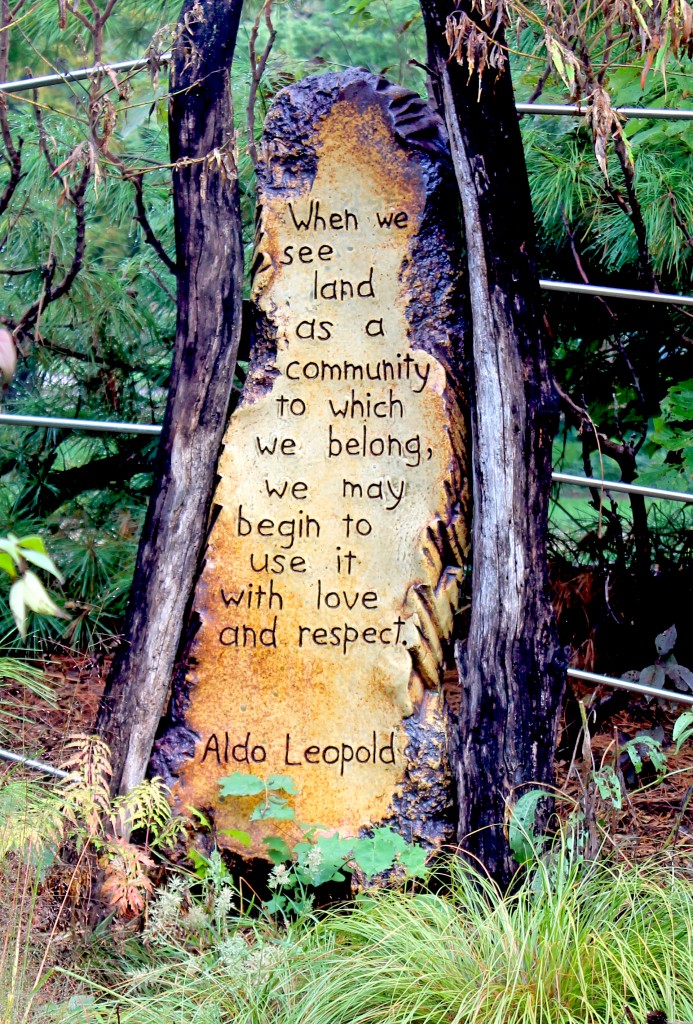 Many of the folks who plan weddings in our prairie garden are concerned with reducing the ecological footprint of their big day, an effort I applaud and encourage. For an organization like ours, "going green" is more than a catch phrase or marketing gimmick. Each decision to create more joy and beauty with less waste is a decision to "use [the land] with love and respect."
And yet, I realize that planning an eco-friendly wedding can be a daunting endeavor. Luckily, you don't need to reinvent the wheel – here are six ways our 2015 weddings succeeded in treading lightly on their wedding day:
1. Reduce consumption of disposable goods.
I get it. Disposables save a lot of time and energy – they are lighter for carrying in to the venue and they don't require washing at the end of the night. However, using your grandma's vintage china – even just for the head table – adds a pop of color and style, especially if you want the vintage look.  If you can't afford to rent fancy china, or don't have the crew to clean it up later, consider at least using SOME real dishes and cloth napkins. For the rest, make sure whatever disposables you use can be rinsed and recycled. (Or even better, go bio-compostable / biodegradable.)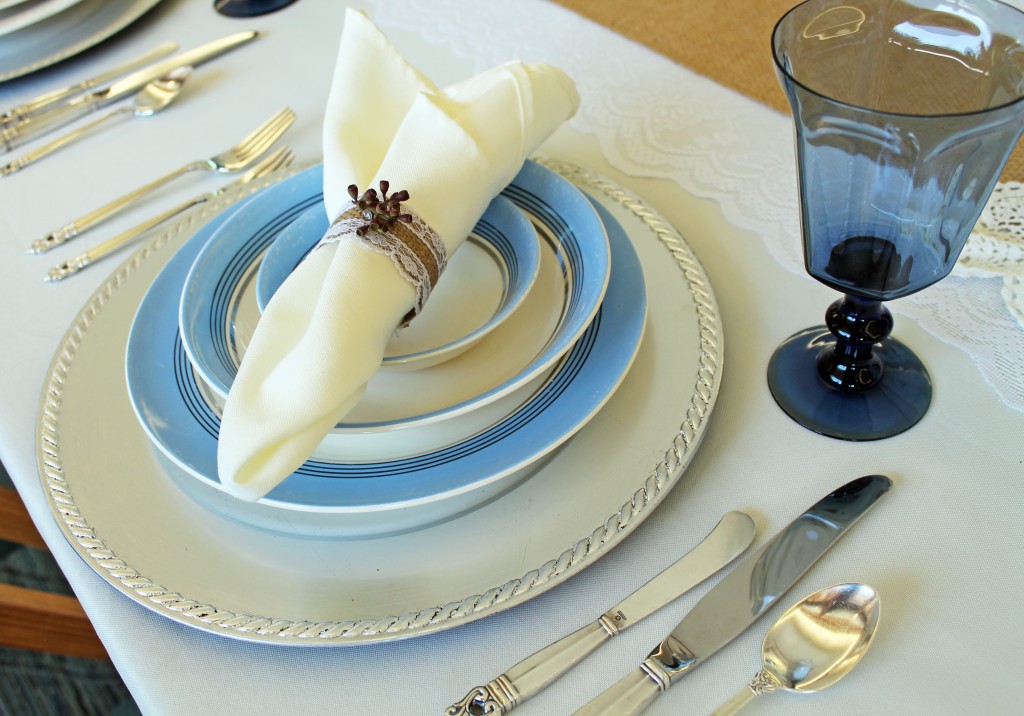 2. Repurpose found items for decorations.
Kelsey and Ben, who were married here in early June, get the prize for most creative collection of repurposed items. For tableware, they mismatched vintage china and glassware, giving their "English tea luncheon" an eclectic, elegant look. In addition, they made fewer flowers go further with their test tube centerpieces – huge impact with relatively few cut flowers. Go a step further and pick the flowers yourself from your mom's or grandmother's garden, or from a roadside ditch! (See next tip for more on this!)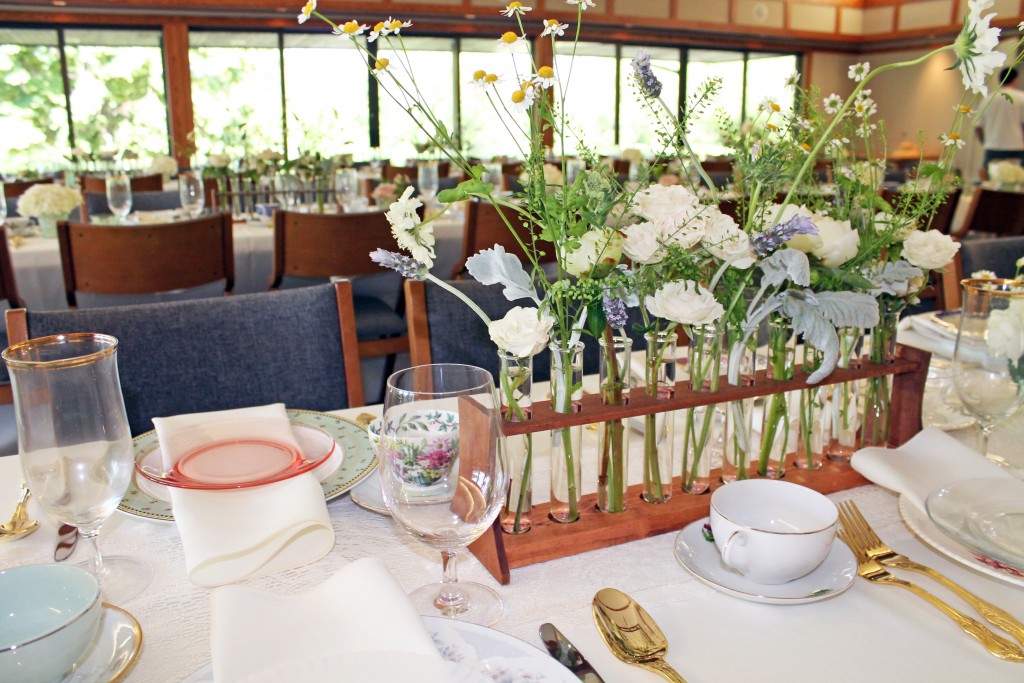 In September, Anna and Justin used a very creative selection of items from home on their tablescapes, including various jars, tins, spools of thread, old medicine bottles and vases. These, combined with burlap and a bright cobalt blue piece of fabric for a table runner, tied everything together very nicely.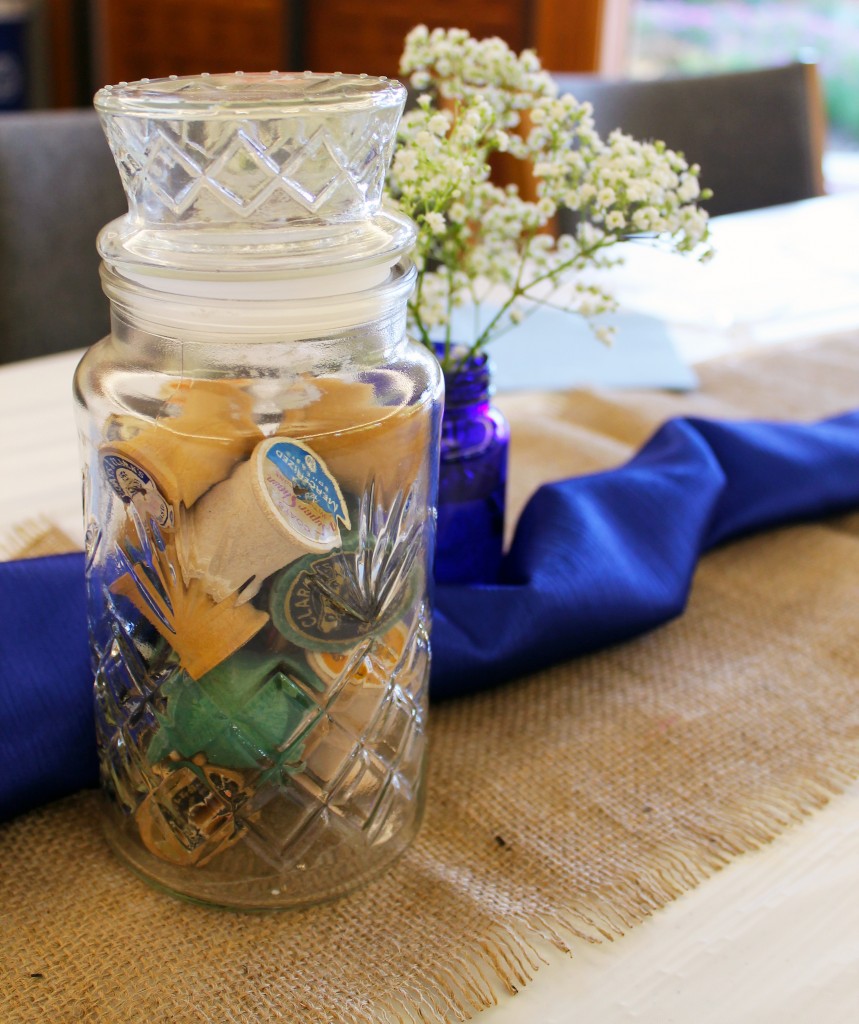 3. Use alternatives to hot house flowers.
If you have several guests or members of the wedding party coming early to help out, put them to work the day before the wedding and have a flower-picking party! Abi and David did this in August and the results were simple, but stunning. Do some research to find out what wildflowers typically bloom in the roadsides or in your friends' gardens during the month of your wedding (or visit our Pinterest boards to see what blooms here) and plan your color scheme accordingly. Be flexible and open to using what you can find – and be sure to ask permission before you pick!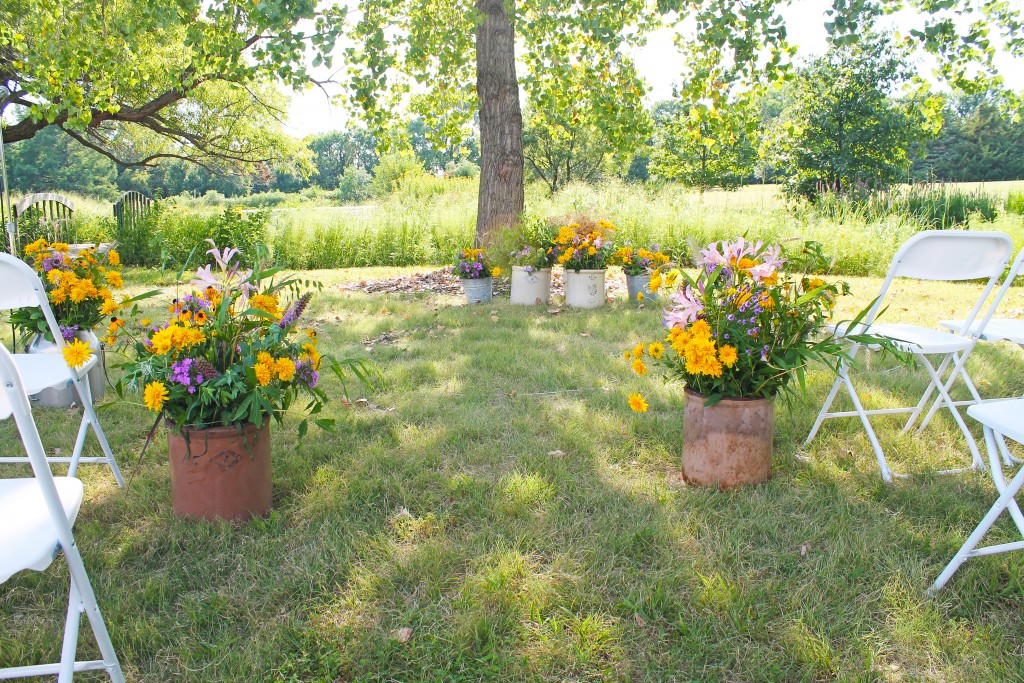 Also, consider using fabric and/or wooden flowers, like Leah did this past October. If you want to keep your bouquet, this is a great way to ensure that your "roses" will be as good as new at your 25th anniversary!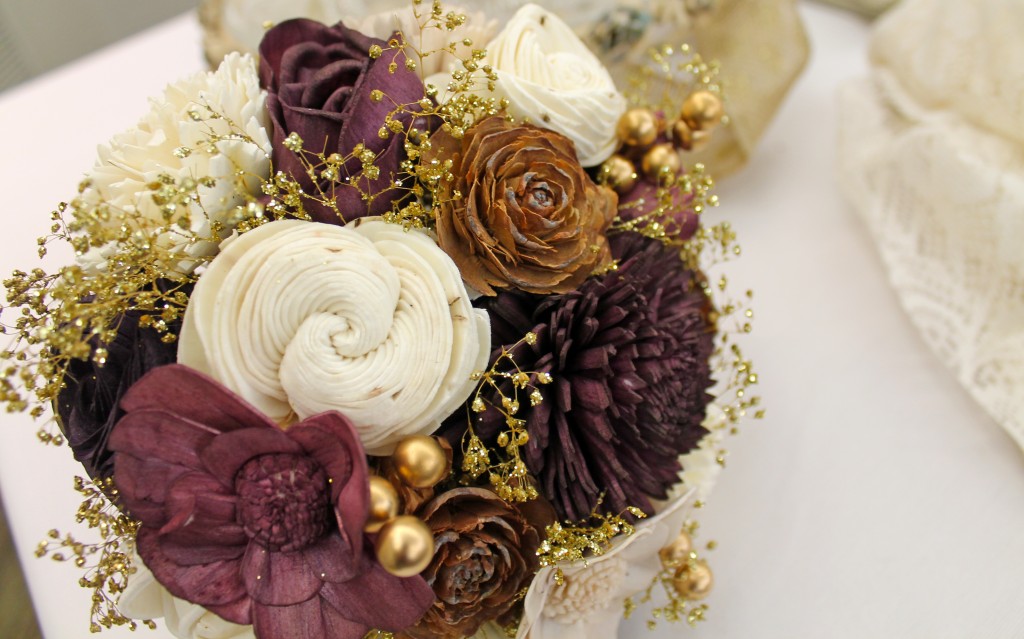 4. Minimize travel.
Several of the weddings held here this year had fewer than fifty guests attending and many more had fewer than one hundred guests. In my experience, these are some of the most joy-filled celebrations we've had here at the Arboretum.
There are two steps in minimizing the amount of miles traveled to your wedding. First, choose a venue that is as close as possible to the majority of your family and friends. Then – and this is the hard part – edit that guest list down as much as you can. It will be challenging, but if you can keep your numbers down, you'll be decreasing the size of your wedding's carbon footprint enormously and you'll help your overall budget as well. Most importantly, you'll decrease your stress on the day of the wedding! (Many of our couples have a wedding in Kansas and then travel to another location later in the year for a second reception.)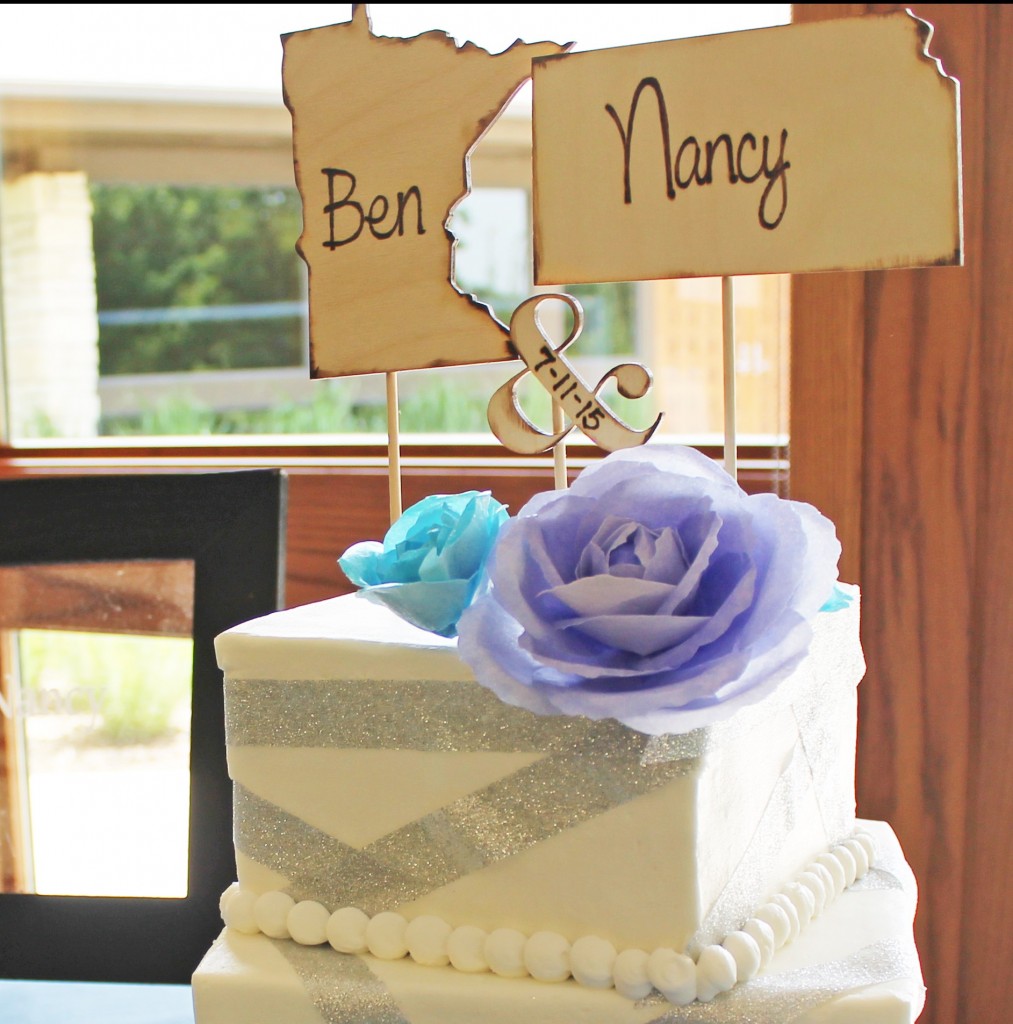 5. Plant a tree.
One traditional element of a wedding ceremony is the lighting of a unity candle. With our Kansas winds, this can often prove challenging for an outdoor wedding. Often, we like to suggest a "unity plant" as an alternative. It fits with the mission of the arboretum, and after you add water and soil to your plant during your ceremony, you can either take it to your new home and plant it there, or – if you aren't settled yet – you may donate it back to the arboretum and we will plant it here on our grounds.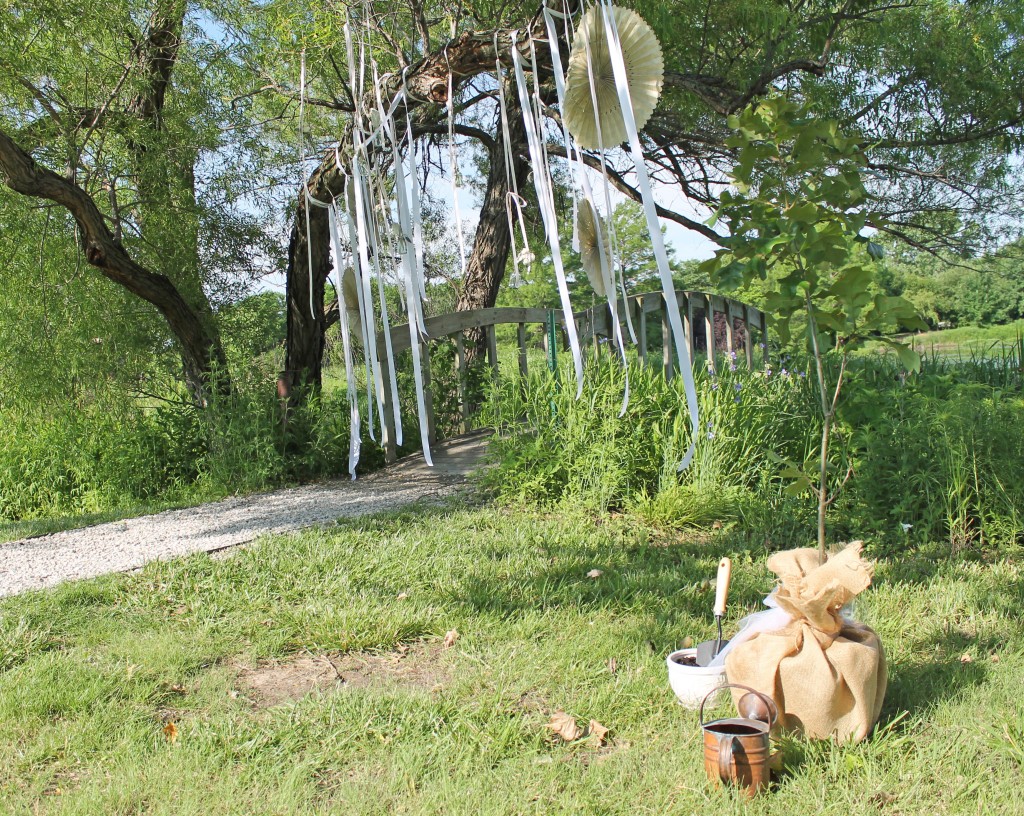 6. Support a venue with a mission you can believe in.
Choosing a venue is one of the first and most important decisions in the wedding planning process. It is also one of the best opportunities to make a positive impact with your eco-friendly wedding. There are so many unexpected venue choices to consider, such as a national park in your area, or a local farm operation, or a small, non-profit, prairie garden. 😉 Do you see where I'm going with this? When you choose a venue both for its beauty and for its broader ecological purpose, you aren't just paying for a rental space, you are supporting the mission of that organization.
Every time I introduce a new couple to the Arboretum, I always share with them our mission, which is to promote, through education and stewardship, the conservation and use of plants native and adaptable to Kansas. In a nutshell, we are about connecting people with the prairie in every way possible. Every couple that chooses the Dyck Arboretum as their wedding venue is contributing to this mission and leaving a piece of their story with the wider Arboretum community. For that, we are exceedingly grateful.