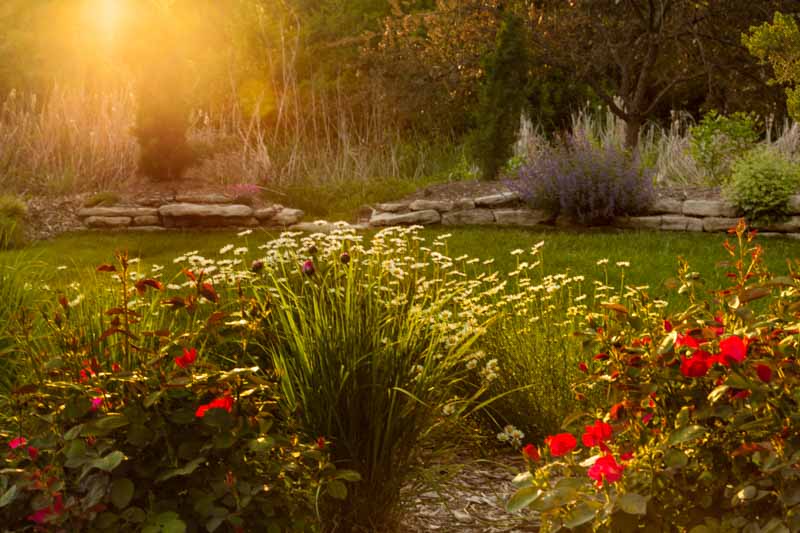 Our Mother's Garden is a gift to the Dyck Arboretum of the Plains in memory of Rosie and Milford Roupp. Our Mother's Garden also pays tribute to the many mothers and grandmothers who love gardening.
The prairie is part of our past, present and future. This garden connects our cultural and natural history by combining traditional plants with native wildflowers and grasses.
Past
More than a century ago, homesteaders brought with them seeds and bulbs of flowers familiar to them. Their new gardens on the Kansas prairie featured peonies, lilies, roses, lilacs, hollyhocks, and iris. Can you find some of these traditional flowers? 
Present
While people have become increasingly disconnected from nature, there is renewed interest in native landscaping. Our Mother's Garden provides a way to reconnect with the land across generations. Can you find any native plants in this garden?
Future
The prairie's unique beauty can provide a vision for our landscapes and influence how we garden in the Great Plains. Let this garden inspire you to incorporate the prairie landscape into your own garden.
My Mother Kept A Garden
My Mother kept a garden, 
a garden of the heart, 
She planted all the good things 
that gave my life its start. 
She turned me to the sunshine
and encouraged me to dream,
Fostering and nurturing
the seeds of self-esteem…
And when the winds and rain came,
she protected me enough-
But not too much because she knew
I'd need to stand up strong and tough.
Her constant good example
always taught me right from wrong-
Markers for my pathway
that will last a lifetime long.
I am my Mother's garden.
I am her legacy-
And I hope today she feels the love
reflected back from me.
– Author Unknown