Thanksgiving Weekend and the first December Weekend
Friday, Saturday and Sunday • 5:30 to 8 p.m. each night
Experience the quiet beauty of Kansas in winter: dormant native grasses shifting in the wind, lights reflecting in our pond, and leafless trees lit from below like living sculptures. Observing tens of thousands of twinkle lights adorning the Arboretum path and illuminating our grounds is a great way to kick off the holiday season and find renewed appreciation for the prairie landscape around us.
Stop at the fire pit to roast a marshmallow and grab a hot beverage, provided by Hesston Scout Troop 112 (free will donation).
Advanced tickets recommended (please read guidelines below):
$5 for Adults
FREE for children ages 0 to 12
Non-refundable, non-transferable.
YOU CAN NOW PURCHASE TICKETS AT WALK UP. Be prepared to stand in line, if necessary.
Program in Pavilion "Snow Globe" (6:15 to 8 p.m.):
This year's theme, "Birds of the Winter Prairie", will showcase dioramas featuring the diversity of birds that make their home on the prairie.
Each evening, programming in the Pavilion "Snow Globe" will alternate between storytelling and music. Storytellers from local libraries will read children's stories at 6:15, 7:00 and 7:45. Musical groups will perform for 30 minutes at 6:30 and 7:15 pm. Come back to this page for additional programming details.
Friday, November 24: Outside the Bach(s), violin and clarinet
UPDATED Saturday, November 25: Curtis Wolf, Cheyenne Bottom naturalist – "Sights and Sounds of Cheyenne Bottoms and the Kansas Wetlands Education Center" at 6:30; and "Taking your Birdwatching to the Next Level" at 7:15
Sunday, November 26: Ken Rodgers, piano
Friday, December 1: Prairie Bronze Handbell Ensemble
UPDATED Saturday, December 2: Grassland Groupies, "Birds of the Prairie"
Sunday, December 3: Dave Anderson, hammered dulcimer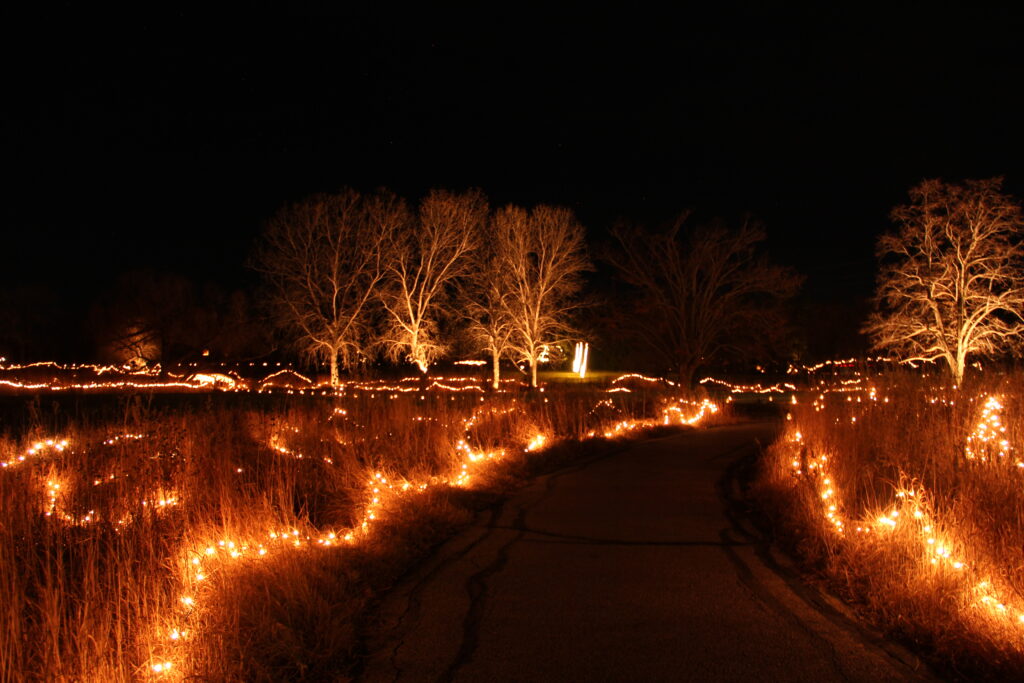 Safety guidelines for all attendees (subject to change):
Choose and purchase tickets in advance for one of five half-hour slots to help us evenly distribute attendees each evening;
UPDATE: The Visitor Center will be open for visiting the gift shop, restrooms, and viewing the gallery spaces.
Tickets will be available November 1st online, in the Arboretum gift shop or by calling the office in advance. YOU CAN NOW PURCHASE TICKETS AT THE ENTRANCE AGAIN. Be prepared to stand in line, if necessary.
Thank you for following these guidelines and helping us make this a safe and enjoyable event!