Thanksgiving Weekend and the first December Weekend
Friday, Saturday and Sunday • 5:30 to 8 p.m. each night
Experience the quiet beauty of Kansas in winter: dormant native grasses shifting in the wind, lights reflecting in our pond, and leafless trees lit from below like living sculptures. Observing tens of thousands of twinkle lights adorning the Arboretum path and illuminating our grounds is a great way to kick off the holiday season and find renewed appreciation for the prairie landscape around us.
Stop at the fire pit to roast a marshmallow and grab a hot beverage, provided by Hesston Scout Troop 112 (free will donation).
Advanced tickets recommended (please read guidelines below):
$5 for Adults
FREE for children ages 0 to 12
Members may use their coupon code at checkout to receive member discount
Non-refundable, non-transferable.
YOU CAN NOW PURCHASE TICKETS AT THE DOOR. Be prepared to stand in line, if necessary.
Program in Pavilion "Snow Globe" (6:15 to 8 p.m.):
This year's theme, "Welcoming Winter", will showcase dioramas and performers reflecting cultures that have shaped and continue to contribute to our community – Native American, African American, Latinx and Germanic/European.
Each evening, programming in the Pavilion "Snow Globe" will alternate between storytelling and music. Storytellers from Hesston Public Library and Newton Public Library will read children's stories at 6:15, 7:00 and 7:45. Musical groups will perform for 30 minutes at 6:30 and 7:15 pm.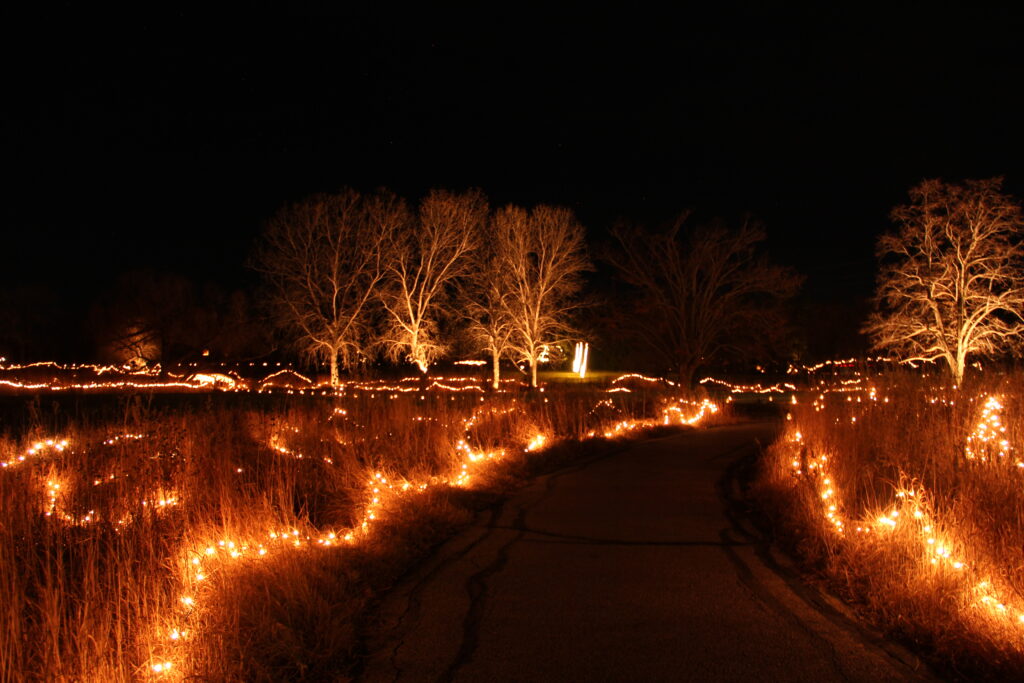 Safety guidelines for all attendees (subject to change):
Choose and purchase tickets in advance for one of five half-hour slots to help us evenly distribute attendees each evening;
Walk around the path in a clockwise fashion);
The Prairie Pavilion will feature outdoor viewing only (think snow globe!) of live music – observe briefly and move along to make way for others;
A tribute luminary (an additional $5 donation) can be lit and placed in the circular outdoor patio between the buildings;
UPDATE: The Visitor Center will be open (limited capacity) for visiting the gift shop, restrooms, and viewing the gallery spaces.
Tickets will be available November 1st online, in the Arboretum gift shop or by calling the office in advance. YOU CAN NOW PURCHASE TICKETS AT THE DOOR AGAIN. Be prepared to stand in line, if necessary.
Thank you for following these guidelines and helping us make this a safe and enjoyable event!