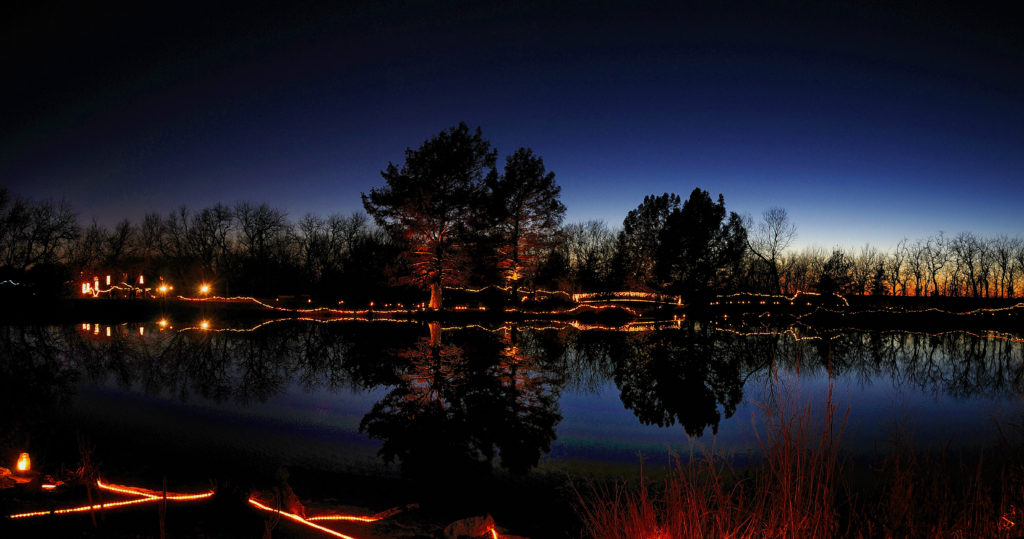 Winter Luminary Walk: Thanksgiving Weekend
November 26th, 2021 - November 28, 2021
Dyck Arboretum of the Plains
177 West Hickory
Hesston, KS 67062
Get Directions
Get Tickets
---
The Prairie Sleeps: November 26, 27 and 28 from 5:30 to 8 pm.
Experience the quiet beauty of Kansas at our Winter Luminary Walk: dormant native grasses shifting in the wind, lights reflecting in our pond, and leafless trees lit from below like living sculptures. Observing tens of thousands of twinkle lights adorning the Arboretum path and illuminating our grounds is a great way to kick off the holiday season and find renewed appreciation for the prairie landscape around us.
Musical Program in Pavilion (6 to 8 p.m.):
Friday, November 26: Howard Glanton, classical guitar
Saturday, November 27: RoJean Loucks, harp
Sunday, November 28: Ken Rodgers, piano
Tickets (please read COVID guidelines before purchasing)
$5 for Adults
FREE for children ages 0 to 12
Members – use coupon code on your member card for discount
COVID-19 safety guidelines for all attendees (subject to change):
Choose and purchase tickets in advance for one of five half-hour slots to help us evenly distribute attendees each evening;
Wear face masks while indoors or within 6 feet of others outdoors.
Keep at least six feet of distance from people not in your household group;
Walk around the path in a clockwise fashion (Traffic Flow Map);
The Prairie Pavilion will feature outdoor viewing only (think snow globe!) of Pallet-Palooza and live music – observe briefly and move along to make way for others;
A tribute luminary (an additional $5 donation) can be lit and placed in the circular outdoor patio between the buildings;
There will be no indoor spaces for gathering and restrooms will be available only for emergencies;
Tickets are available online, in the Arboretum gift shop or by calling the office in advance.