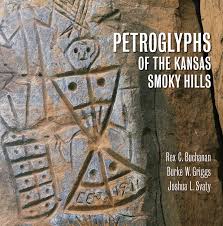 Petroglyphs of the Kansas Smoky Hills (Online Lecture)
January 26th, 2021 - 6:30pm - 8:00pm
Dyck Arboretum of the Plains
177 West Hickory
Hesston
Register
---
Stimulate your intellect and expand your horizons during January, February and March at Dyck Arboretum of the Plains. Featured topics for this coming series are petroglyphs, birds and conservation. Lectures begin at 6:30 and end by 8 p.m. REGISTRATION LINK COMING SOON! Access to Zoom meeting will be sent to all registrants via email.
Cost: $5 per person.
---
Long before the coming of Euro-Americans, native inhabitants of what is now Kansas left their mark on the land: carvings in the soft orange and red sandstone of the state's Smoky Hills. In his new co-authored book, Petroglyphs of the Kansas Smoky Hills, Rex Buchanan offers viewers a chance to read the stories that these carvings tell of the region's first people—and to appreciate an important feature of Kansas history and its landscape that is increasingly threatened by erosion and vandalism. With photos from the book, Rex will present the fascinating story of what is known of the petroglyphs, how and when they were made, and what they can tell us of the early people of Kansas.