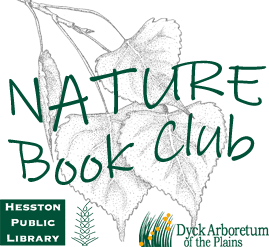 Nature Book Club January Meet Up
January 13th, 2020 - 6:45pm - 8:00pm
Dyck Arboretum of the Plains
177 West Hickory
Hesston
Get Directions
---
We cordially invite you to join us and the Hesston Public Library for lively, informative discussions focusing on fiction and non-fiction books about the natural world. Our first "Meet and Greet" meeting will be held at the Dyck Arboretum on Monday, January 13, 2020, from 6:45 to 8:00 p.m. Subsequent quarterly Nature Book Club meetings will be announced after the January meeting.
January book selections come highly recommended by Arboretum and Library staff. They include the following titles:
The Diversity of Life by E. O. Wilson. Pulitzer Prize-winning non-fiction that elegantly states the case for the wonder & beauty of the diversity of life on Earth.
Lab Girl by Hope Jahren. Winner of the National Book Critics Circle Award for Autobiography, Lab Girl celebrates Jahren's lifelong curiosity, humility and passion as she studies trees, flowers, seeds and soil.
The Overstory by Richard Powell. Pulitzer Prize-winning fiction, intertwining the stories of humans and trees.
The Nature Principle by Richard Louv. Non-fiction that, as Canadian academic David Suzuki poignantly states, "… provides a way back to where we belong, a world full of reverence, joy and discovery".
These titles will be available for check-out at the Hesston Public Library mid-November. For more information, contact Hesston Public Library (620-327-4666) or the Arboretum office.