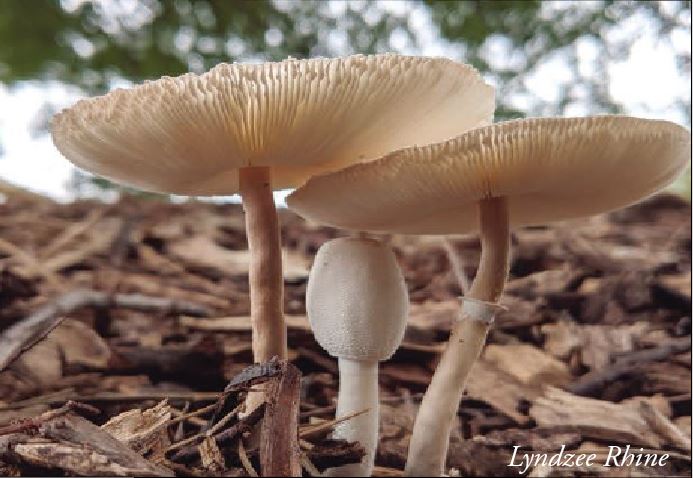 Mushrooms in Kansas Virtual Symposium
February 20th, 2021 - 10:00am - 5:00pm
Dyck Arboretum of the Plains
177 W. Hickory Street
Hesston, KS 67062
---
We at Dyck Arboretum spend a great deal of our energy promoting the flora of Kansas and a fair bit of time promoting our fauna. But mycologist Giuliana Furci argues that we should be promoting equally the three Fs: Flora, Fauna, and Fungi.
Fungi truly are critical to our human survival on earth. As mostly unseen elements of our landscape, it is easy to take for granted their essential services of filtering water, decomposing organic materials and helping plants absorb nutrients and water. When they do become visible to us as mushroom fruiting bodies for just days during their life cycle, they can do so much more.
"Mushrooms are ephemeral and during that short time, they can heal you, feed you, kill you, or send you on a spiritual jouney." ~Paul Stamets, Mycologist
On February 20, 2021, we plan to make an understanding of fungi in Kansas more mainstream and will explore the fascinating world of fungi during our virtual symposium.
SCHEDULE
Part 1 ($3.99-$4.99)
ON YOUR OWN – Viewing of the acclaimed documentary film Fantastic Fungi – it can be reviewed and rented HERE; Consider watching Friday evening or Saturday morning so that the film's inspiration is fresh!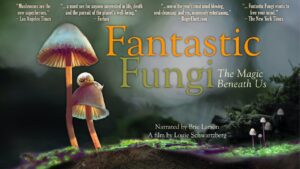 Part 2 ($15 for members, $25 for non-members) A Zoom link will be sent to participants
9:45 a.m. – Welcome and introduction by Brad Guhr, Dyck Arboretum education coordinator;
10:00 a.m. – Presentation by Lyndzee Rhine, Outdoor Skills & Recruitment Coordinator at Kansas Dept. of Wildlife, Parks & Tourism and author of A Pocket Guide to Common Kansas Mushrooms;

Lyndzee's background in informal education as a naturalist (formerly at Great Plains Nature Center in Wichita), knowledge gained from development of a pocket guide to reach the general public about Kansas mushrooms, and undeniable passion for the fungi kingdom, make her an excellent first speaker for this symposium. Lyndzee will give us a beginner's guide to the three types of fungi (decomposers, mycorrhizae, and parasites) and touch on topics including the importance of fungi to our environment, edible mushrooms, and psilocybin for human health. She also has great stories about some of her favorite mushrooms.

11:00 a.m. – Presentation by Sherry Kay, field mycologist and co-author of the new edition of the book A Guide to Kansas Mushrooms;

You will not find Sherry Kay's name listed on the cover as an author for the outstanding resource, A Guide to Kansas Mushrooms, published in 1993. However, she was instrumental in all stages of the book's development, and is now a principal driver in the publishing of its new edition due out later in 2021. Sherry's four decades of passions for field mycology and finding new mushroom species in Kansas will be evident as she share's testimonials about the importance of this book. She is also a convincing advocate for the formation of more regional education and research efforts from groups like the 35-year old Kaw Valley Mycological Society.

Noon to 1:00 p.m. – Lunch Break
1:00 p.m. – Presentation by Ben Sikes, University of Kansas professor of microbial ecologist and Kansas Biological Survey fungi expert;

Ben's presentation will cover 3 "vignettes": 1) examples of fungal research in his University of Kansas lab (big picture topics for general audiences); 2) teaching mycology in Kansas – challenges of the modern age; and  3) new digital tools (e.g. iNaturalist) to help amateur mycologists be citizen scientists, support local mycological community groups, contribute to knowledge gaps, and help professional mycologists understand the distributions of fungi in our state.
Part 3 ($25) SOLD OUT
2:00 p.m. – Workshop with Pam Paulsen, Reno County Extension Horticulture Agent on cultivating edible gourmet mushrooms.

Pam is a multi-talented, informal educator with expertise in gardening, pollinators, photography, and growing mushrooms. With this workshop via Zoom, expect the following:

Learn easy, low-cost methods for growing delicious gourmet mushrooms such as shiitake and oyster. Learn how to inoculate logs and wood chip beds so that you can harvest and sell your own mushrooms year after year.
Topics Covered: 1) Growing oyster mushrooms on straw and sawdust, 2) Inoculating shiitake mushroom logs (hands-on), and 3) Log selection and harvest.
Each participant will receive a cultivation kit ahead of time via curbside pickup including an oyster mushroom production bag and an inoculated shiitake log.

Full participation in all three parts is encouraged and includes viewing of the film Fantastic Fungi, three expert presentations, and the cultivation workshop (Total cost $40 for members, $50 for non-members + film rental). Registration for the workshop portion is limited to 25 participants (workshop SOLD OUT as of 2/17) and requires full symposium participation. Zoom links for the presentations and workshop will be made available to registrants.