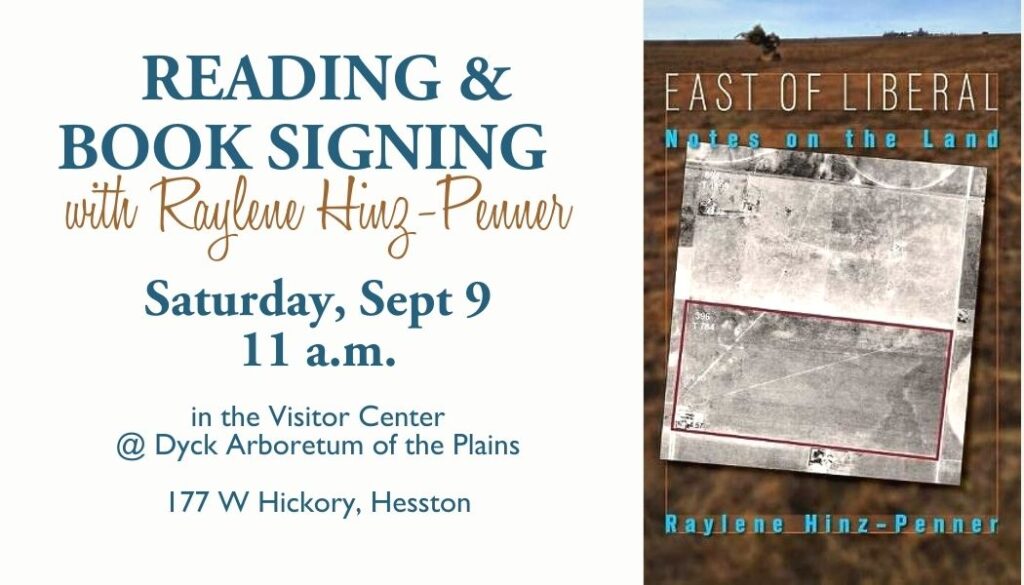 "East of Liberal" Reading/Book Signing
September 9th, 2023 - 11:00am -
Dyck Arboretum of the Plains
177 West Hickory
Hesston
Get Directions
---
In addition to the usual selling of plants during FloraKansas, this fall's event will include a reading and book signing with North Newton author Raylene Hinz-Penner, featuring her memoir, "East of Liberal: Notes on the Land", a "deeply researched story of a place" and a "personal land acknowledgement by one who loves the land and celebrates all those for whom it has been homeland".
The book signing will take place on Saturday, September 9, at 11 a.m. in the Arboretum Visitor Center. Copies of the book are available for purchase in the Arboretum gift shop for $19.95.
Hinz-Penner was born and raised in southwest Kansas near Liberal, with extended family and emotional roots in central Oklahoma. For decades she taught English at Bethel College, her alma mater (along with Kansas University in Lawrence and Wichita State University).
"Hinz-Penner offers an engaging personal and political narrative that explores the contradictions, myths, and resilience of what we call her landlines, bloodlines, and songlines. Her memoir includes helpful distillations of significant historical periods and patterns of Mennonite migrations and Indigenous and settler histories. I hope it will inspire other settlers to venture their own decolonial re-memberings."

Elaine Enns, Co-Author, Healing Haunted Histories: A Settler Discipleship of Decolonization